Rice football visits Charlotte this week. Here's what Mike Bloomgren had to say about the matchup at hand and a few depth chart notes.
Head coach Mike Bloomgren and a set of players met with the media for their customary weekly availability. They recapped the UTSA game and looked ahead at their upcoming matchup with Charlotte.
We touch on those items, then dig into the Rice football depth chart and what the team looks like heading into the weekend. First, the quotes:
Press Conference Quotes
"We've talked a lot in the last couple days about entering playoff football and that's always exciting. You get an opportunity to wake up every day and kind of bounce out of bed. It's just exciting to get those opportunities and we know we need to go 1-0 this week. We know we have a very talented opponent on the other side in Charlotte and Biff Poggi's team. We're going to prepare the right way and we're going to go there and expect to go 1-0 this week."– Mike Bloomgren on the team's mindset

"It was great to have JT out at practice yesterday. He was in the bubble, able to be out there and hang out a little bit. I don't know for sure, we'll see. We'd love to have him back, there's no doubt about that. If he gets cleared, we expect to play him." – Mike Bloomgren on the status of JT Daniels

"What's been interesting is to see how there offense has evolved. They went five straight games with scoring no more than 16 points and in their last two contests they went 33 and 38. They are definitely on an upswing. Making the change at quarterback to Trexler Ivery has seemed to give them a little bit of a boost and a little more stability maybe, but what they did in this last game to give themselves a chance against Memphis is they ran it down their throats." – Mike Bloomgren on the Charlotte offense

"I think this is a great team and it's far and away the best team I've been apart of since I've been here. I'm very grateful to be here and be a leader… It's going to be a great opportunity that we have in front of us this Saturday, the Saturday following and hopefully the one coming up following that. That's the only goal that we have is to win football games, go 1-0 this week and get to that bowl game and win it." – Defensive lineman Izeya Floyd on the team's goals right now
"We have to focus on the first game ahead of us. We can't be so involved in the larger scheme that we miss the little details. Something that we've been talking about and focusing on is taking one step at a time, focusing on how we can improve every practice." – Offensive lineman Ethan Onianwa on how the team is approaching earning bowl eligiblity
Depth Chart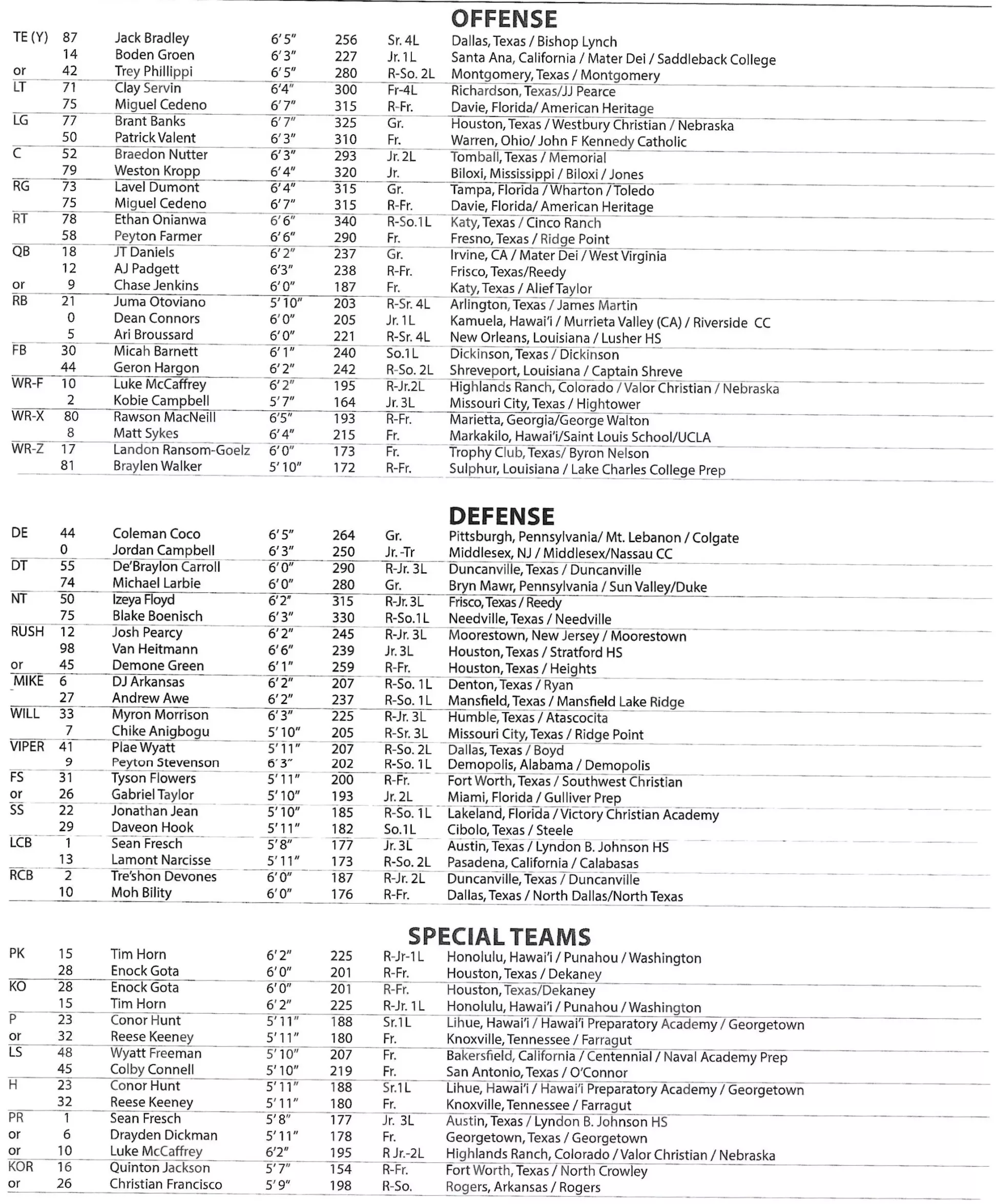 Depth Chart Notes
There were no changes to the official depth chart this week. That's been the norm more often than not, with only significant injuries causing major fluctuations in the most recent updates. Now, who is actually going to play versus who is listed as the starter could be another question entirely. That's something that might come down to kickoff in some cases, with most being able to sort out by the end of the week.
Make sure you read our Thursday practice report, reserved for subscribers, for the latest on the Rice football quarterback situation as well as other key injury notes and updates. Bloomgren has already announced he does not expect running back Juma Otoviano or tight end Elijah Mojarro to be available this week.

Subscribe on Patreon for exclusive Rice football recruiting updates, practice notes and more.
Recent Posts