Rice football hosts UConn this week. Here's what Mike Bloomgren had to say about the matchup at hand and a few depth chart notes.
Head coach Mike Bloomgren and a set of players met with the media for their customary weekly availability. They recapped last week's game and looked ahead at their upcoming matchup with UConn.
We touch on those items, then dig into the Rice football depth chart and what the team looks like heading into the weekend. First, the quotes:
Press Conference Quotes
"Looking back at the film from all three phases of ECU, it's exactly how we felt after the game. It was certainly not to our standard. We can play a lot better. But that's really cool as [The Roost] pointed out the other night at the presser, when you can not play your best and we have a big enough margin for error to still find a way to win those games. It's really nice. It speaks to what we've brought in this building. It speaks to how hard these players have worked. But it's not how we want to live." – Mike Bloomgren on learnings from the ECU game

"We're aware that there record does not reflect the team that they are. They are a talented football team. They are a well coached football team. They have many players on both sides of the ball that would be very good players in the American Conference, there's no doubt in my mind as I watch them play, how hard they play."– Mike Bloomgren on UConn

"It was better. It was nowhere near the standard. It is not good enough in terms of what I've talked about. I don't need to be balanced in terms of percent of run to pass, but I do want to be able to run the ball whenever we need to run the ball, and that includes 4-minute situations. We were not able to gain enough confidence in what we were doing to call runs like I would have wanted to in 4-minute." – Mike Bloomgren on the running game

"As you see on a week to week basis, pretty much every pass is a catchable ball. He makes our job a lot easier and it's up to us to kind of make his job as easy as we can too." – Wide receiver Rawson MacNeill
"They're a group of dogs. You can tell when you watch film that they really want it. They're hungry… definitely a team that we cannot take lightly and we got to take our same preparation as we do every week." – Safety Marcus Williams
Depth Chart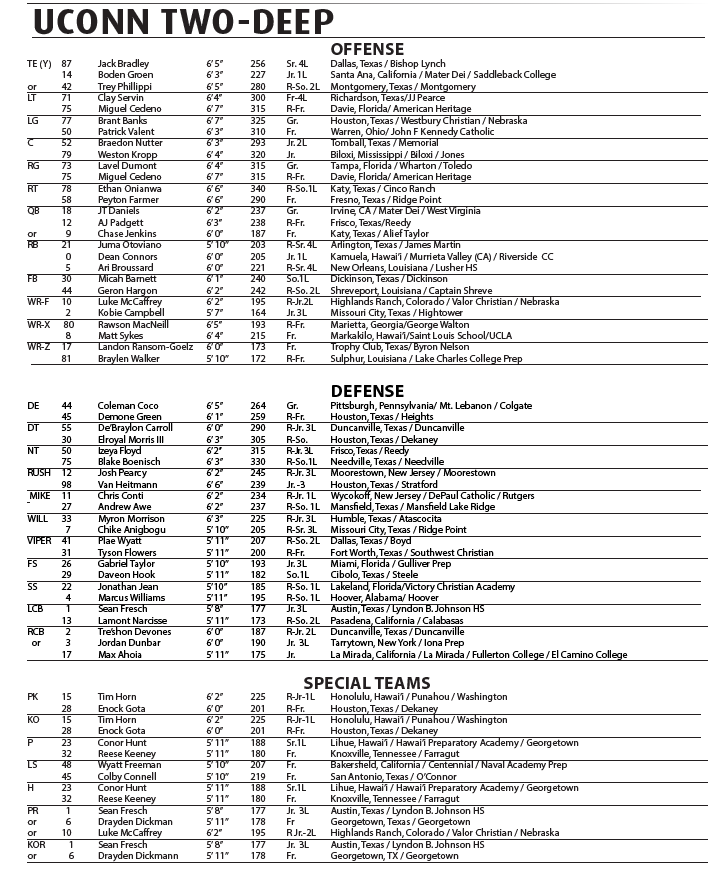 Depth Chart Notes
Bloomgren announced on Tuesday offensive tackle Brad Baur would be out for the season. Clay Servin didn't get the start last week, but finished the game at left tackle. He's back with the first string this week with Miguel Cedeno backing him up. The rest of the depth chart is unchanged from last week. We'll have more updates on the latest on injuries and the plan for Saturday later this week for subscribers.

Subscribe on Patreon for exclusive Rice football recruiting updates, practice notes and more.
Recent Posts