Rice football hosts East Carolina this week. Here's what Mike Bloomgren had to say about the matchup at hand and a few depth chart notes.
Head coach Mike Bloomgren and a set of players met with the media for their customary weekly availability. They recapped last week's game and looked ahead at their upcoming matchup with ECU.
We touch on those items, then dig into the Rice football depth chart and what the team looks like heading into the weekend. First, the quotes:
Press Conference Quotes
"JT's health is better today than yesterday, and certainly better and Sunday… I certainly don't expect him to go full speed today, but he's preparing to start this weekend… [Number] 18 is playing pretty good football and we're not going to take him off the field on purpose." – Mike Bloomgren on the status of quarterback JT Daniels

"You look at their defense, a lot of similarities to what they did last year. Offensively with the new quarterbacks that they're rolling through, it's a little bit different, but we can't forget that this is a balances offense in a lot of ways, right? They're going to have the ability to take shots. It's going to look more pro-style, than maybe a collegiate offense." – Mike Bloomgren on ECU

"My relationship with [ECU head coach Mike Houston] goes back to 2002 when he was the head coach of TC Roberson High School and Asheville, North Carolina and I was coaching Catawba College and I was recruiting his school and going in there talking ball and just hanging out. And now the fact that we're playing each other on a Saturday in major college football, it's pretty cool." – Mike Bloomgren on ECU head coach Mike Houston

"I feel like they're pretty balanced. They want to run the ball. I feel like the're a pretty good group, well well coached. Definitely a lot of strain on their offensive line. It's always good going against competitors so we can't wait to get in there. But for the most part, they're pretty balanced." – Defensive linamen De'Braylon Carroll on ECU
"It was the first time I've ever looked up at the jumbotron driver to see if there's anything behind me. I've always watched athletes do that and I was like, 'How do they do that?' I don't understand how they look up while they run, but I just kind of saw it in my peripheral [vision] and used it as a tool."– Running back Dean Connors on his long TD against USF 
Depth Chart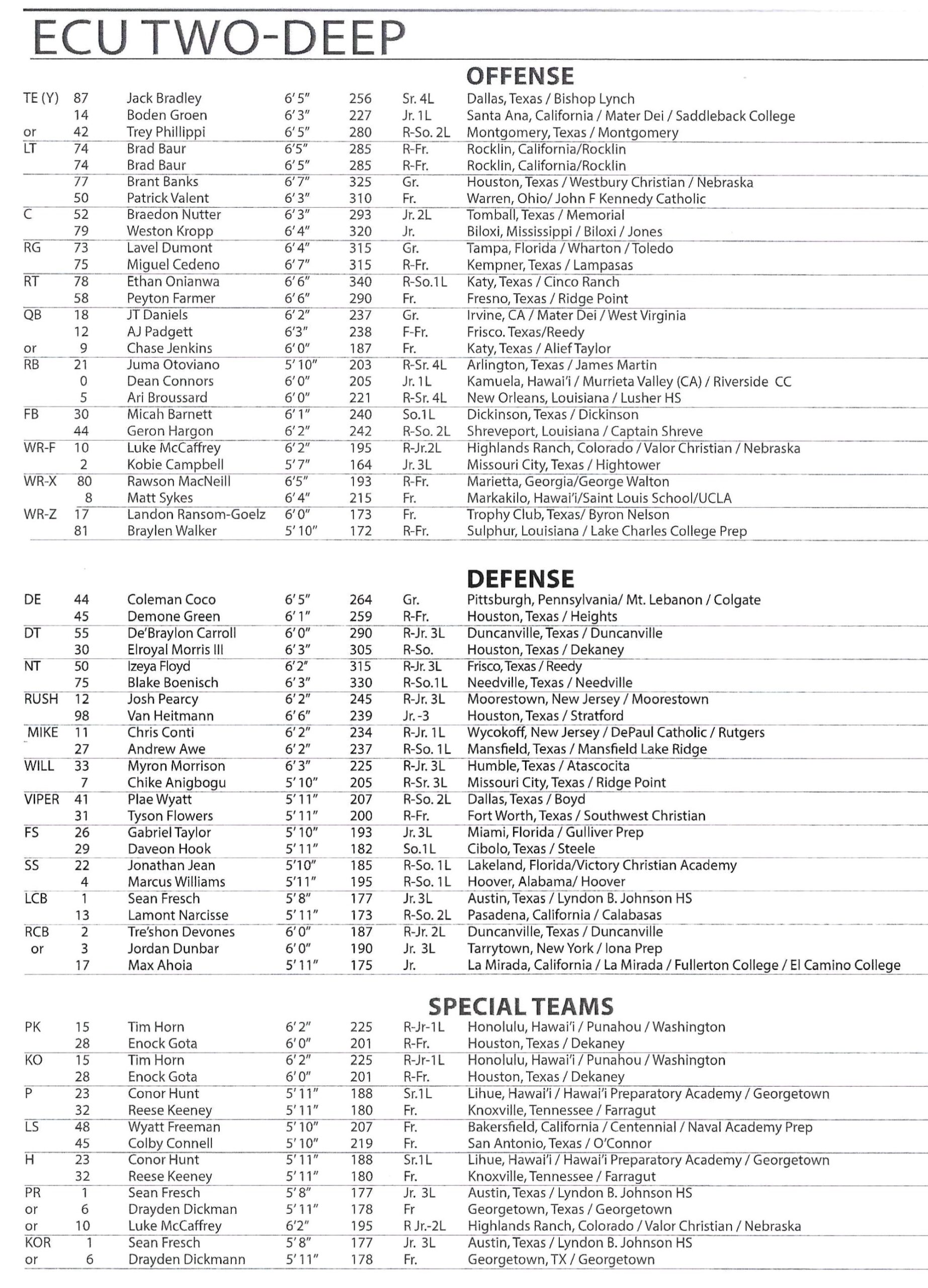 Depth Chart Notes
The depth chart continues to lack much in the way of fireworks and, as usual, that's probably a good thing. The uncertain status of quarterback JT Daniels did see the Owls list a third quarterback as a precaution, despite head coach Mike Bloomgren's optimistic comments at the podium on Tuesday. We'll have more updates on the latest on the Owls' quarterback situation in practice notes later this week for subscribers.

Subscribe on Patreon for exclusive Rice football recruiting updates, practice notes and more.
Recent Posts