Rice football visits South Florida this week. Here's what Mike Bloomgren had to say about the matchup at hand and a few depth chart notes.
Head coach Mike Bloomgren and a set of players met with the media for their customary weekly availability. They recapped last week's game and looked ahead at their upcoming matchup with USF.
We touch on those items, then dig into the Rice football depth chart and what the team looks like heading into the weekend. First, the quotes:
Press Conference Quotes
"It makes our job as coaches, easy. When you can see the quality of the opponent on the film you watch all week, you know we got to be locked into the details if we want this dub… They played like a very confident group against Alabama on Saturday. I thought their defense did exceptional and their offense had many opportunities. They were not ever struggling to move the ball." – Mike Bloomgren on what Rice learned from watching USF play Alabama

"I just think like that tempo is going to be a deciding factor in how successful we are. If we're ready for the fight, I'll bet on our defense. If we're ready for the fight every play I just believe so strongly in the way these guys are performing the effort and they're playing with." – Mike Bloomgren on preparing for USF's tempo on offense

"I think they do a lot of movement, a lot of good things for them that fit their scheme, but I believe it's on us up front. If we handle our business and give JT [Daniels] the time he needs, there's nothing that can stop our offense, to be honest." – Offensive lineman Lavel Dumont on preparing for USF's defense
"The last time I was at the Buccaneers Stadium was 2006 with Sean… Being behind the bench, him scoring and handing me the ball, it's probably going to bring back a lot of memories but our main focus is to win, go 1-0 with the team and head back to Houston." – Safety Gabe Taylor on returning to Raymond James Stadium and remembering his brother, Sean Taylor 
Depth Chart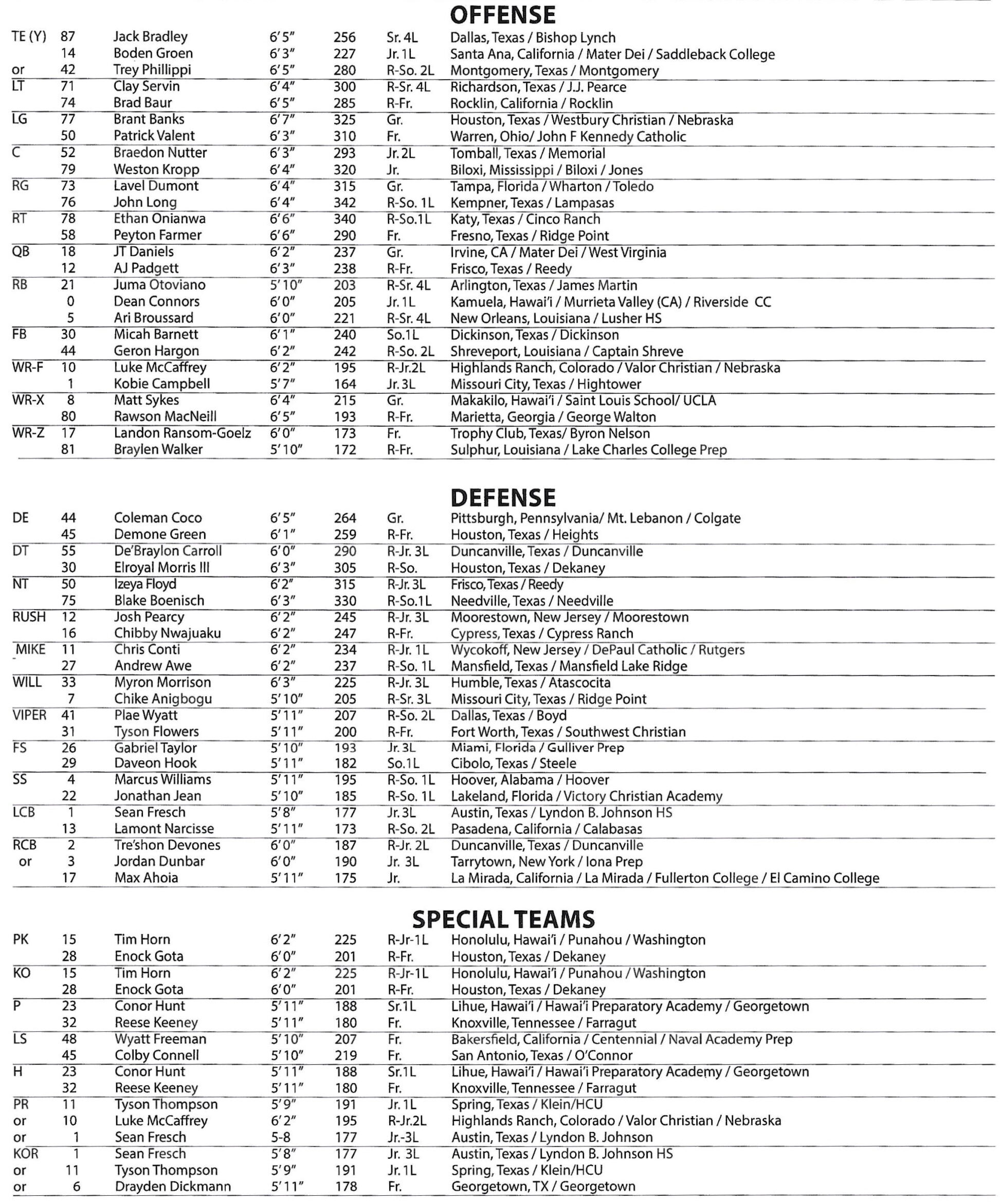 Depth Chart Notes
The depth chart continues to be uneventful each week, and that's probably a good thing. Bloomgren did not during the press conference this week that he was hopeful offensive lineman Clay Servin and backup quarterback AJ Padgett would be available this weekend, but couldn't say for certain if they would be at this time. He noted the team did not expect Chibby Nwajuaku to be available.

Subscribe on Patreon for exclusive Rice football recruiting updates, practice notes and more.
Recent Posts