Rice football hosts Houston this week. Here's what Mike Bloomgren had to say about the matchup at hand and a few depth chart notes.
Head coach Mike Bloomgren and a set of players met with the media for their customary weekly availability. They recapped last week's game and looked ahead at their upcoming matchup with Houston.
We touch on those items, then dig into the Rice football depth chart and what the team looks like heading into the weekend. First, the quotes:
Press Conference Quotes
"We got a great rivalry game coming up, great traditions versus the team right across town. Celebrating the Bayou Bucket is always a great time…. We certainly recognize that coach Holgerson's team is very talented and we know that it's going to be a game where we have to play good, clean football for 60 minutes if we want to get the results we want." – Mike Bloomgren on playing Houston

"The stadiums are four and a half miles apart, driving on roads. It's probably more like three [miles] as the crow flies. And you'll hear from [Myron Morrison and Chike Anigbogu], the fact that they're going to play a lot of their old teammates, a lot of guys they played against in high school. Anytime you play a team in Texas, that's really cool. But in your own city. That's fun. The rivalry is real." – Mike Bloomgren on the Bayou Bucket Rivalry

"One thing that I find encouragement in is a lot of the big plays and explosives that they had are the result of self-inflicted wounds that are something that is very fixable on our end. Those are things, like we mentioned that big jump from week one to week two, very flexible errors were made that weren't even as much physical as they were mental. That's going to be completely patched up in our next game." – Linebacker Myron Morrison on areas to improve on defense after Texas
"That's everything. That's a goal I've had since I started playing football. Just knowing that my guys have faith in me and my love for them is reciprocated. It's huge."
– Linebacker Chike Anigbogu on being named captain this year
Depth Chart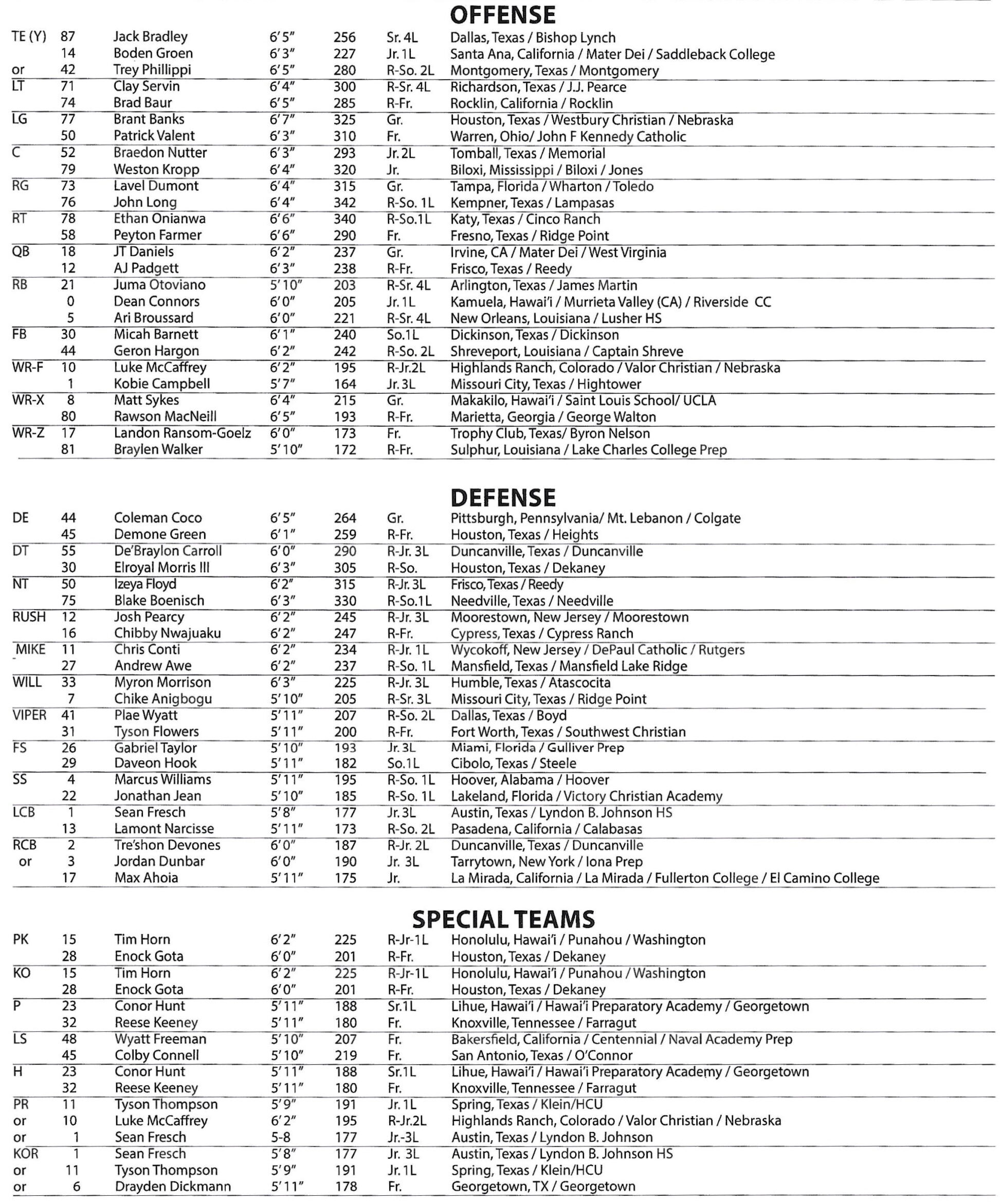 Depth Chart Notes
There weren't any changes to the official depth chart this week. Everything ties out exactly to how things looked entering the season opener against Texas. That doesn't necessarily mean the Owls' will approach their personnel plans the same way — for that stay tuned to our practice update later in the week for our subscribers.

Subscribe on Patreon for exclusive Rice football recruiting updates, practice notes and more.
Recent Posts