Rice football visits North Texas this week. Here's what Mike Bloomgren had to say about the matchup at hand and a few depth chart notes.
Head coach Mike Bloomgren and a pair of players met with the media for their customary weekly availability. They recapped the UTSA loss and looked at the week ahead, detailing what they're expecting to see when North Texas takes the field.
We touch on those items, then dig into the Rice football depth chart and what the team looks like heading into the weekend. First, the quotes:
Press Conference Quotes
"My hat's off them. They performed at an incredibly high level., I look back at our offense and I see a group that got out-physicaled and that's something that is hard to swallow because that's something we hang our hat on. Defensively, we missed a couple of fits and every time we did something wrong, they made us pay in a big way. That's what happens with small areas, (they) add up to a big stuff as four quarters of football goes on and that's what we saw on Saturday." – Mike Bloomgren on the UTSA game

"[UTSA] was our first time having back-to-back losses all year, but you feel like you haven't won a game in forever and that's just not the case. That's how you feel as a 45-year-old man. You can imagine what it is like for 18 to 222-year-olds that are dealing with social media? That's why I thought it was important to remind them that they are a good football team. They're not the football team that's only played the last two games. They're the football team that has won some really big games this year, that's come back and overcome things and they're really talented. We're a good football team." – Mike Bloomgren on his message to the team
"I imagine he's a very mature kid. I've talked Seth [Littrell] about him, Seth loves him and thinks he's a great leader. You see that. At this point his career it's a little bit like Mason Fine in terms of the leadership ability and how you see him rallying his teammates." – Mike Bloomgren on North Texas quarterback Austin Aune
"KD [Davis] is a great player, obviously going against him the past couple of years. He's a solid linebacker. I look forward to the match up again. Their front is definitely a lot of different guys [from last year] so it's really going to be about our preparation this week, watching film. What were these guy's tendencies? We have played against them, really just looking at that film and making sure we're ready for these new transfers that they have up front, guys that we're going to be going against play after play." – Tight end Jack Bradley on the North Texas defense 
"I feel like we're a team that's been battle tested. We're a team that seen and been through and overcome adversity, time after time. So this isn't a position that we're not used to being in. And I'm not worried about where any of the guys head's [are] at, or anything, where the coach's heads [are] at or anything. Through this whole program, we've seen and been through adversity. So I think we're going to get spot mentally and a good spot physically. We got guys coming back and we've just got to keep doing what we always do, respond to adversity." – Defensive end Joshua Pearcy on the team's current mindset
Depth Chart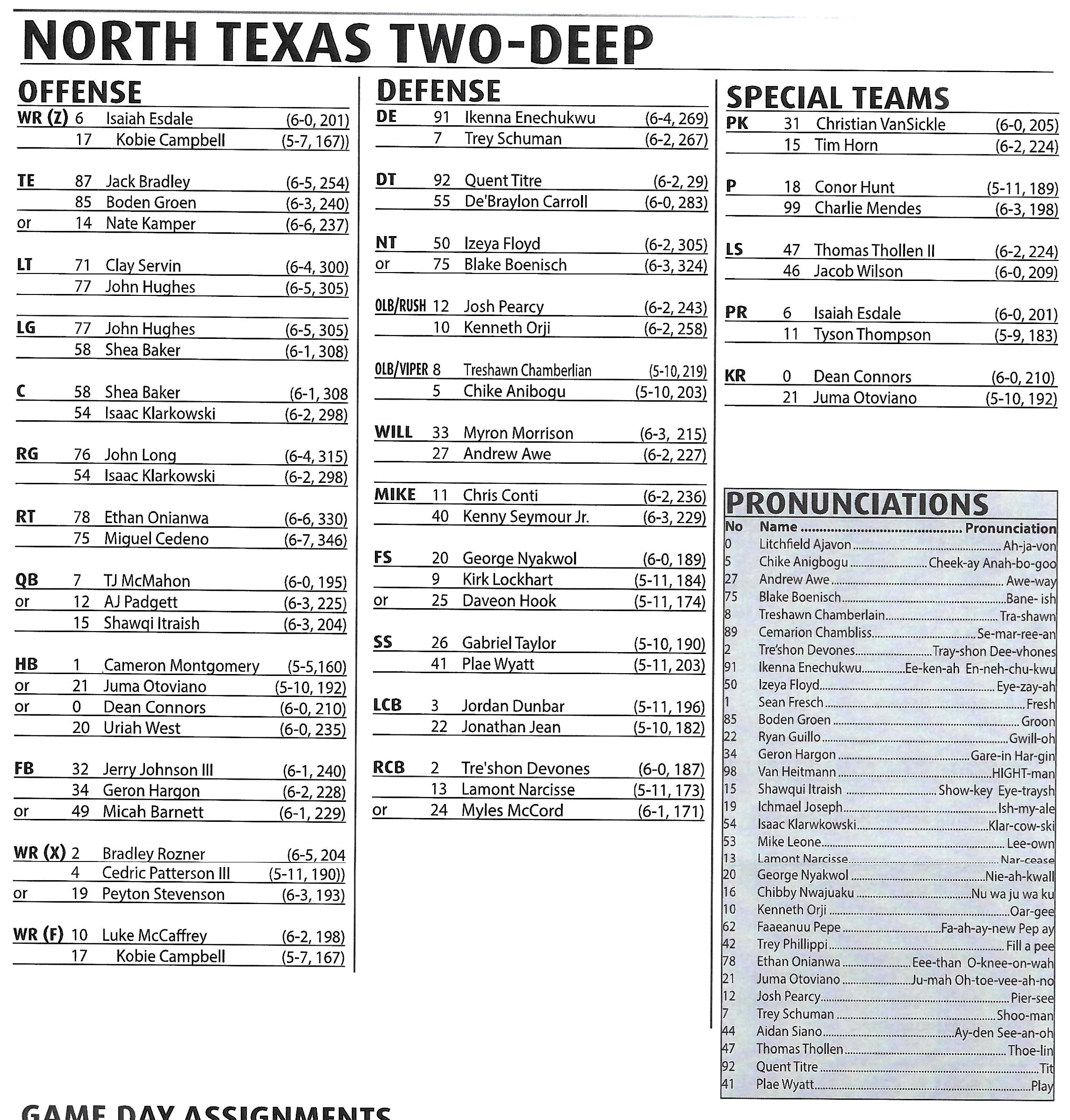 Depth Chart Notes
The biggest adjustment this week is at quarterback, where Wiley Green has been removed from the spot below TJ McMahon in favor of freshman AJ Padgett, currently listed as a co-starter. Who suits up for the Owls on Saturday remains TBD, but we'll have a bit more later in the week in our practice notes (available to our subscribers).
On defense, Blake Boenisch has officially leapfrogged Izeya Floyd as the starter at the nose tackle spot, but still expect to see a heavy rotation there. Additionally, Lamont Narcisse is off the depth chart after being injured in practice last week. He's been replaced by Tre'shon Devones, who started for the Owls last weekend against UTSA.

Subscribe on Patreon for exclusive Rice football recruiting updates, practice notes and more.
Recent Posts