Rice football hosts UTSA this week. Here's what Mike Bloomgren had to say about the matchup at hand and a few depth chart notes.
Head coach Mike Bloomgren and a pair of players met with the media for their customary weekly availability. They recapped the WKU loss and looked at the week ahead, detailing what they're expecting to see when UTSA takes the field.
We touch on those items, then dig into the Rice football depth chart and what the team looks like heading into the weekend. First, the quotes:
Press Conference Quotes
"What a great team to have on our schedule with only being three hours apart. They have been the class of conferences, certainly last year they elevated their team, they beat a Big Ten team. They scare everybody they play and they haven't lost a conference game this year. This is a really, really good football team and I think we all can acknowledge that. But I also think it's really cool anytime you play a team in Texas where a lot of our guys went to high school together and played against each other and have those backstories that make rivalries what they are. I'm glad this one will continue, and like I said, aside from the days we play each other, I think the world of Jeff Traylor and consider him a friend." – Mike Bloomgren on UTSA

"You know, some people say it's already secured, but I don't want to think like that. I want to say that we've got to go earn this thing. We've got to win these next two games and put ourselves in the position we want to be in. You know me, I always talk process and progress, but I wanted it to be a little more than incremental progress, right? I wanted to take a bigger jump. I wanted to earn that bowl game and I want to play for a conference title. I thought those were things that if we played well on 12 Saturdays, we would have a chance to do, and we played well on some Saturdays, but we didn't on others, so we don't have that opportunity anymore." – Mike Bloomgren on potentially reaching a bowl game
"I don't know that I can give you a straight answer on that right now. What I can tell you is Shawqi [Itraish] came in and finished out the game and he took a lot of reps with the ones yesterday and did a really nice job. TJ [McMahon] was at practice and did all the things in drill work which is probably more than I expected. He's still hurting and I have no idea exactly what the future looks like in that position. We're taking it day by day. I heard Sean McDermott when asked about Josh Allen said it was hour by hour. We're not quite there yet, but we're day by day and whomever the trainers say is in a position where they're clear and ready to perform, they're going to go out there and do it." – Mike Bloomgren on the plan at quarterback
"Just really buckling down on the offense, knowing kills, knowing when not to kill, reading defenses, all that type of stuff, just learning our playbook that much better really helped me out there, really helped my growth… I think my biggest strength is my ability to stay in the pocket and take some of those hits but deliver the ball down the field at the same time, and deliver it accurately." – Quarterback Shawqi Itraish on how he feels his game has improved this year 
"Those guys are special, they've done a lot for this program. Those guys are my leaders. I look up to them, all my class does, all the classes below them do. That'd be very special to us, to go get this sixth win and make history with these guys that we love so much and admire so much."- Defensive tackle Blake Boenisch on winning for the senior class on Senior Day
"Practice is practice. We get tons better from practice and I always say perfect practice this perfect play. But a game is just a whole different atmosphere. Everything's happening so much more fast, everything's more physical. I just feel games is a better opportunity to learn more stuff like that at a faster speed. And that's more you can do in practice." – Defensive tackle Blake Boenisch on what he's taking away from his first career start
Depth Chart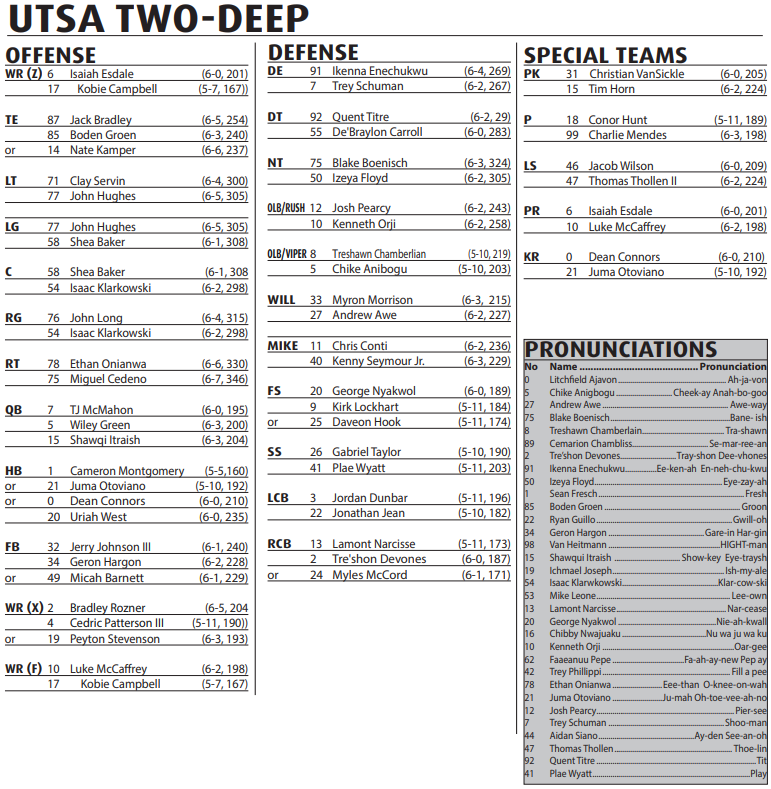 Depth Chart Notes
For the first time in several weeks, Wiley Green finds his name on the depth chart. Green has been back at practice for more than a week, but as of now his availability for Saturday is unknown. Catch a full detailed breakdown of the quarterback situation later in the week in our practice notes (available to our subscribers).
Additional changes this week include the addition of Uriah West to the depth chart, a formality given his assigned role as the short-yardage specialist. The team has also listed Isaac Klarkowski as the starting center this week — he started last week.
On defense, Chike Anigbogu has replaced Marcus Williams as the backup to Treshawn Chamberlain at Viper.  After serving in an expanded role over the last several weeks, Daveon Hook earned an or designation behind George Nyakwol at free safety. At corner, Lamont Narcisse is listed as a starter opposite Sean Fresch, who missed the Western Kentucky game.

Subscribe on Patreon for exclusive Rice football recruiting updates, practice notes and more.
Recent Posts