Rice football hosts Charlotte this week. Here's what Mike Bloomgren had to say about the matchup at hand and a few depth chart notes.
Head coach Mike Bloomgren and a pair of players met with the media for their customary weekly availability. They recapped the Louisiana Tech win and looked at the week ahead, detailing what they're expecting to see when Charlotte takes the field.
We touch on those items, then dig into the Rice football depth chart and what the team looks like heading into the weekend. First, the quotes:
Press Conference Quotes
"Defensively, it was certainly not our best game. But, when all the chips were on the line, we found a way to end the game by denying them that two-point opportunity. Again, I chalk that up to all of the hits on the passer and being able to stop the run game all day long. A lot of good things went into that last play, I think.

I want to say this. After preparing for it  and watching it in-game, I don't think Sonny Cumbie is just a good offensive, creative mind, I think he's a great one. I think he did a phenomenal job and his kids played incredibly hard. The way that they came out in the first quarter was impressive. The way they fought on both sides of the ball and to jump out on us 10-0. Again, my hats off to what he his building there. But, once again, I'm glad we found a way to win the game." – Mike Bloomgren on the challenges posed by Louisiana Tech

"I wish I could tell you some unbelievable speech. There were a couple of things that we tweaked at halftime and a couple of changes that we made, but there weren't many to be quite honest. But in the second quarter, we drove down to the one-yard line and put the ball on the ground. So, it's not like we weren't moving the rock. To get the touchdown through the air to Luke [McCaffrey] was a big deal. I think there were a lot of things that went right for us to only be down 10-7 at halftime, including Sean Fresch's pick in the end zone.

I went into the locker room very grateful to only be down three points with the way we played in the first half. We just had to come out and play our style of football. There's not going to be a whole lot of magic. I'm very thankful that we were able to come out and execute better." – Mike Bloomgren on offensive adjustments against Louisiana Tech
"It's largely the same personnel that we're gonna play in the Charlotte game again. The good thing about that for us is I think we've evolved a lot. We've grown a lot. So I welcome that opportunity. We know them well. We know how explosive those receivers are. And we all remember where we were. We were in the fourth quarter, up 10 points, with six minutes to play and [they went] right down the field… We didn't perform overtime. So we know what the thing look like. But I do think we're a very different team whereas their cast of characters is pretty similar." – Mike Bloomgren on how this Charlotte team compares to last year's team
"That overtime win had been something elusive in my career as a Rice Owl so you can believe I was breathing a sigh of relief and celebrating when we finally got that that elusive overtime win. I was almost in disbelief. It was just like, wow, like, here we came and we actually did it. So it's awesome. I think another thing that came from it is we just build that confidence. I think last year it was tough on us because we went back to back overtime games and we lost both of them..

But now we're seeing that even when we're not performing to our standards on all three phases of the team, each phase stepped up at a certain time and put is in a position to win even with that little extra quarter we played. As much as you don't want to be in that situation, it did do loads for our confidence." – Defensive end Trey Schuman on winning in overtime
"At some point, I just realized it was bigger than me. We all came here to play football and win games. When we were trending in a bad direction early in my time here at Rice, I just wanted to find ways that I could impact the team off the field. And that just grew with working on our bonds and working on what we can do outside of football to get closer so that when we're on the field we can just play lights out every play for each other." – Running back Juma Otoviano on the team's mentality
Depth Chart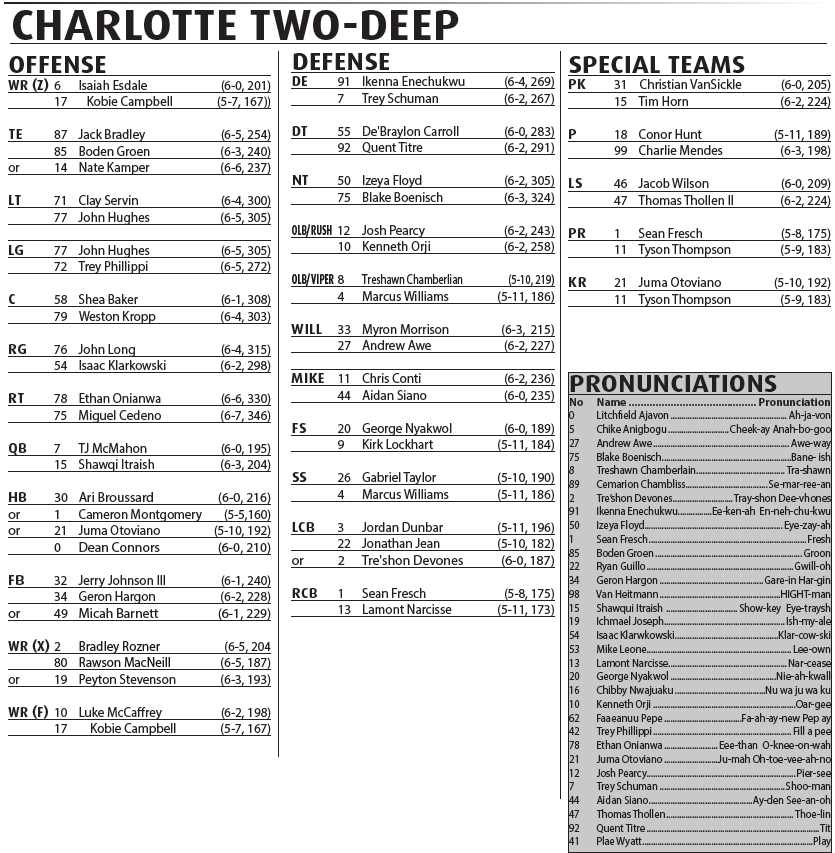 Depth Chart Notes
Rice football did not release a depth chart prior to the FAU game, so this week's updates account for two games' worth of changes. First on offense, Tyson Thompson, who's been out for several weeks with an injury, was replaced by Kobie Campbell as the Owls' fourth wide receiver. Peyton Stevenson also saw his named added to the depth chart for the first time, as he's been running in front of Rawson McNeil in the backup X role.
The offensive line is the same as it was deployed last week, although officially slightly altered from the FAU game. At running back, Juma Otoviano has jumped into the mix, and will most likely see an enlarged role this week (stay tuned for this week's practice notes for me on that front, available to our subscribers).
On defense, there were no official changes. The depth chart is a mirror image of that version which the Owls announced prior to the FAU game.

Subscribe on Patreon for exclusive Rice football recruiting updates, practice notes and more.
Recent Posts