Rice football travels to Louisiana Tech this week. Here's what Mike Bloomgren had to say about the matchup at hand and a few depth chart notes.
Head coach Mike Bloomgren and a pair of players met with the media for their customary weekly availability. They recapped the FAU loss and looked at the week ahead, detailing what they're expecting to see when Louisiana Tech takes the field.
We touch on those items, then dig into the Rice football depth chart and what the team looks like heading into the weekend. First, the quotes:
Press Conference Quotes
"The thing is, we win and lose as a team. The job for everybody on this team is to make sure we score one more point than the opponent. Whatever that looks like. I think our defense is very, very good. I think they are going to give us a chance in every ballgame we play. But we also have a chance to take this defense to the stage of being elite. That's really what we're challenging them to do right now. It's to get a shutout this year. I expect our defense to take another step this week, just like I expect everybody on this team to take a step forward." – Mike Bloomgren on the play of the Rice defense

"Sonny [Cumbie] is doing a great job up there with the scheme offensively. He's got talented weapons. I jokingly call the two receivers the Harris brothers. Smoke Harris feels like he's been at La Tech since I've been coaching. He's got a lot of time played against us and he's an explosive player. I think Parker [McNeil] is doing a great job at the quarterback position. He's doing a great job dealing the ball around. Defensively, they hired a really good defensive coordinator. A guy who's had success, most recently at SFA. He created a dominant defense there. So, it's really going to be a great challenge for us." – Mike Bloomgren on Louisiana Tech
"I thought Coach Tuiasosopo did an unbelievable job yesterday. He pulled up practice video of Wednesday of the same call against the same defense and we executed. We read it properly, we made our blocks, we ran the ball. He showed a clip, literally, one clip for everybody on our offense. So, we do it right on Wednesday and we do it well on Wednesday, and then we do something completely different on Saturday. While we're all searching for answers, we have to be able to take what we do on that Tuesday and Wednesday practice, and do it that way on Saturday or these things don't work.

We've got to have the discipline to grow and to say 'If there's something we don't feel good about, we have to say that to our coaches on Thursday and Friday.' It is players over plays. It is players being able to play fast, know their assignment and play. We've recruited a really good football team. We need them to play fast and with confidence right now." " – Mike Bloomgren on the growth needed for the Rice offense
"He's done a great job teaching me that my fundamentals are good enough. So if you harp on the fundamentals and just fall back on your training, you don't have to go out there and do anything outstanding, or you don't have to go out there and do anything out of body. Just go out there, tely on what you practice every day and you'll be doing well." – Running back Cam Montgomery on what he's learned from RB coach CJ Anderson
"Since I've gotten to Rice, special teams has been huge, it's nothing like high school [where] you have a meeting or two about it and we go out and see what happens on Saturday. Special teams is big. It's going to change the game every single game. You never know what play it is that will change the game, like a punt return or kickoff attack or maybe blocking a kick." – Corner Sean Fresch on the Owls' special teams units
Depth Chart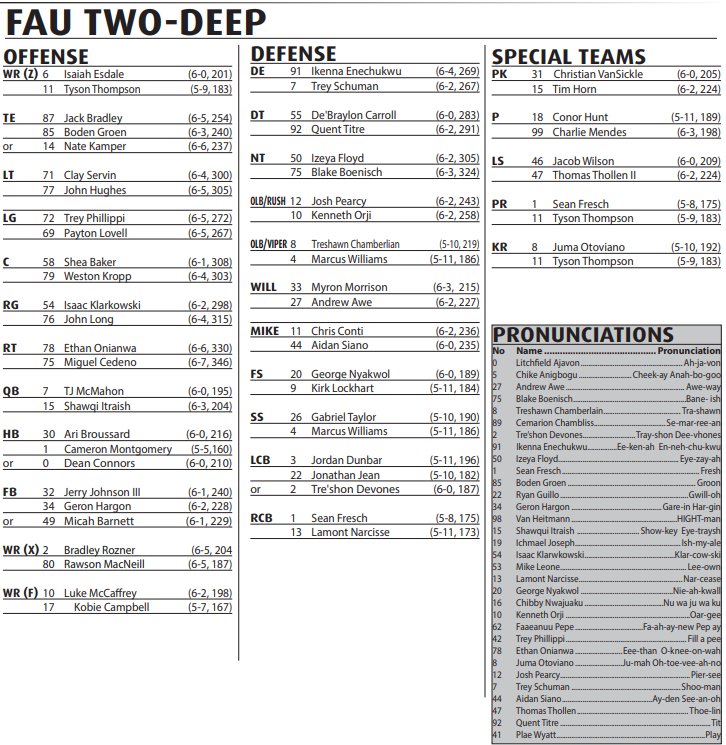 Depth Chart Notes
There were no official changes to the two-deep so far this week. If Rice posts an updated version we'll be sure to get it on the site later in the week. For the time being, stay tuned for practice updates available to our subscribers.

Subscribe on Patreon for exclusive Rice football recruiting updates, practice notes and more.
Recent Posts