Rice football travels to FAU this week. Here's what Mike Bloomgren had to say about the matchup at hand and a few depth chart notes.
Head coach Mike Bloomgren and a pair of players met with the media for their customary weekly availability. They recapped the UAB win and looked at the week ahead, detailing what they're expecting to see when FAU takes the field.
We touch on those items, then dig into the Rice football depth chart and what the team looks like heading into the weekend. First, the quotes:
Press Conference Quotes
"I'm really confident in the way we're preparing right now. I think our teams is excited. I think we're all excited for this trip to Boca Raton. We understand what we're up against. FAU is a very well-coached team, from Coach (Willie) Taggart to all of his coordinators right on down the line. It's just a great staff. They have great athletes. So we understand what a great challenge its going to be for us this weekend. But, at the same time, we're doing what we do. We're worrying about us. That's exactly how we want it to be." – Mike Bloomgren on facing FAU

"I think you're playing a team from South Florida. You're going to have great speed. You're going to have great length and you see those things. You see some twitchy dudes that make plays. Let's start with quarterback. N'Kosi Perry was a very highly recruited kid. He started his career at The U. Now he's been at FAU for two years. He has the ability to affect the game with his legs and he's got a great arm. It starts there. All of their skill [players] run so incredibly well. Their lines have gotten better and better every year. Looking at the jump they made from last year to this year, both their offensive and defensive lines are tremendously improved." – Mike Bloomgren on the FAU roster
"Listening to people that know [offensive coordinator Brent Dearmon], he doesn't want to be one of these air raid gurus. He doesn't want to throw the ball. He actually wants to create lanes to run the ball and he wants to run the ball down your throat so that's going to be a big matchup for our run stopping defnese against their creative offense. And then how can we do a great job in the secondary making sure N'Kosi Perry doesn't get those fast guys behind us?" – Mike Bloomgren on key matchups vs FAU 
"They have good athletes all around so that's going to be something we have to be cautious of, but I obviously think we have good athletes as well so it's going to be a good matchup for us. There athletes and the way they fly around for the ball, I think it's going to be a good challenge for us." – Quarterback TJ McMahon on FAU's strengths 
"Their o-line is solid. They have a very athletic quarterback, you can't just run in there with your hair on fire. We're getting ready to stop that and we have a good gameplan going forward." – Linebacker Chris Conti 
Depth Chart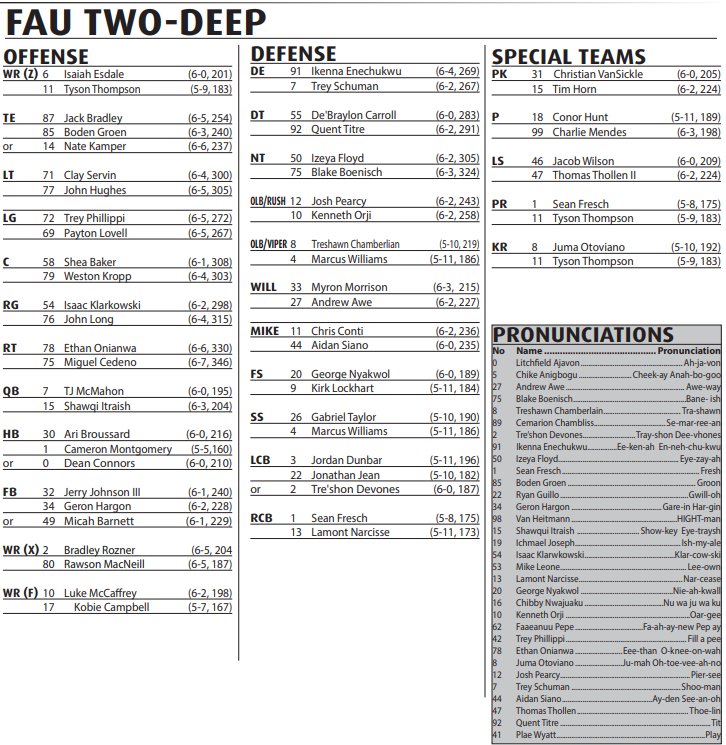 Depth Chart Notes
There were two changes to the offensive depth chart, the first being a mere formality. Isaac Klarkowski, who started at right guard for the Owls against UAB is officially listed back on the depth chart this week as the team readies for FAU. The only other change on that side of the ball is at tight end where Nate Kamper is listed and could be in line for his 2022 debut.
The defense is arrayed exactly the same as it was last week, at least on paper. Make sure you're tuned in on Patreon for a practice update later in the week with any adjustments and changes as we look ahead to Saturday against FAU.

Subscribe on Patreon for exclusive Rice football recruiting updates, practice notes and more.
Recent Posts