Rice football hosts UAB this week. Here's what Mike Bloomgren had to say about the matchup at hand and a few depth chart notes.
Head coach Mike Bloomgren and a pair of players met with the media for their customary weekly availability. They recapped the Houston loss and looked at the week ahead, detailing what they're expecting to see when UAB takes the field.
We touch on those items, then dig into the Rice football depth chart and what the team looks like heading into the weekend. First, the quotes:
Press Conference Quotes
"I think it looks like their football team. It's big, physical and sound in every phase. From what I understand, Brian Vincent is still calling the offense. That hasn't seemed like it's changed much. I think it's the same defensive coordinator. Coach Reeves, I think, is calling and planning it. It looks really similar right now.

The players on that side of the ball look really similar too. The edge rushers, the run, and hit linebackers. It seems like Noah Wilder, their leading tackler has been there for 10 years. There's a lot of great players. The running backs that they have; I love our running back room, but the production that they've had from their running backs is out of sight. A lot of it stems from the fact that they've brought back everybody on the offensive line. It's a really good football team that presents really good challenges in every phase." – Mike Bloomgren on UAB under interim head coach Bryant Vincent

"They were the bully. And our first year here in 2018, we couldn't move the ball seemingly an inch and they were an outstanding team in 2018. They were the standard. They were the one we pointed to. They were the bulley. And the facts are we went up there last year and we won the game and we put some physical stuff on film in that game as well. So they can put up whatever quotes I want. They've got to come down here to Houston. They've gotta play these guys. These guys are a physical football team that prepares incredibly well. I have no doubt it's going to be a physical football game. But I don't think any words in a locker room are going to win or lose this game." – Mike Bloomgren on UAB being the former bully of Conference USA
"UAB is a very good opponent. We're excited to play them. Each week we prepare the same. Our process; it's all about us. So this week with UAB, we just got to focus on fixing our mistakes, fixing those little things that really in the fourth quarter against Houston, bit us." – Center Shea Baker on preparing for UAB
"I think in this defense the more time you put in the slower the game moves and this year I've been able to see the game a lot faster on my end but its moving slower as far as how I can react and play faster so I feel like I've been more of the hammer and not the nail this year and really just been able to play more confidently." – Linebacker Myron Morrison on his growth this season
Depth Chart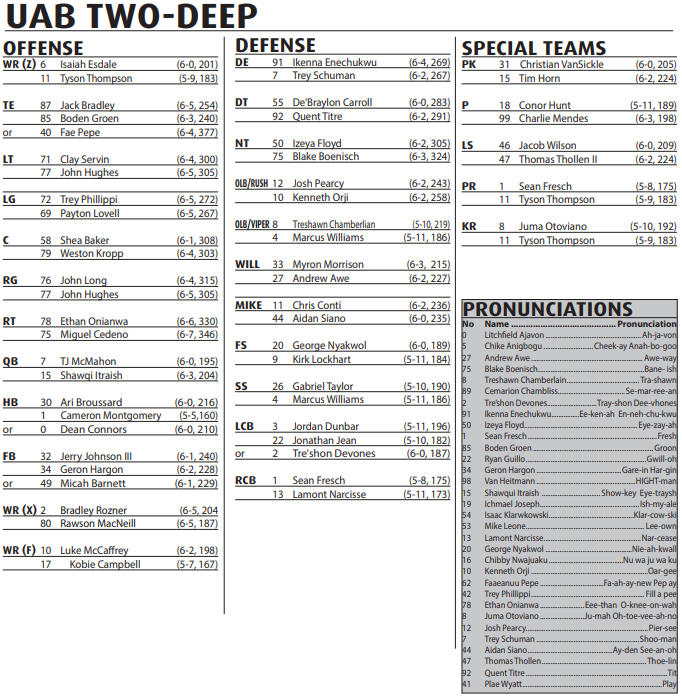 Depth Chart Notes
The biggest change reflects how Rice football opened their game against Houston last week along the offensive line. Trey Phillippi is now listed as the starting left guard rather than a reserve offensive tackle. Shea Baker is back at center after Isaac Klarkowski was listed on the depth chart last week but did not play. We'll have more on how exactly we expect the offensive line to be deployed for our subscribers later this week.
At wide receiver, Kobie Campbell is now officially listed over Tyson Thomspon. That's more or less a formality at this point as Campbell has had a few key catches over the last few games and Thompson has yet to see the field in much more than a special teams capacity.
On defense, De'Braylon Carroll has regained his spot on the depth chart as he works himself back to 100 percent. That bodes well for his starting chances this coming weekend.
Additionally, the only OR designation on that side of the ball was dropped with Chris Conti officially being listed as the starting Mike linebacker, something that's essentially been how this team has operated throughout September.
There is one new name listed: corner Tre'shon Devones is back after an extended absence. He was on the practice field this week for the first time this season. He'll be phased back into the defense.

Subscribe on Patreon for exclusive Rice football recruiting updates, practice notes and more.
Recent Posts