Rice football has released its depth chart for its upcoming game against Houston. Here are the latest and a few notes on relevant players.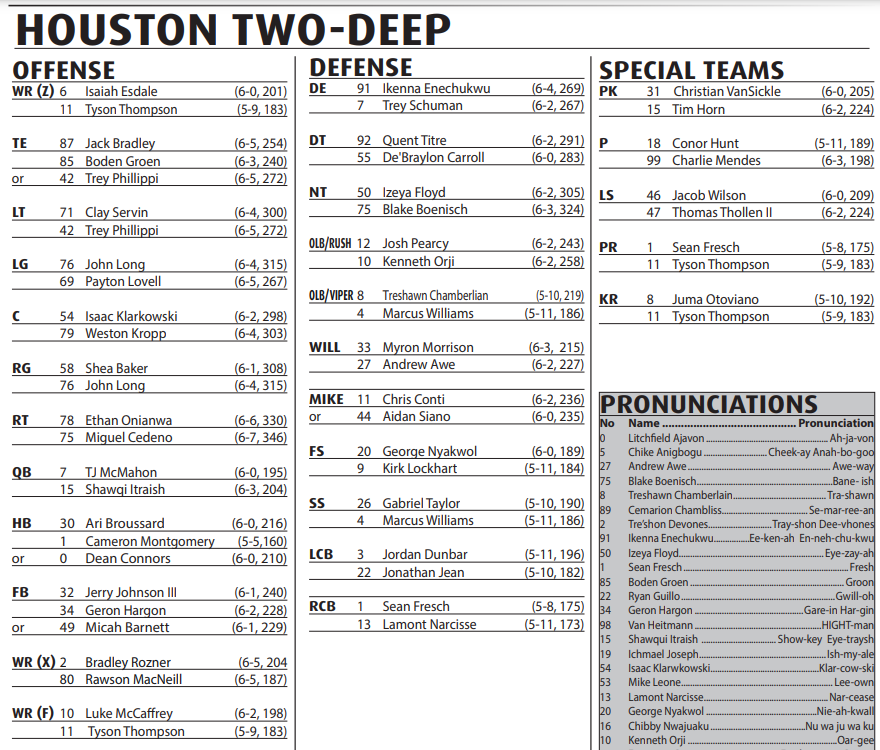 Depth chart notes
At wide receiver, Isaiah Esdale had been listed as a backup to Luke McCaffrey at the Z position, but the reality is he's been a starter for the last several weeks. That adjustment is catching up to how the team has been operated, nothing more, although it's interesting to see Tyson Thompson listed as the backup at both spots since it's been Kobie Campbell as the next man up after the top three.
As for the offensive line, Isaac Klarkowski is back on the two-deep for the first time in two weeks. If he's able to go, that would bump Shea Baker to guard. Braedon Nutter will not be available for this game because of team discipline.
De'Braylon Carroll is listed behind Quent Titre at the defensive tackle spot. He's working himself back into the lineup after missing most of the last two contests. Behind them, Marcus Williams has become the official backup to Treshawn Chamberlain at Viper.
Getting ready for the game
The Roost has plenty of content already up and running to get you ready for Rice football vs Houston this weekend.

Subscribe on Patreon for exclusive Rice football recruiting updates, practice notes and more.
Recent Posts