Rice football plays Louisiana this week. Here's what Mike Bloomgren had to say about the matchup, injury updates and depth chart notes.
Head coach Mike Bloomgren and a pair of players met with the media for their customary weekly availability. They recapped the McNeese win and looked at the week ahead, detailing what they're expecting to see when Louisiana takes the field.
We touch on those items, then dig into the Rice football depth chart and what the team looks like heading into the weekend. First, the quotes:
Press Conference Quotes
"We have shifted our focus to a very good Louisiana team. A team that comes in here with the nation's longest winning streak, 15 games in a row. I think Billy Napier did an unbelievable job building that program in a lot of ways from the ground up, and it doesn't seem like they've missed a beat. They're right in here coming into our stadium 2-0. They have a lot of the same schemes on both sides of the ball. They're a little bit different on special teams, but, again, just doing a really good job on every phase of the game. It's going to be an outstanding challenge for us this week. It's one that we are excited about." – Mike Bloomgren on Louisiana

"It was absolutely crucial. Whomever your leaders are, in any organization, they have got to set the tone. The speed of the leaders is the speed of the pack. So, when those guys go out there and go show everyone, this is the tempo we're going to practice at, this is the focus that we're going to have, hopefully, and their coaches have really coached them through the years. But now that we've got great leaders in place, they are doing a great job. I don't know how much we're having to use our voice as coaches to get effort. That makes it a lot of fun." – Mike Bloomgren on team leaders stepping up last week
"Me and TJ have a pretty good relationship. We were roommates [last year]. So we have a really good relationship and seeing each other go through some difficult times and kind of being there for each other. It was really fun seeing each other have so much success, especially when it's together. So that was really good to see him perform and he's going do to some great things for us." – Wide receiver Bradley Rozner on his relationship with QB TJ McMahon
"Honestly, we took last Monday's practice the same way we took this Monday's practice. We practice the same way we always do because we're Rice Owls. We're here to make a play and show what we can do. Every practice is its own entity and we know that as long as we come out and perform the best way we can in practice the results will show." – Safety Treshawn Chamerlain on the team's mentality in practice this week 
Depth Chart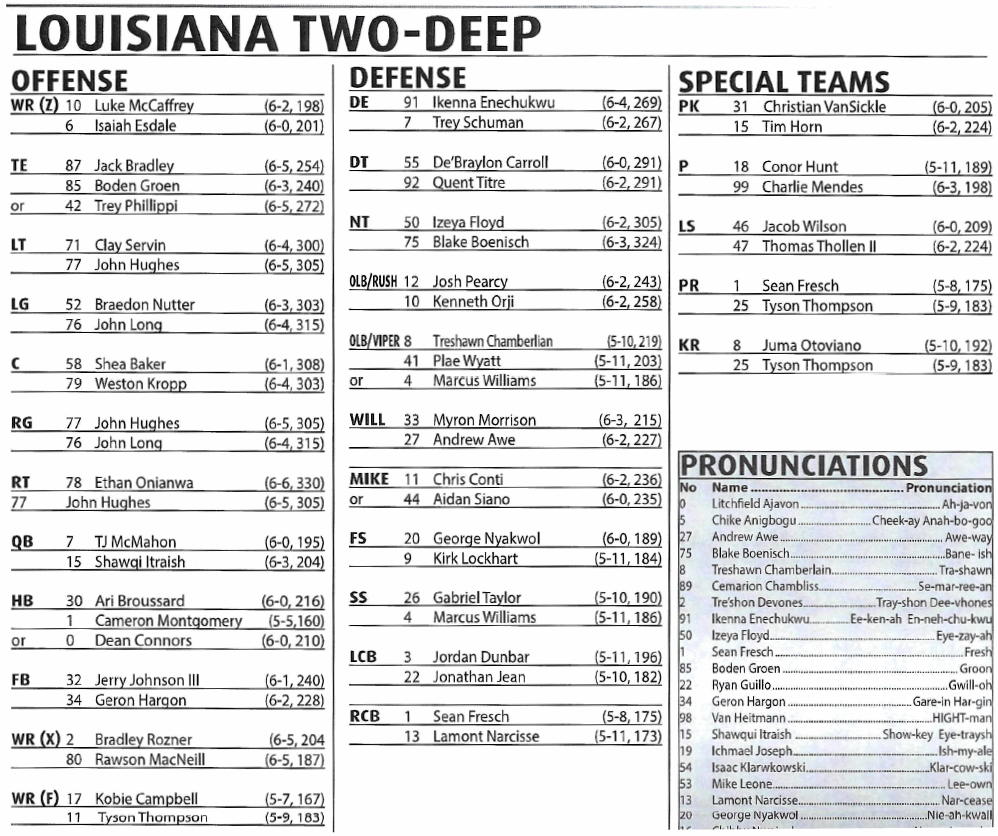 Depth Chart Notes
The offensive line is the biggest area of change on this week's depth chart. Isaac Klarkowski has been removed and Shea Baker has slid over to his spot. That's what the Owls did for last weekend's game against McNeese and will be the plan moving forward for as long as Klarkowski is sidelined
This week they've bumped John Hughes up to right guard in Baker's place and opted to keep Onianwa at right tackle.
Also new on this week's depth chart, Boden Groen has been reinserted. He's trending towards being available this week after missing the McNeese game following an injury suffered against USC.
At quarterback, all signs point toward another start for TJ McMahon with Wiley Green not listed again this week.

Subscribe on Patreon for exclusive Rice football recruiting updates, practice notes and more.
Recent Posts