Rice football plays McNeese State this week. Here's what Mike Bloomgren had to say about the matchup, injury updates and depth chart notes.
Head coach Mike Bloomgren and a pair of players met with the media for their customary weekly availability. They recapped the USC loss and looked ahead at the week ahead, discussing a few positives they can take with them and what they're watching for in their next opponent, McNeese State.
We touch on those items, then dig into the Rice football depth chart and what the team looks like heading into the weekend, which features a few minor changes. First, the quotes:
Press Conference Quotes
"We're playing a good team. That's what we can't look past. I think Coach Goff in his first year has brought in 58 transfers. They went up there and played the FCS team that played in the National Championship game last week in Montana State. They had a chance to tie it right before halftime, and then that game got away from them. Coach Goff has done great every place that he's been. I look at what he did at Valdosta State last year, taking that team to the National Championship game and then a day later he takes over as McNeese's head coach. I can only imagine that he hasn't had a chance to breathe since that day. In any case, he's building a great program and we're excited to have them come into our place this weekend." – Mike Bloomgren on McNeese State
"Guys were flying to the ball throughout the whole game people were putting in effort. I felt like nobody really game up on any play, really that mental toughness that coach Bloom is talking about. And I liked how our secondary played. I feel like we played one of the best wide receivering units we're going to face all season. The fact that they were pretty much able to hold them from too many big plays, that was pretty promising to see." – Edge Joshua Pearcy on the positives he saw from the defense against USC 
"Playing tight end, that's what you'd expect. It's a little bit of everything. You're blocking and next play you're catching a pass. It's nothing that I haven't practiced. It's nothing that coach Jackson hasn't gotten us a million reps throughout fall camp and practice leading up to the game. It's fun getting to catch the ball but its also fun blocking people, putting people in the dirt. Both ways I have fun. That's what playing tight end is all about." – Tight end Jack Bradley 
Depth Chart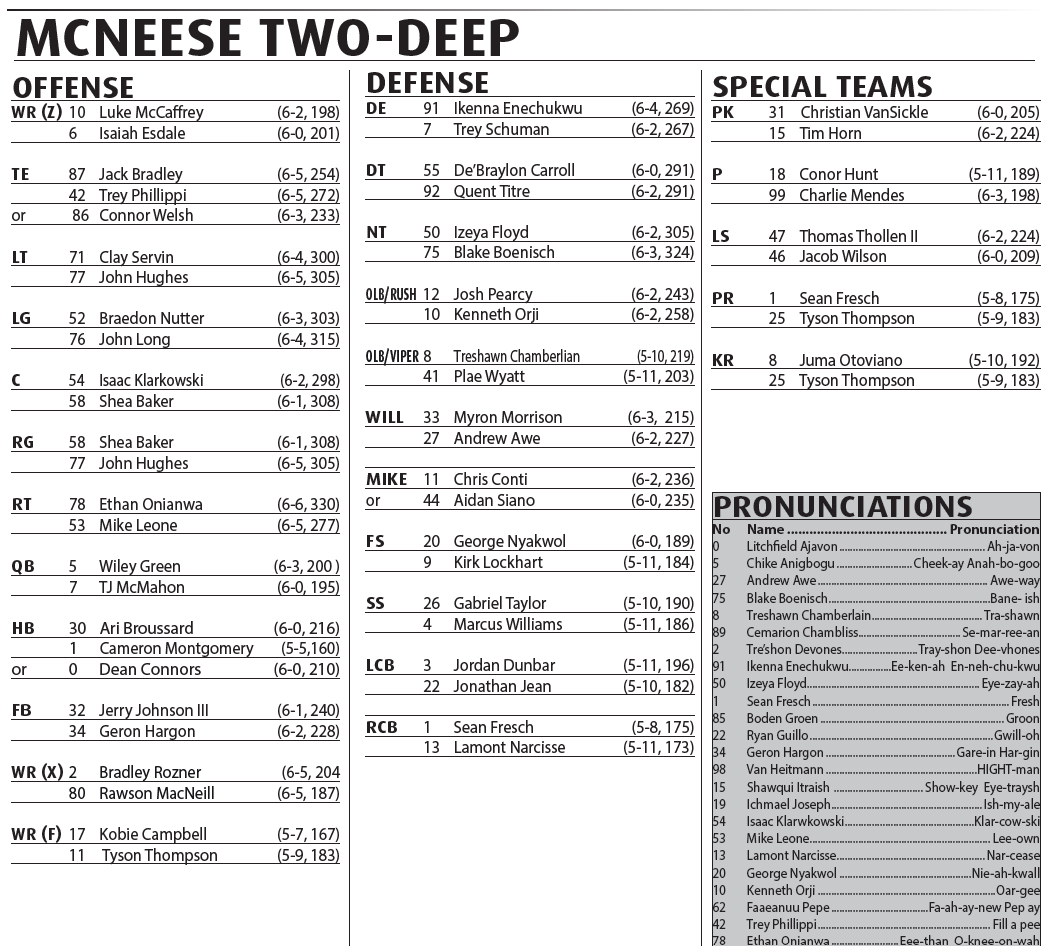 Depth Chart Notes
There were no changes to the official depth chart between this game and the USC game and honestly, that's not too surprising. Given the nature of the Owls' first opponent, barring any season-ending injuries, that's typically the case.
On the injury front, Blomgren shared relatively positive news on Tuesday afternoon. He said the team was "optimistic" running back Cameron Montgomery would be back at practice on Wednesday. As for quarterback Wiley Green, Bloomgren indicated he continues to progress and there was no structural damage. His timetable was less certain. We will have some updates from practice later in the week for our subscribers.

Subscribe on Patreon for exclusive Rice football recruiting updates, practice notes and more.
Recent Posts