The majority of the 2022 Rice Football Recruiting class will become signees during the Early Signing Period. Follow all the action here.
Amidst all the highs and lows that have transpired at South Main in recent years, the past several Rice Football Recruiting classes have been among the more encouraging moments. Rice has signed three of its five highest-rated recruiting classes under head coach Mike Bloomgren and the 2022 class looks to be flush with talent as well.
This live tracker will follow all the latest news and updates through the day, with some notes along the way on the class as it is finalized. If you're not a subscriber yet, here's your chance.
Which newcomers will make sizable impacts like Cedric Patterson, Jake Constantine and others did this year? This class has plenty of talent which could find its way to the field soon.
Subscriber content.

Please

login

to see the full post or visit our Patreon page.
Now, let's dig into the latest from the Early Signing Period, below.
Updates
10:45 p.m.
For any night Owls, here's an early preview of the latest edition of The Roost Podcast where we break down the 2022 Rice Football recruiting class.
The Roost Podcast | Ep 104 – 2022 Rice Football Recruiting class review
1:37 p.m.
Mike Bloomgren wasn't afraid to talk numbers when introducing the Owls' third consecutive Top 5 class in program history.
2022 Rice Football Recruiting class nets Owls another historic haul
12:40 p.m.
Rice officially announces the addition of former Washington kicker Tim Horn.
9:31 a.m.
Mike Bloomgren announces live on Twitter Spaces that Tulsa WR Sam Crawford will transfer to Rice. Big pickup for the Owls. Here's more on Crawford:
Rice Football Recruiting: Transfer WR Sam Crawford commits to Owls
And here's wide receivers coach Mike Kershaw on Crawford.
9:16 a.m.
The first official additional from the Transfer Portal today is JUCO running back Dean Connors. He's in. | #WhyRice
9:10 a.m.
As we listen in to the recruiting talk, consider taking a moment to fill out a quick postseason survey. Tell us how we did this fall and enter for a chance to win an Amazon gift card.
9:00 a.m.
Rice recruiting direct Alex Brown and head coach Mike Bloomgren are hosting a Twitter Spaces session to introduce the 2022 class. Give it a listen.
Tomorrow morning @ 9am, drop by to meet our newest Owls from #NSD ?!

Hear why these ballers chose @RiceFootball & follow our coaches if you're a 23 or 24 recruit looking to get on the radar!#Twenty2Infinity x #GoOwls?

— Alex Brown (@alexm_brown) December 15, 2021
8:59 a.m.
Another one! Safety Tyson Flowers is in. He's the eighth signature today.
8:41 a.m.
Things are starting to quiet down. Still possible we get another signing or two, but at this point, the Owls have the majority of their guys locked in. Head coach Mike Bloomgren has a press conference scheduled for noon today. We'll have more comments from that as well as several follow-up pieces on this class in the afternoon and the next few days.
Make sure you keep an eye (or rather, an ear) out for the next edition of The Roost Podcast, as well.
8:01 a.m.
Athlete Quinton Jackson is in. Very versatile playmaker that Rice fans will enjoy seeing on the field. | #WhyRice?
Here's running backs coach Robbie Picazo on Jackson.
7:55 a.m.
Quarterback AJ Padgett is in. No drama on the signal-caller front, Padgett committed in June and seals the deal today. | #WhyRice?
Here's offensive coordinator Marques Tuiasosopo on Padgett.
7:52 a.m.
That's five NLIs in so far. That puts the Owls about halfway through their high school commitments. Keep an eye out for a player or two from the Transfer Portal. They're not subject to the same timing restrictions as incoming high school players, so whether or not the Owls can officially introduce any new additions is TBD.
7:46 a.m.
Onto the skill players! Wide receiver Braylen Walker is in. | #WhyRice?
Here's wide receivers coach Mike Kershaw on Walker.
7:38 a.m.
There's something very on-brand with this. Rice gets the morning stater with three linemen. Defensive end Chibby Nwajuaku is in. | #WhyRice?
Here's defensive line coach Cedric Calhoun on Nwajuaku.
7:27 a.m.
Defensive lineman Davion Carter commits to the Owls in April, the first commitment of this class. Now he's officially a Rice Owl.
Here's defensive line coach Cedric Calhoun on Carter.
7:16 a.m.
The other commit from the Eastern Time Zone, wideout Rawson MacNeill is in. | #WhyRice?
Here's wide receivers coach Mike Kershaw on MacNeill.
6:58 a.m.
The first National Letter of Intent is in! Florida offensive lineman Miguel Cedeno is officially a Rice Owl. 6-foot-7, 320-pounds. This is a big get, literally.
Rice is rolling out a nice package on social media for these guys, too. Here's Cedeno's #WhyRice? and more on him from offensive line coach Sanders Davis.
Wednesday, 6:08 a.m.
We should see announcements start rolling in at any point now. The first group to keep an eye on is the East coast commits.
Tuesday night
The first new addition to the 2022 Rice Football recruiting class checked in before the Early Signing Period officially opened. Washington kicker Tim Horn announced he was transferring to Rice on Tuesday night. He fills an immediate need for the Owls moving forward.
Tuesday afternoon
The initial group of December signees for the 2022 Rice Football recruiting class may end up slightly smaller than in previous years. That's due in part to some of the uncertainty surrounding the COVID-19 waivers and their impact on future rosters as well as a strategic decision by the Rice coaching staff to save a few spots down the road for a Transfer Portal that seems to constantly be churning out new names on the hour.
As is typically the case, there were several Rice signees would had yet to receive a 247 Sports rating. Those last couple of rankings were added by Tuesday morning. Here's where the 2022 Rice Football recruiting class stands as of Tuesday night. Players are eligible to fax in their signatures starting at 7:00 a.m. local time.
Conference USA Recruiting ranks on the eve of the Early Signing Period.@RiceFootball checks in at No. 3. #FlightSchool22 #GoOwls pic.twitter.com/0QwPSqJT7J

— The Roost (@AtTheRoost) December 14, 2021
Rice has the No. 3 class entering Wednesday morning, but you'll notice they only have nine commitments, the fewest of the top three rated teams. They're in a good position so far and aren't accounting for quantity over quality.
Make sure to stay tuned on Twitter and follow our live blog here during the day for updates. Get the latest list of the 2022 Rice Football Recruiting commits by clicking the tracker below.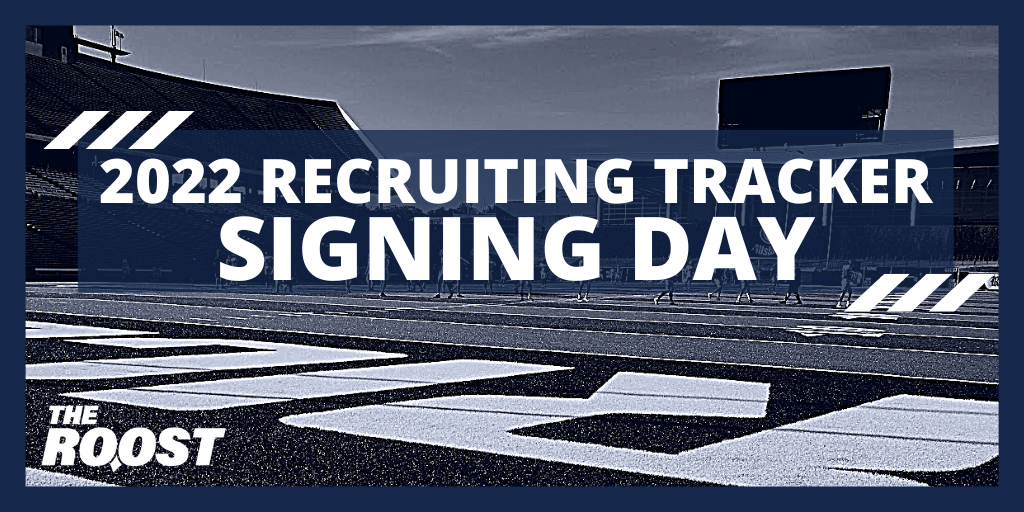 Subscribe on Patreon for exclusive Rice football recruiting updates, practice notes and more.
Recent Posts