Up next Rice football visits UTEP in the Owls' last road game of the season. Here's what Mike Bloomgren had to say about the matchup, injury updates and depth chart notes.
Head coach Mike Bloomgren and a pair of players met with the media for their customary weekly availability. They discussed the loss to Western Kentucky and how the team planned to approach their upcoming game against UTEP. We'll include updates from Bloomgren and those players, then dig further into the details of the Rice football depth chart and what the team looks like on the field headed into the weekend.
Subscriber content.

Please

login

to see the full post or visit our Patreon page.
The depth chart continues to fluctuate, although most of the changes of late can be attributed to injury. Rice football is been beat up down the stretch, but there shouldn't be too many surprises this week. First, the quotes:
Press Conference Quotes
"I think Coach Dimel sees winning championships the same way I do. I think he's had success doing it at whatever level of football he's been at. When he's won, we've talked about this before, that's kind of the formula. We're able to do those things and yeah, it's interesting. I think both of us are over 35 minutes time of possession so something's gonna have to give in this game. One of us is is going to lose that battle. But in any case, I think we see the game very similarly and probably because of our backgrounds, both being at the offensive line spot, we love the ability to control the game that way." – Mike Bloomgren on similarities between himself and Dana Dimel
"Aidan is a guy that we saw on recruiting film and fell in love with instantly. He's sideline-to-sideline, making plays. My concerns with recruiting Aidan were never if he was good enough, it was whether we would be able to hold onto him throughout the whole recruiting process. We were able to get him and his family to fall in love with this place and this team.

I'm so thankful that he's here. I'm thankful to see his role grow pretty much every week of the season to the point where he's now a starter for us. I'm really excited for him to be in that role all week in practice and get to see the results against what we know is going to be a physical offensive line from UTEP" – Mike Bloomgren on linebacker Aidan Siano
"That first start was everything I could have asked for. It was a lot of fun. I was definitely nervous going into the game but… it was a lot of fun. I definitely wish the game could have gone a little bit differently, but it was a blast and I'm just blessed to be in this role" on his first start Saturday vs WKU" – Linebacker Aidan Siano on his first career start against Western Kentucky
"This offense, just day in and day out, seeing the guys come in and go to work every week. It's college football, every week you're not going to have the greatest game of your life. But if you can come back and work every week and continue to perfect your craft and continue to go through the scheme and continue to just practice and work together and practice hard throughout the weeks of the season with the same guys over and over. I believe that you're obviously going to have some progression. What we've done is pretty nice, and I look forward to keep going." – Running back Cam Montgomery on the growth of the offense
Depth Chart
There were no changes on the official Rice football depth chart heading into the Western Kentucky game. That's not the case this week. There are a few changes, impacting both sides of the ball.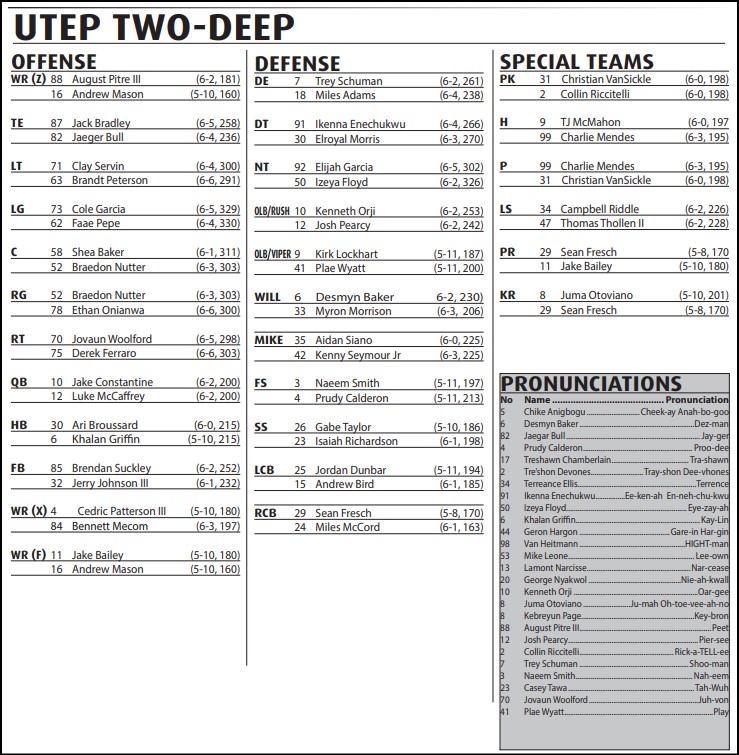 Injuries

Subscribe on Patreon for exclusive Rice football recruiting updates, practice notes and more.
Recent Posts