Rice football returns home to take on North Texas in Week 9. Here's what Mike Bloomgren had to say about the matchup, injury updates and depth chart notes.
This is the first of a couple of updates coming this week as Rice football prepares to take on North Texas. We'll include updates from head coach Mike Bloomgren's midweek press conference, then dig further into the details on the depth chart and what the team looks like on the field headed into the weekend.
Subscriber content.

Please

login

to see the full post or visit our Patreon page.
Rice football is riding high, on the arm of Wiley Green and reinforcements from a handful of younger faces that are becoming key cogs in the Owls' program. The depth chart continues to evolve, hopefully for the better, showcasing the depth the Owls have built over the last several seasons. First, the quotes:
Press Conference Quotes
"I'm just so proud. You don't have to talk about him being our Game One starter. You can talk about him being our Year One starter in this program. All of the peaks and valleys that we've gone through as a program with Wiley [Green] together. How we've come out the other side a little bit in this game. It meant the world to me. There's nobody I would have rather seen that success and the fact that he was able to go out there, turn it loose and play the way he's capable of playing in a green light manner meant everything to me. It really did. I said it after the game, he put on a quarterback clinic. That's exactly what he did." – Mike Bloomgren on Wiley Green
"What I see on film is a very good football team. I see a dangerous football team with skill all over the place. A team that's played a great schedule (and) a really difficult schedule. I know that it's going to take us preparing the way we did last week and even better for us to come out here and go 1-0 this week. That's our challenge. Our challenge is real simple: prepare the way we know that we need to, go out there and practice in such a way and then find a way to still go green light on Saturday to give ourselves the best chance to win." – Mike Bloomgren on North Texas
"I just feel like this is a team that is just very confident in what we're doing right now. I know we look back two weeks ago and it's a little different story but I think that really helped grow us into the team that we are today and hopefully we can continue that going into this next week. But again, that's kind of what we're really focused on. Not too worried about the past and just continuing to go 1-0 this week." – Wiley Green on how this team has changed
"We talked about having this green light mentality and that is just not being hesitant — because you care so much about the team that you don't want to mess up — but instead just giving absolutely everything you can every single play, having this green light mentality where you don't worry about the last play but you worry about this one. I think that makes a big difference in our confidence." – Wiley Green on the team's 'green light mentality'
"It was the best feeling, just coming together as a brotherhood. It was the best feeling ever. Of course, last week and the week before that we didn't show really our full potential. But everything just came together, we clicked as a unit from start to finish. And hopefully we can do that next week against North Texas." – Gabe Taylor on the win over UAB
Depth Chart
The Rice football depth chart continues to evolve, including a change at the most important position: quarterback.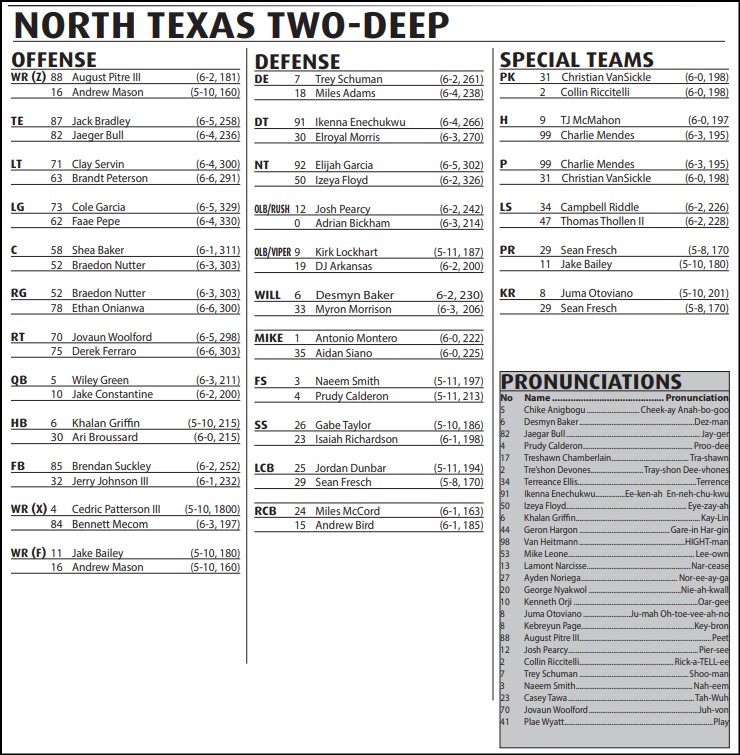 Going Green

Subscribe on Patreon for exclusive Rice football recruiting updates, practice notes and more.
Recent Posts