Rice football goes back on the road this week to take on UAB. Here's what Mike Bloomgren had to say about the matchup, injury updates and depth chart notes.
This is the first of a couple of updates coming this week as Rice football prepares to take on UAB. We'll include updates from head coach Mike Bloomgren's midweek press conference, then dig further into the details on the depth chart and what the team looks like on the field headed into the weekend.
Subscriber content.

Please login to see the full post or visit our Patreon page.
Any hopes of a fully healthy Rice football team headed into the second half seem to have faded quickly. The Owls have several key players in doubt for the UAB game with injuries, causing changes across the depth chart. We'll hit on those adjustments and discuss what Owls are most likely to go on Saturday. First, the quotes:
Press Conference Quotes
"I don't think anybody associated with our program is happy about our performance versus UTSA. Unfortunately, that game didn't go the way that we planned. We started slow in the first few drives, dug ourselves into a deep hole and we struggled to do much after that time. I've told our team that we have to do our jobs better and that starts with me, with everybody doing their one-eleventh. We have to stick together and we have to keep moving forward.

Our coaches are going to coach them on anything that is correctable on the film. I've asked the players to remember the lessons, but not relive the game. I don't want them ever to feel that way again. I want to do everything in my power, everything in our program to make sure we never feel that way again. We certainly don't want to relive it." – Mike Bloomgre on the UTSA loss
"I think in college football, it has to be that mindset. It has to be next man up. But, in some cases, we've got the next, next man up and that is harder. I've tried to look at it in totality, especially on the defensive side of the ball. We returned 10 starters and we were excited about those guys. We knew they were going to be awesome…

One thing that's really different is you look at UTSA, they're an older team. They have great players and they had everybody starting that they planned on starting Day One of the football season. That's nice. Some people get that reality. We have not been fortunate enough to get that reality here. Of the 10 starters that we thought were returning, five of them didn't play against UTSA. That's tough. It's not excuses, it's just reality. " – Mike Bloomgren on team depth and injuries 
"We know the process works. The process is prove, tried and true. But, there's a couple of things we tweaked. It's to the point of doing the same thing and expecting different results, but it is frustrating for everybody in this program because we practiced really well last week. But, we didn't play like we wanted to.

So, we're going to continue to practice the right way, we're going to continue to install the schemes the right way and prepare these guys the right way and we're going to do everything in our power to tweak our ability to do it on game day the way that we practiced." – Mike Bloomgren on potential adjustments to the team's process 
"It's wonderful. I've always tried to preach to my coaches and prove that I have the ability, not only to be that down hill, run-through-people's-soul type of back, but also be able to catch the ball, be able to block and be a total and complete back." – Ari Broussard on his expanded role in the offense
"Special teams is where I kind of began, it's kind of where I made a name for myself. It's kind of how I expanded my role in the offense through special teams and doing well there. And because of the success I had there, they thought that it'd be better to include me in our offense more. It's fun, going down there and doing what I can, anything I can to help the team, whether that be special teams or offense." – Ari Broussard on the importance of his role on special teams
"Every day we just look each other in the eyes and we tell each other, 'what do we need to do to get better?'. That's all we tell each other every day. We're going to do this certain thing to get better and all we want to do is go forward. We can't worry about the past. Everything that's happened before now, it doesn't matter. It's about each week going 1-0 and trying to get to that conference championship." – Desmyn Baker on how the team is responding this week
Depth Chart
The Rice football depth chart is cycling through names lately, with injuries causing upheaval at several key spots.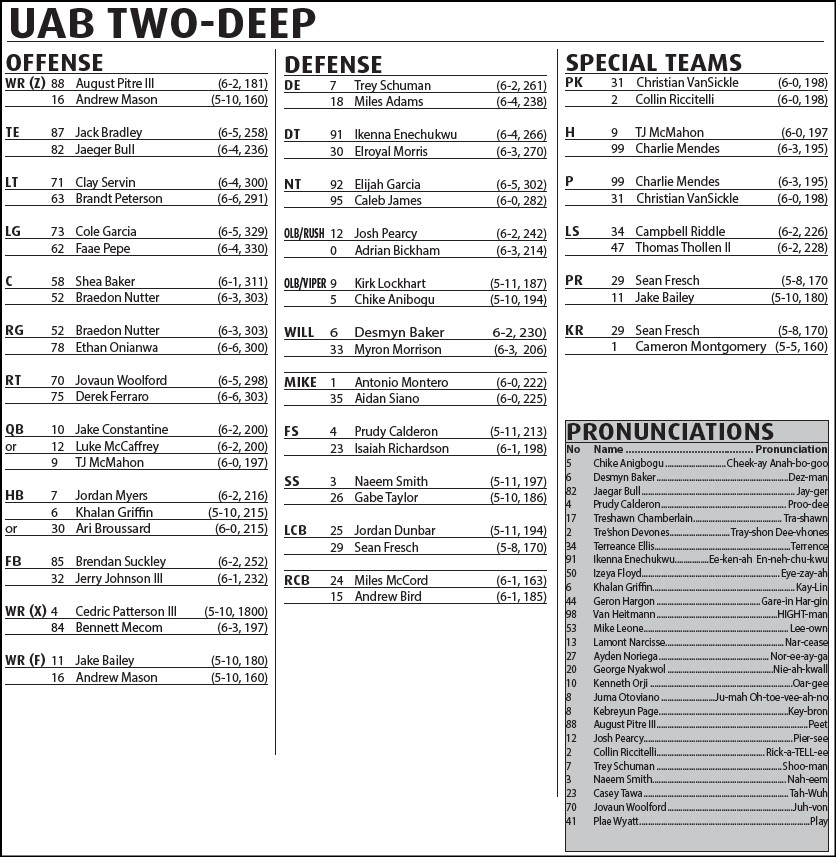 Quarterback

Subscribe on Patreon for exclusive Rice football recruiting updates, practice notes and more.
Recent Posts