Rice football hits the road again this weekend to face Texas. Here's what Mike Bloomgren had to say about it, injury updates and practice notes.
This is the first of a couple of updates coming this week as Rice football prepares to take on Texas. We'll include updates from head coach Mike Bloomgren's midweek press conference, then dig further into the details on the depth chart and what the team looks like on the field headed into the weekend.
Subscriber content.

Please login to see the full post or visit our Patreon page.
While some attention was given to Texas, much of this week's discussion revolved around the Houston game. Bloomgren was able to shed greater clarity on what went wrong and offer some comments on how the Owls plan to fix those issues. Practice notes are lighter with the hurricane throwing a wrench in the typical schedule. Expect a deeper breakdown on that front later in the week. First, the quotes:
Press Conference Quotes
"We just think he gives our team the best opportunity to be succesful, not only today, but going forward. There's thing that he brings to the position and to the team that are diferent. The ability to affect the game with his legs. The ability to keep plays alive. When he's comfortable and stands in there and throws or when he's on the move, he's got a super strong arm. But the ability to keep plays going and do things with his legs are really the reasons right now." – Mike Bloomgren on the decision to start Luke McCaffrey at QB
"Going back to the commonality of the opponent, I think it should be very encouraging to our guys to watch what we did against Arkansas and and watch [Texas against Arkansas], and know that we can go stand toe to toe with these guys. If we just stick to our fundamentals, listen to our coaches and play our butts off, we'll have a chance to stand toe to toe in front of these guys, get the game to the fourth quarter and hopefully find a way to win that thing." – Mike Bloomgren on the common opponent with Texas
"I think when you go into and yoilook at the schedule and you get to play those old South West Conference teams, I think a lot of our fan base was excited. I think they'd like us to beat a couple of them, and certainly we would like that as well. But you look back at the history of this game and how many times it's been played, it's a great rivalry. Now, it's been a little bit of a one sided rivalry, right? I think the last win we have in this program is 1994, but we've done a lot of firsts in the last three years and we'd sure like to find a way to earn this victory. And our guys are going to work our butts off to try and make that our reality." – Mike Bloomgren on rekindling the rivalry with Texas, SWC opponents
"We have grown so much. Being here for four years, I've seen a lot of downs and those downs have been really hard. I think we're on the trajectory of going up and on Saturday that obviously was not showing our progress, but we're on the way there."  – Shea Baker on the growth in the program since Rice last played Texas in 2019
"We felt like we've played good corners but not full games, and that's not good enough. Anytime that the offense gets the ball, we can't let them score, it's as simple as that, especially not in the red zone. We haven't been good enough in the red zone. We given up too many points, which I know will get corrected. I believe in it. I believe in our scheme, our players. Not not the way we wanted to start our season defensively, but we have 10 more games." – Antonio Montero on the play of the defense
Depth Chart
The Rice football depth chart was updated following the Houston game. The primary changes were injury related.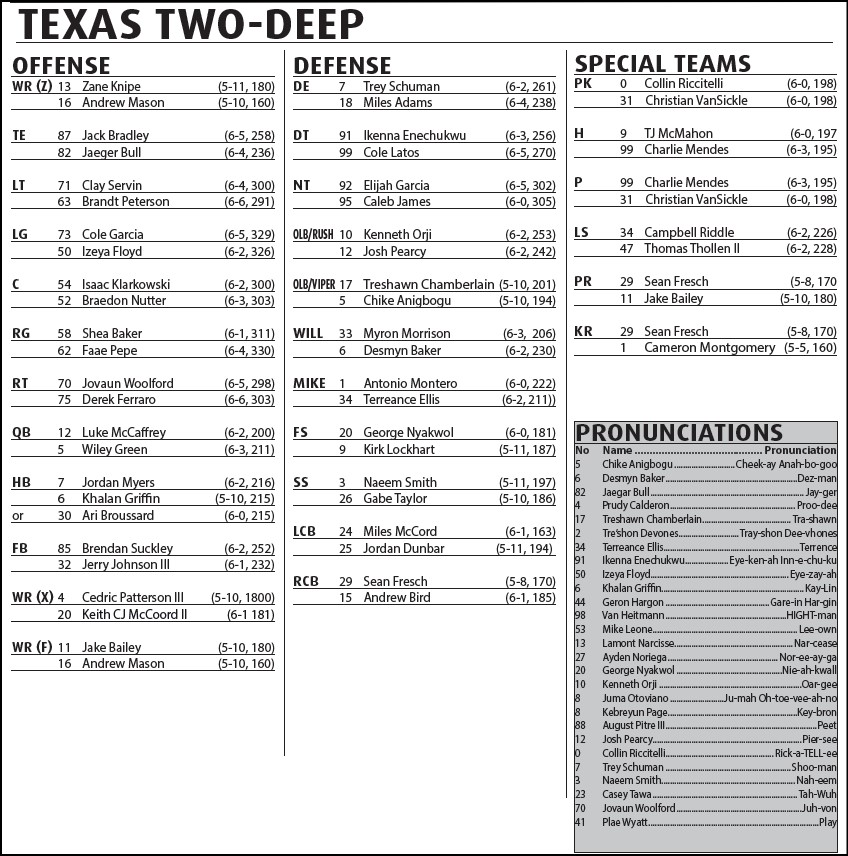 Depth Chart Changes and injuries

Subscribe on Patreon for exclusive Rice football recruiting updates, practice notes and more.
Recent Posts