Rice football linebacker Blaze Alldredge quietly arrived in Houston two years ago, but he's not flying under the radar anymore.
Most everyone in Conference USA circles knows who Blaze Alldredge is. Those who haven't will know his name soon enough. The current Rice linebacker is a rising star in the conference, earning first-team All-Conference honors in the preseason, the first of a growing list of accolades that reach beyond the confines of the conference itself.
Alldredge's superb play has earned him mention on the watch lists for the Butkus, Bednarik and Nagurski Awards this offseason. Alldredge is the only Conference USA Player in the running for all three awards. He's no longer being spoken of as just being one of the best linebackers on his team. National outlets are paying close attention to Alldredge now as his stock continues to rise.
But it wasn't always that way.

Not too long ago Alldredge sat in his junior college dorm room with somber thoughts. He thought about quitting, wondering if his doubters were right. Maybe he wasn't as good as he thought he was.
"I wanted to have a real-life gut check, to ask myself if it was worth it to keep going."
Those doubts filled his mind as he wrestled with his future. The under-recruited Floridian didn't receive any FBS offers coming out of high school. Going the junior college route was his best option. So he went, hoping he'd make the best of another chance to prove himself.
He spent one season at Los Angeles Pierce College where he posted 88 tackles in 10 games. He was the third leading tackler on his team. It was a good start, but it didn't raise his status to the level he had hoped it would. The stream of offers he had hoped would be forthcoming turned out to be a trickle. Again, he wondered but pressed on.
That was until Rice came calling late during the spring. The bulk of the semester had come and gone and most players had already made their plans for where they would play the next season. There weren't many spots left to be had.
But Alldredge took a late flight, had a later than usual dinner with members of the coaching staff and went to bed prior to his last-minute visit. The next morning he showed up to the Brian Patterson Center ready to get to work.
Linebackers coach Scott Vestal remembers that meeting well. Vestal says he doesn't like canned presentations that feel manufactured so instead of a fancy PowerPoint or prearranged cut up, he let Alldredge pick the session for them to go through together.
They sat and they watched the 2018 spring game, a game in which by Vestal's own admission the linebackers underperformed. So they watched, critiquing the errors and talking through the breakdowns before Alldredge indicated the level of intensity wasn't good enough. He could do better.
Vestal was sold. It wasn't just the swagger — plenty of players have that — it was his level of detail. "Blaze notices things at such a rare level," Vestal said adding that Alldredge "more than anyone I've ever seen in my life, sees the game through the coach's eyes."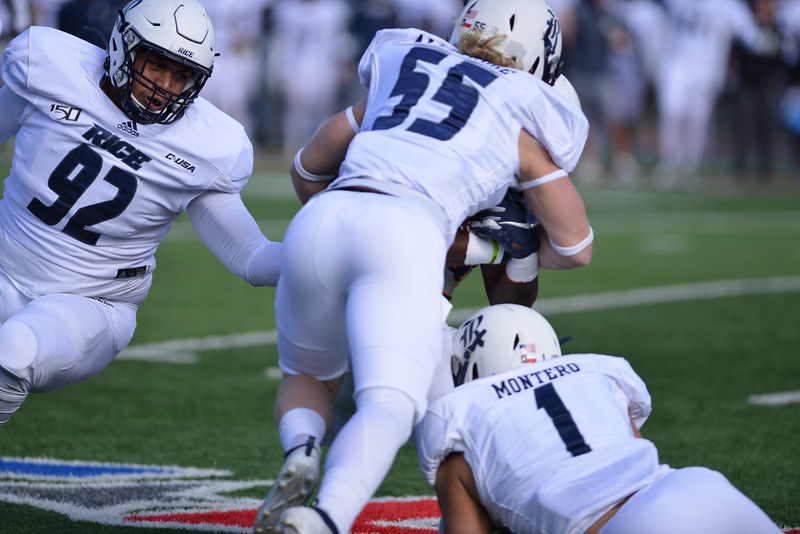 That meeting, along with conversations stemming from that visit, prompted Rice to offer Alldredge a spot on their team, which he accepted.
At that point, it was already May. Always the underdog, Alldredge would have to hit the ground running.
Players were due to report to campus for workouts in a few weeks and most of the roster was already in place. Adding someone that late in the recruiting cycle in the era before the Transfer Portal was rare. As he's proven himself to be time and time again, Alldredge was the exception.
That mental conversation he'd had with himself months ago had earned him an FBS scholarship. He rose from the bottom of the depth chart to second-string quickly. By the fourth game of the season, a road trip to Southern Miss, Alldredge was in the starting lineup.
An illness opened the door for him that day, but it was Alldredge who never let it swing shut.
He tallied nine tackles and the Owls' first interception of the season that day. "I definitely look back on that and cringe a little bit that I could have played a lot better," he remembers, "but I didn't shrink under the light. I took advantage of my opportunity and I played well enough that I gave everybody the mindset that, 'Okay, we need to see what this kid has and play him a little more.'"
By the time he cracked the starting lineup again his role was secure. His next start came against FIU four weeks later. He's started every game since, a string of 18 contests which is expected to be extender further whenever the 2020 campaign begins.
Alldredge's 21.5 tackles for a loss last season were the second-most in the nation. He finished half a TFL short of Rice's all-time record set by Brian Womac in 2017. From JUCO to one of the nation's best, Alldredge isn't flying under the radar anymore.

The accolades are nice. Alldredge called the Butkus Trophy "an award every linebacker dreams of winning from a young age." But the attention hasn't shifted his focus. "I still feel like I have a lot to prove," he said. "There's a lot of people that don't truly see and recognize the level that I'm at. And that's on me to go out and show them."
Alldredge has bet on himself from the beginning. He's never been one to settle for where he's at right now, constantly reaching for the next rung. He calls his expectations "realistic". Whether or not that's a fair representation rests in the eyes of the goal setter.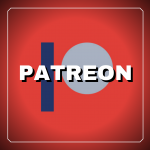 To this point, Alldredge has constantly delivered. He's put in the work in the weight room, cutting his body fat to jaw-dropping levels. He's become a wizard in the film room, forcing his coaches to prepare even more diligently than normal to anticipate his inevitable questions. There's always another gear, but it's the same process.
Alldredge says he's not seeking to do anything new. "The thing for me this season isn't to do anything extra, do anything spectacular. It's just to not miss anything, to make the plays that come to me and just do my job. And if I do that, and I help my team win games," he said, "then everything else is going to come to me."
A conference championship is the next objective on his list. From there, many believe he'll have a chance to play on Sundays in the NFL. Those days may very well come. Alldredge aims to get there by being the best version of himself he can possibly be right now. And that's not something he's worried about at all.

Subscribe on Patreon for exclusive Rice football recruiting updates, practice notes and more. React to this story on our forum.
Recent Posts