Rice football welcomed TCU grad transfer Mike Collins this spring to compete for the starting quarterback job. Let's take a closer look at his game.
In last week's piece, we took a look at how the Rice football offense changed late in the season, morphing from an attack that blended the old school Stanford-style attack with modern spread principles in about equal measure to one that favored the latter by about a three-to-one ratio. This helped maximize the strengths of QB Tom Stewart and was instrumental in the Owls' 3-game win streak to end the season. We concluded by noting that it was crucial that Rice's coaches continue to mold the offense to the strengths of their personnel.
The two principal contenders for the starting QB job in 2020 are redshirt freshman JoVoni Johnson and TCU grad transfer Mike Collins. For Johnson, we know something about how Rice might mold the offense to him. Though he was not yet polished as a passer last fall—he attempted 18 passes on the year, completing 10 for 97 yards and a touchdown—he was dynamic enough to earn snaps in special packages to showcase his talents as a runner.
It's not difficult to imagine what the Rice offense could look like with him as the full-time starter: a heavy dose of the multi-TE pistol formation packages he ran in high school, heavily featuring his legs on both designed QB runs and a steady dose of option plays like zone read and power read. Such an offense reaching its ceiling would depend on Johnson taking big steps as a passer, but we have an idea of what it would look like.
But what about Collins? I went back to his tape from the 2018 season at TCU to get a clearer picture of both his skillset and the types of plays he ran in Fort Worth. We'll break down a couple of those plays in detail here, and then I'll wrap up with some thoughts on his game and how Rice can adapt to it.
Big Arm . . .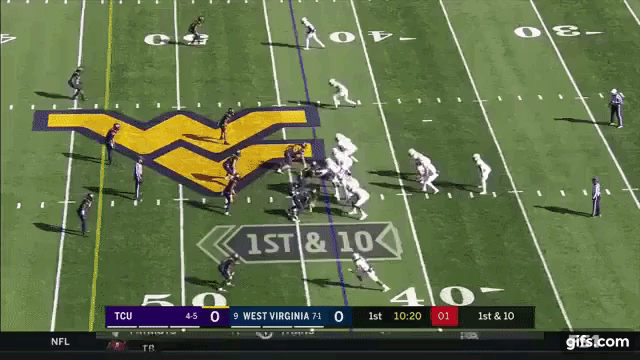 Setup
It's TCU's first drive against West Virginia in 2018—they eventually lose this game in blowout fashion, 47–10, but Collins plays pretty well, completing 22 of 37 passes for 229 yards and a TD. The Horned Frogs have the ball 1st and 10 on their own 43-yard line.
They're in a two-back pistol I-formation look, with a fullback directly to Collins' right, and three wide receivers. WVU is in a 3-3-5 look, showing a tite front and a 3-safety secondary—both common defensive tactics in the Big XII. The tite front uses three linemen to plug all the interior gaps, making it easier to stop inside runs when the offense has you spread out to keep the box light. The 3-safety look, pioneered by Matt Campbell's Iowa State teams, allows for a great deal of variety and flexibility and also helps prevent big plays—a must against explosive Big XII offenses.
The Play
It's play action, with both the fullback and the running back staying in for a max protect look so Collins has time to push the ball downfield. He's looking for the outsider receiver to the field side (recent 1st-round pick Jalen Reagor) all the way, and he's going to have a narrow window to fit the ball in between the outside corner and the deep safety to that size.
This play is a pretty good illustration of Collins as a passer. He's got the gumption to take this shot into a tight window. But if he gets the ball out earlier—at the very top of his drop—he probably can get it out front of the speedy Reagor where neither the corner nor the safety has a chance to make a play, and it might be a touchdown. As is, the safety is closing in and Collins has to put the ball inside and let Reagor adjust to it (which he does beautifully).
Not pulling the trigger faster also lets the pass rush get closer to him, which forces him to kind of awkwardly half-turn into this throw rather than fully stepping into it, which is why it's so wobbly. But if your arm and body control are good enough (think Pat Mahomes!), you can get away with that. And Collins has the tools—despite looking ugly, this ball gets all the way across the field into a tight window, and the ball placement, while not perfect (it's a little behind), is good enough to let Reagor catch it mostly in stride and get some extra yards.
. . . Inconsistent Mechanics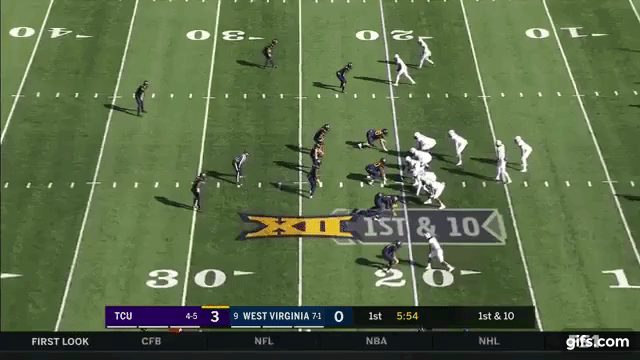 Setup
It's TCU's next drive, and they're up 3–0. It's 1st and 10 from their 20. They're in 11 personnel, with Collins in the shotgun, the RB and H-back both to his right, and three wides, with two in a stack set to the wide side. The No. 1 receiver (remember, that means the outermost receiver) to that side comes in orbit motion before the snap.
The Play
It's a backward pass to the motioning receiver, which to be fair to Collins is a pretty risky play setup to begin with. The receiver is too far away to pitch or toss to, so this has to be a very soft touch pass right out in front of the receiver. But it almost looks like Collins started to pass properly before deciding to pitch it? He ends up doing a very awkward shot put motion while flat-footed, and the receiver can't haul it in. TCU recovers, but it's a big loss.
Playmaking on the Move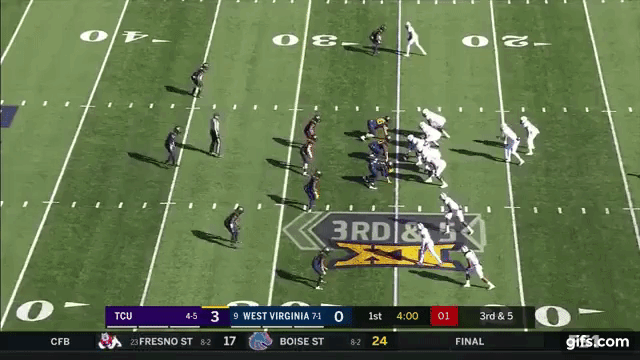 Setup
It's the same drive (the same series, actually), and it's now 3rd-and-5. TCU's in a four-wide set with trips to the left (which they motioned to from a 2×2 set; not shown because the gif would've been huge). WVU's again showing their 3-3-5 tite front/3-safety look.
The Play
It looks like Collins is reading the trips side high to low. The vertical route from the inside receiver is passed off well from the SAM linebacker to the safety, and so he looks down to the outside receiver, who fakes a vertical route before cutting back into an open spot in the zone. Collins shuffles that way not so much away from pressure but I think just to give himself a clearer angle and line of sight on the throw, and then drives the ball pretty impressively without ever resetting his feet. He squeezes the ball right between the defenders for a first down.
Conclusions
Now, the obvious caveat with looking at Collins' TCU tape is that it's from 2018. We don't know whether the additional practice he's gotten at TCU, his short spring at Rice, and potential fall camp for this season will have sharpened his skills, or maybe if the long gap between meaningful snaps will have dulled them. Still, this is the evidence we have. And while these few plays are from a pair of series in one game, I think they're a decent enough illustration of what he showed at TCU.
He's got a huge arm and the ability to make throws on the move and off-platform, plus the moxie to go for the big play. But he's also got a bit of a slow trigger, and his mechanics in the pocket are inconsistent enough that sometimes his arm can't bail him out. I didn't include any plays of him as a runner, but from what I saw he's like Tom Stewart in that regard. He'll take the easy yards in front of him when he can and makes good decisions in the spread option game, but he's not going to be a dynamic threat like JoVoni.
So how can Rice adapt its offense to him? In some ways, the offense they ran for Stewart in the final quarter of the season is a pretty good blueprint. TCU's offense ran much more four-wide sets than Rice did in 2019, but there's enough overlap that the late-season offense can be a starting template for a Collins-led offense.
A steady dose of RPOs and play-action will give Collins simple, defined reads to help him process and get the ball out faster. He's not afraid to throw downfield and let his receivers make a play, and Rice's 2020 receiving corps will have an excellent blend of speed (Knipe, Bailey), size (Rozner, McStravick), and reliable playmaking (Trammell). Drawing up deep shot plays with regularity will let Collins use his arm and aggressiveness to make big plays with those receivers and prevent defenses from selling out against the run.
Finally, mixing in option plays will punish defenses for being over-aggressive against Rice's traditional run game, though Collins, like Johnson, must learn to take better care of his body as a runner.
The percentage of under-center, I-formation, heavy-personnel plays that Bloomgren likes will probably depend on just how comfortable the starter is able to get playing under center, but it's a safe bet that we'll still see those on at least a quarter of the plays or so. I do think we see even more pistol sets, for a couple of reasons. The first is that both Johnson and Collins have experience running them. The second is that they're a great way to meld heavy-personnel, downhill running plays with shotgun spread option principles—the perfect synergy for how Rice's offensive coaches like to operate.
There is a great deal of uncertainty for Rice's offense going into this year, but we do know that the coaches are willing to adapt their principles to do what it takes to win. Collins needs to have improved from his 2018 self if he's to take this offense and this team to the next level, but he's clearly got the skillset to do it. If he's the starter, then how the staff molds to his talents may go a long way in setting up Rice for success this season.

Subscribe on Patreon for exclusive Rice football recruiting updates, practice notes and more.
Recent Posts