The 2020 Rice Football recruiting class was a highly-rated, hand-picked collection of players. The numbers reflect the Owls' effectiveness.
The world of college football recruiting is swathed in layers upon layers of grey. Who gets offered by whom makes local and sometimes even national news. Meanwhile, whether or not that offer is "committable" or not is largely kept hidden in the shadows.
The 2020 Rice football recruiting class provided a decidedly unique level of clarity. The Owls distanced themselves from their peers in the effectiveness and efficiency of their recruiting offers. Based on data released from Hero Sports, Rice offered the fewest players in the 2020 recruiting cycle among all Conference USA teams. See the graph below.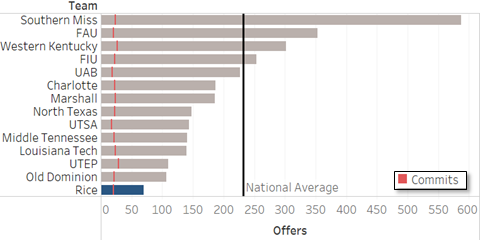 The Owls' 70 offers were only the fewest in Conference USA. Rice tied Northwestern as the choosiest FBS programs in the nation. Stanford (74) and Washington (79) were the only other programs that offered less than 100 players.
Keep in mind, classes are capped at roughly 25 players each season and FBS rosters are limited to 85 scholarship players. Offering 98 defensive linemen — something Southern Miss decided to do in the 2020 class — goes well beyond both the 25-man and the 85-man thresholds.
On a per offer basis, no school in the Group of 5 was as effective as Rice. The Owls turned 27.1 percent of their offers into commitments. See the graph below.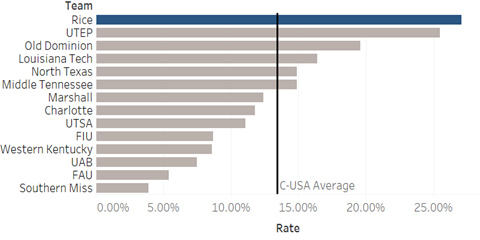 A little more than one out of every four offered players became a signee in the 2020 Rice Football recruiting class. That's more than double the Conference USA average 13.4 percent. It's also significantly better than the national average, which hovers around 11 percent.
There are no trophies handed out for recruiting efficiency. But the line of sight offered by an offer from Rice football is second to none. The Owls do their homework before they extend an offer. If you get an offer from Rice, it's rock solid.
Join The Roost. React to stories and news in the forum. Stay plugged into the latest happenings in Rice Football with practice notes recruiting updates and more. We are your No. 1 source for Rice Athletics News.
Recent Posts