The 2020 Rice Football recruiting class has flipped a talented offensive lineman from the Northeast. Mike Leone has committed to the Owls.
More than a dozen members of the 2020 Rice Football recruiting class were under the radar prospects on the national stage. Most rating services hadn't evaluated them yet. There was not list for the Owls to go off, instead they identified talent and got it to South Main.
Then there are guys like Hun School offensive lineman Mike Leone. The 6-foot-5, 270-pound offensive lineman is from New Jersey, about three hours away from Maryland, an ACC school that has been after Leone for a while. Not only did Leone pick the Owls over the Terps, he opted to fly down to Houston the weekend before the Early Signing Period rather than visit Maryland.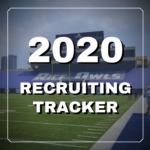 Leone has bought into Mike Bloomgren's proven track record of development in the trenches. The successes of young players like Clay Servin, Isaac Klarkowski and Cole Garcia juxtaposed with several successful transfers makes it a pretty easy sell to incoming recruits on the line.
Prior to making the flip, Leone had been committed to Yale. He maintained that commitment since July, even after Maryland offered him in October. Now he's set to be a Rice Owl and is a rather prominent figure in a 2020 haul loaded with talent.
He and Jovaun Woolford, a grad transfer who also made his commitment this week, give Rice plenty of options at the tackle spot for 2020 and beyond. Rice is building an arsenal of high-caliber offensive lineman, setting themselves up for sustained success up front for years to come. Leone could be one of the best.


Subscribe on Patreon for exclusive Rice football recruiting updates, practice notes and more.
Recent Posts