This week's edition of the Rice Football film room feature we take a look back at the Southern Miss game and preview the Marshall offense.
Welcome back to the Rice Football Film Room, y'all! As usual, this week we'll be taking a deeper look at a couple plays, one from Rice's previous game (another heartbreaker, this time to Southern Miss) and one that gives you an idea what to expect from the Owls' upcoming opponent (Marshall, coming off a big win over WKU, getting them to a half-game from the C-USA East lead).
Southern Miss
Setup
This Rice football season has been demoralizing enough without me putting another sad breakdown into your lives, so let's pick a happy one here, shall we?
Rice has the ball 1st and 10 at the Southern Miss 15-yard line, down 13-0 with about 6:04 left in the third. They're in a three-wide shotgun look, though it's technically 12 personnel because the widest receiver to the field side is TE Jordan Myers.
Southern Miss is in an even front with nickel personnel, and both safeties are about 6-7 yards deep. It looks like they could be in a Quarters or Cover six look (Cover 6 is Cover 2 on one side, usually the short side to bracket the X receiver, and Quarters/Cover 4 to the other), at least initially.
The Play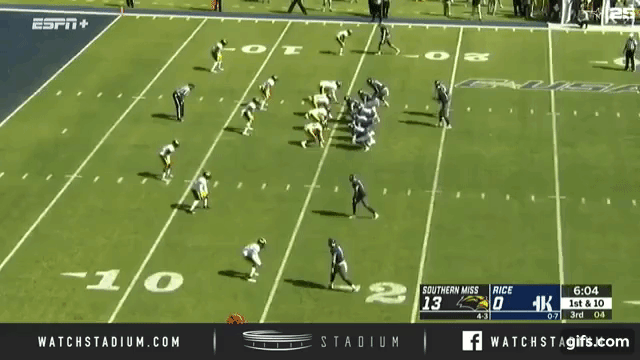 Marshall brings the house, blitzing the weakside linebacker and the boundary corner. The remaining DBs play man and it looks like the middle linebacker is spying Wiley Green.
With only five blockers to six defenders (Jaeger Bull runs a route from the inline TE spot), the Golden Eagles have the numbers advantage in the pass rush. The RB (I think it's Charlie Booker) does an excellent job of picking up the inside blitzer (the backer), since the corner has farther to go. It's Wiley's job to get the ball out before the corner gets home.
The blitz has left the four remaining DBs in man. The strong safety follows Bull across the formation, leaving Austin Trammell isolated on the nickel, with the field corner covering Myers on a whip route (basically faking a slant before turning back into a short out route). Trammell runs a double move (a post corner), appearing to break his vertical route stem inside before turning back toward the corner of the end zone.
Trammell sells it well, but what really makes this play go is the chemistry between him and Green. I couldn't isolate a frame that was clear enough to show it (I gotta start making some higher-quality gifs!), but watch that gif enough times and you'll see that Green pump fakes *exactly* as Trammell is starting to fake his inside break. The DB bites, Trammell blows past him, and Green drops it in perfectly for a touchdown. You might normally like to see him lead the receiver a bit better, but in the end zone yards after the catch are moot, so I have no issues with Trammell having to slow up and turn around when he's got that much cushion.
Marshall
The Marshall offense is going to be a challenge. While in some ways they are a fairly typical spread-to-run offense, they do so from a variety of personnel sets. In particular, they make extensive use of their tight ends, lining them up inline, wide, and at H-back, and using them as both blockers and receivers. Their top three tight ends rank first, second, and fifth on the team in catches and first, fourth and seventh in yards, with a combined seven of Marshall's 12 receiving touchdowns. But they can also hit big plays over the top, with two WRs averaging at least 19 yards a catch on 9+ receptions.
Setup
It's 1st and 10 Marshall from the 25, four minutes into the game, no score. The Herd are in a 4-wide look, but it's actually 13 (!) personnel, because the boundary receiver and the two slot receivers are all tight ends (the aforementioned top three: from top to bottom of screen, Armani Levias, Devin Miller, and Xavier Gaines). WKU is in nickel personnel, showing a single-high look.
The Play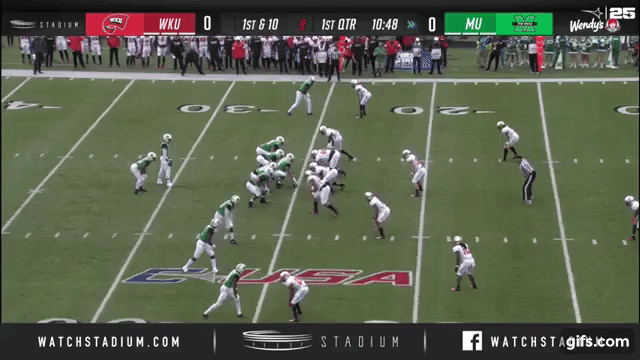 There's nothing fancy about this play: in fact, it's one I've broken down for Rice in this column before. It's the Glance RPO—you can tell it's not play action because the offensive line fires off the ball to run block. Marshall QB Isaiah Green is reading the inside DB, lined up about 8-9 yards off the line. If he doubles the receiver, Green hands it off. If he flows toward the line to play the run, Green throws the skinny post to a single-covered receiver.
Here, the DB seems to sort of slow play, presumably hoping to muddle Green's read. But sometimes trying to play both options means you can't actually play either, and when Green pulls to throw, the DB is left in the dust.
The point I wanted to make here is that, as you may have realized when I pointed out the personnel, that's not a WR lined up at X and running that route. That's six-four, two hundred and fifty-five pound tight end Armani Levias, who just casually blows by WKU cornerback Trae Meadows on a vertical route for a wide-open touchdown. Tight ends aren't supposed to run like that! I mean, NFL tight ends maybe! Where did Doc Holliday find this dude! I call shenanigans!
So yeah, it's not hard to see why Levias leads the team in catches, yards, and touchdowns. Marshall will run the ball first and foremost, and Isaiah Green has been inconsistent at QB—he's completing less than 59 percent of his passes, with that dragging his yards per attempt down to a pedestrian 7.0—but they will absolutely hit some big plays if Rice isn't prepared. You don't have to be the most accurate QB in the world to be effective when you've got fleet-footed wide receivers and a 255-pound gazelle playing tight end for you.

Subscribe on Patreon for exclusive Rice football recruiting updates, practice notes and more.
Recent Posts