For the second year under Mike Bloomgren, injuries have forced Rice football to make a change at quarterback. Meet Tom Stewart, the Owls' tentative new QB1.
Mike Bloomgren watched with the same angst as the rest of the Rice Football team on Friday night as starting quarterback Wiley Green lay on the sideline. Green had been hit in an apparent head-to-head collision attempting to score the Owls' first touchdown of the game. The team's leader was down, but there was a lot of football still to be played.
So Bloomgren did what any coach would have done in that situation. He pulled the offense together, inserted the backup quarterback, and kept moving forward. This year that backup is Tom Stewart, a graduate transfer from Harvard who joined the Owls this summer.
Stewart battled. He led three touchdown drives against Wake Forest, with a fourth near-score turned away on the one-yard line. He wasn't perfect — admitting he'd thrown too many balls low and short in his postgame comments — but he kept the Owls in the game in a trying time.
"First off, we had a lot of confidence in Tom," Blomgren said. "This is not the first time Tom Stewart's been in this situation. This is the world he's lived in. Whether it's him going into his sophomore year as a starter and getting banged up, or him going into his last year at Harvard."
Unlike graduate transfer Shawn Stankavage who started for Rice much of last season, Stewart comes to Rice with 14 games of experience. He started his senior year, throwing for 1,614 yards and 14 touchdowns with two interceptions. On Friday, Stewart finished 19-of-30 with 185 passing yards and one touchdown. He also added a 10-yard rushing touchdown.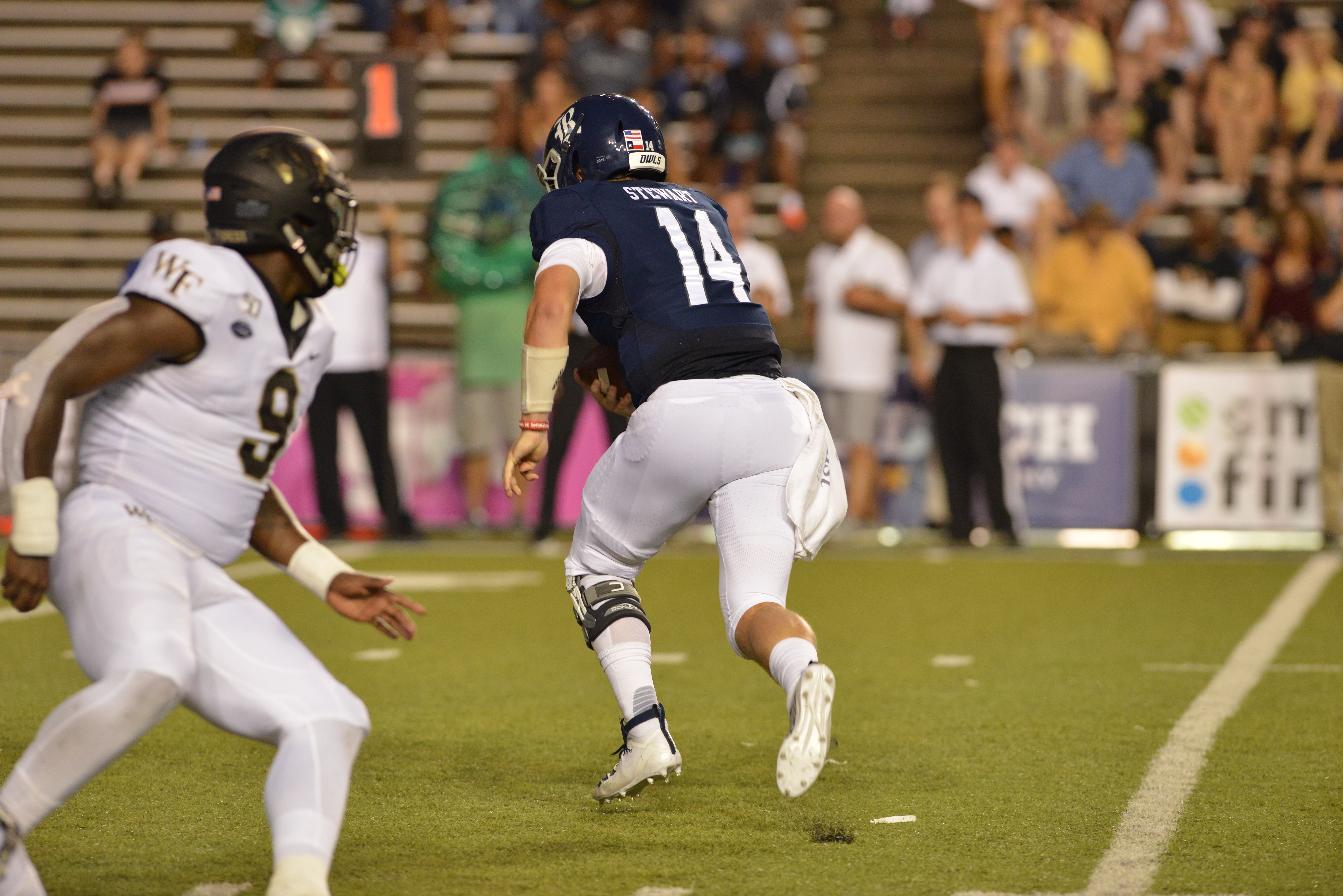 "It's my first significant football since November 17th of last year.  So it's been about 10 months since I've strapped the pads on and played someone else," Stewart relayed following the loss, adding "I think I got confidence by the end of the game, that it's the same game I've always been playing."
Stewart's team won that game. He threw for 312 yards and three touchdowns in the process.
The knock on Stewart when he transferred to Rice was never his ability; it only takes one look at his highlight film from Harvard to see his natural ability is evident. What Stewart lacked when he arrived, and has subsequently been working to master, is a complete understanding of the Rice football offense.
To call the Owls' scheme complicated would be an understatement. As fall camp progressed, the staff could see Stewart thinking more and more as his play on the practice field grew inconsistent. He could make the throws, provided he knew where to go with the ball and who was supposed to be there to catch it.
"I think I got confidence by the end of the game, that it's the same game I've always been playing."
Tom Stewart
That learning lag is what kept Stewart from ever truly having an edge in the battle for the starting quarterback job, putting him second to Green throughout camp. Now it's real.
Stewart's latest chance to work with the starting offense didn't come with the benefit of a red no-contact jersey. He was sacked three times in what he called "a good learning experience… kind of getting thrown into the fire."
It's not going to be easy, though. If Green can't go next week — his status is still very much so up in the air — Stewart's first FBS start would come against a ranked Texas Longhorns squad at NRG Stadium. Wake Forest flashed plenty of speed and size on both sides of the ball. Texas is supposed to be even better.
Stewart says he's appreciative of the chance to get his feet wet before he has to potentially play anyone else. He praised the athleticism of the Wake Forest defense, but said he kept coming back to something a former coach of his always used to say. "The essence of playing quarterback is finding the open guy and throwing it to him accurately. And if the guy's open, it's just like playing routes on air. You put the ball where you want and good things will happen."
That's easier said than done, but if the injury to Green proves to be anywhere near as serious as it looked, Stewart will get that very test. Friday's game against the Demon Deacons will serve as Stewart's reminder to himself, " I was like, Oh, you know, we're just playing football."
There haven't been any declarations from anyone on South Main yet, and there won't be. Bloomgren and his staff are too seasoned to hand out free bulletin board material. But the Owls are ready to proceed with Stewart as their starter for the near future.
"We have a lot of confidence when a kid like that can get every rep. It's gonna have tremendous value for him," Bloomgren said, "We'll see where it goes. But we're going to keep coaching him and he'll keep growing."
Stewart is going to have to learn on the job. It won't be easy, but the Owls have his back. 100 percent.
You can read more on Stewart and the rest of the Rice football quarterback room in The Roost's 2019 Rice Football Season Preview

Subscribe on Patreon for exclusive Rice football recruiting updates, practice notes and more.
Recent Posts