Rice Football has a new fullback in town. Reagan Williams hopes to keep the dying position alive with a productive year at South Main.
It's not easy to find fullbacks in modern college football. Teams are taking the big blockers off the field in favor of quicker, more wide-open options. Rice is one of the few programs who employs the position with any sort of regularity. The minimal demand has translated into short supply, making recruiting fullbacks an art in itself.
Brian Hibbard, the Owls' first fullback commitment under Mike Bloomgren, is a member of the 2020 recruiting class. The staff is excited to get him on campus, but they have one more season to play before that happens. That leaves a hole in the roster for the 2019 season. Reagan Williams, who played fullback for Bloomgren while he was the offensive coordinator at Stanford, emerged as the sure-fire solution.
For Williams, the decision to follow his old coach to South Main was an easy one. He and teammate Brian Chaffin both left Stanford to play their final college season with Rice. Although the location and uniform colors had changed, Williams said Bloomgren really hasn't. "He keeps the same intensity, same fire, the same physicality." Williams hopes the similarities reach onto the field as well.
Last year Rice brought in Gio Gentosi, a graduate transfer from UCLA. He'd been seldom used as a fullback with the Bruins and hoped for more involvement at South Main. Not only did Gentosi become an important piece in the offense, but he also scored his only collegiate touchdown in the last game of his career.
"That's something I'm hoping happens more here," remarked Williams noting that with Bloomgren's offense, "you always got the chance to slip out of the backfield, catch a ball, maybe do a little run." That's a far cry from the reality fullbacks face most everywhere else, not that they are many other places.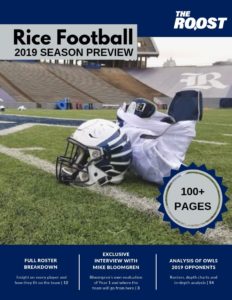 "Yeah, it's definitely a dying position," Williams said, "you gotta love to be physical, love to be violent, you gotta impose your will." He'll get plenty of chances to do that at Rice, and he's optimistic he'll be able to do more than just knock some defenders around.
The added involvement in the passing game can be credited to Owls' offensive coordinator Jerry Mack. While Bloomgren's roots are deep in the running game, Mack has extensive experience in spread systems at his previous stops. It's added a bit of nuance to Bloomgren's traditional scheme from his days at Stanford, and it's something Williams is excited about.
To Williams, whether or not he gets to handle the football as much as he might like is an added bonus. His refrain matches the culture Bloomgren is working to establish at Rice, "anyway I can help the team get to where we want to be."

Subscribe on Patreon for exclusive Rice football recruiting updates, practice notes and more.
Recent Posts