Almost a month removed from the All-Star break, Rice Baseball's active MLB players are still going strong. Here' the latest on the five MLB Owls.
Up and down remains the story for Chargois in LA. He's worked at least one scoreless inning in four of his nine outings since the break, but given up runs in the other five appearances. His strikeout numbers are down a bit, but he's also been the victim of some unlucky ball placement. Opposing batters have a .375 BAbip (batting average on balls in play) after the break compared to a .286 mark before.
Duffey has been excellent for the Twins as a set up man this year, continuing that success into August. He's picked up six of his seven holds over the past month, striking out 13 batters in nine combined innings and allowing one extra-base hit. Opposing batters are hitting an eye-popping .103 against Duffey since the All-Star break.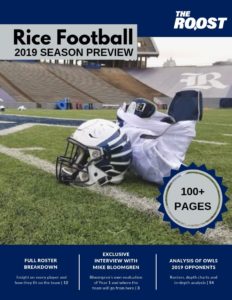 Duplantier has been with Arizona's AAA affiliate in Reno since the break, rehabbing after a stint on the injured list in June and July. He's made three AAA appearances over the past two weeks, each of which have been rocky, ending in four innings or less.
Holt has cooled off a bit since our last update, going hitless in his last six games. Even with that brief dip, he's hitting .308 since the break, a testament to his stellar July. Primarily serving as Boston's second baseman, Holt has taken on a variety of roles and is occasionally removed at the end of games. He's played seven complete games since the break, participating in 17, and remaining steady regardless of what role he's asked to play.
The All-Star keeps doing All-Star things. Rendon owns a .357/.455/.595 slash line since the break and a 1.051 OPS. He's racked up 12 extra base hits, including this breathtaking grand slam.
Anthony Rendon just unloaded the bases 💥 pic.twitter.com/QYyjASALnH

— ESPN (@espn) July 30, 2019
This has become par for the course for Rendon, who's team-leading 4.4 fWAR is better than his next closest teammates, Juan Soto and Trea Turner's combined fWAR (4.1). Rendon's WRC+ (weighted runs created plus) is third in the National League.

Subscribe on Patreon for exclusive Rice football recruiting updates, practice notes and more.
Recent Posts