After a brief break for the All-Star Game, Rice Baseball's big leaguers returned to action. Here's how the MLB Owls are doing since the midsummer classic.
It's been a mixed bag for Chargois after the break. He's made four appearances, throwing a scoreless inning in two of them. In the other two, he allowed a pair of home runs and four runs. His season ERA has ticked up a bit to 5.11, but his 20 strikeouts in 12.1 innings is on pace to be the best mark of his MLB career.
Duffey has also had four outings since the break, allowing two runs on three hits with three strikeouts and one walk. He earned holds against Cleveland and Oakland. Opposing batters are hitting .231 against him during that span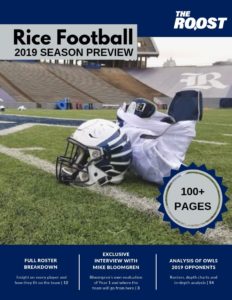 Duplantier was last active with Arizona on June 11, going onto the injured list soon afterward. Team beat writer Steve Gilbert reported on July 19 Duplantier would be optioned back to AAA. He has yet to make an appearance with the club since his assignment.
Holt has been on a tear. He's reached base in seven of his last eight games, hitting .476 with a 1.208 OPS. He's raised his already superb .317 batting average to .344 and hasn't shown any signs of slowing down. He's hit four doubles since the break with only three strikeouts in 24 plate appearances.
Rendon opted to rest during All-Star week, giving up his spot after the first nomination of his career. That goodwill is turning out favorably for Rendon who is hitting .417 with a 1.056 OPS after the break. He's hit five extra-base hits, has five RBI and has walked five times in nine games.

Subscribe on Patreon for exclusive Rice football recruiting updates, practice notes and more.
Recent Posts