Rice football is back on the practice field and, once again, the Owls are holding auditions for their starting quarterback job. Here's the latest entering camp.
What do we know?
The Rice football staff kept things close to the vest when it came to selecting a starting quarterback last season. Vanderbilt transfer Shawn Stankavage wasn't officially named the starter until after the season had begun and he'd led the team to their first victory. The players in the mix for the 2019 job are different, but the staff intends to approach things the same way.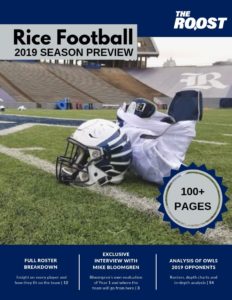 Bloomgren refused to rule anyone out by name at the start of fall camp, saying "They all bring something to the table. It'll be interesting to see how this thing unfolds. We're going to give them really good chances to get reps with the first group."
When pressed on who was going to get those chances, Bloomgren highlighted incumbent starter Wiley Green as well as Evan Marshman and incoming grad transfer Tom Stewart from Harvard. Those were the three who took reps with the first team out of the gate. That's the pool the staff is looking for to start the season opener against Army. Sort of.
Who is Jovoni Johnson?
Johnson was the only quarterback Rice signed in the 2019 class. He's got a long way to go to learn the offense, but he's done everything he can since arriving on campus. Quarterbacks coach Robbie Picazo called him "a special, special human being and a great leader that guys really gravitate to." Bloomgren said he was "seemingly special" and a phenomenal athlete with "a howitzer for an arm."
That leads to excitement. From what I'm hearing, no member of the incoming class has been more impressive since arriving on campus than Johnson. But, we're just days into fall camp.
Green, who won the starting job at the end of last season, didn't appear in a game until late October. His hindrance wasn't ability — the staff always believed in that aspect of his game — but rater his ability to process and work through the offense.
"This is a complex offense for the quarterback," Picazo said, "We put a lot on their plate which I think is outstanding, but it does mean there's a learning curve."
More than likely we'll continue to hear a lot about Johnson as camp progresses. As of right now, though, I'd peg his chances of winning the starting job in August at 5 percent. That's not because he's not talented enough to do so, but because of that learning curve and the significant head start of the veterans competing with him. It's a situation to monitor. Things could change by the time October arrives.
Who is Tom Stewart?
Stewart was the offensive MVP for Harvard last season, an offense which included a host of talented playmakers. Now he's looking to follow in the footsteps of Shawn Stankavage and win the Rice job in his lone season on campus. He's got work to do before he achieves that goal.
"I'm just trying to take that one day at a time," he said after the first practice session. "Today was kind of humbling, getting back on the field." Stewart broke his foot in the offseason. He doesn't show any signs of wear now, but the long road back to recovery has been challenging.
He's going to have his work cut out for him, but it's too early to rule him out of the competition yet. The coaching staff is just now getting their first looks at him in person and evaluating what he could bring to the offense.
Stewart is confident, but at the end of the day, he wants to make the team better however he can. "I think we're all naturally competitive guys. We're all college quarterbacks. We all want to be the best we can be and having a high standard in that room makes everyone better," he said. "I think all of us approach it the right way and we're just really focused on making the team better."
What happens next?
Bloomgren summed up the battle with his trademarked one-liner: "It's going to be a meritocracy". That comes as no surprise. I'd be surprised if we get a clear indicator from the coaching staff any time soon. Until then, we'll keep you posted as this battle continues into camp.
If the Owls had to play a game tomorrow, this is how the depth chart would most likely look:
Green
Stewart
Marshman
Towns
Johnson
All practice updates will be available for all to see during fall camp. Once the regular season starts they'll be reserved for members. Becoming a member is 100% FREE and takes 30 seconds. You can register here.

Subscribe on Patreon for exclusive Rice football recruiting updates, practice notes and more.
Recent Posts