The first Rice football practice of fall camp is in the books. The Owls had plenty of energy as they flew around the field at Rice Stadium.
The first day of fall camp is in the books. It's way too early to make any critical observations, but this is the time to offer some guiding thoughts as camp continues to progress. Bloomgren was the first to offer a definitive statement about his teams' progress to this point. "Today, I got to see a much better product than I did on Day 1 last year in training camp. It's what we expected, but it's great to see it," he said following the conclusion of the Owls' first practice.
In addition to the overarching positivity, Bloomgren offered a few things he wanted the team to achieve. He set success as the point when the team is "handling their if/then functions" and is able "to make those processes happen even faster." That's going to take time, but we've got a long way to go before the team kicks off against Army at the end of August.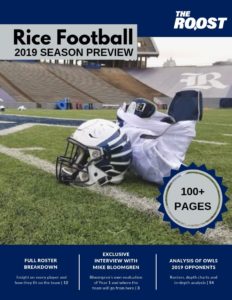 1. The freshmen look the part
The new additions to the program all seem to be the kind of "first off the bus" guys, the kind of players who seem to belong on the college field from the start. Guys like Jake Bailey, who battled through multiple vomiting incidents and stayed on the field, learning and cheering on his teammates. Like De'Braylon Carroll who looks like a tank plowing through the line. Like Jovoni Johnson who looked every bit as comfortable in the offense as the vets running drills alongside him.
Several freshmen flashed, making plays throughout practice. The depth chart is more firm entering this season than it was last year, but a few newcomers might force their way into playing time sooner than later. Many are a step ahead of where some of their predecessors were at this point last year — and that class was full of talented players, too."
2. The wide receiving corps sans Aaron Cephus
There was no sign of Cephus at practice. When asked about Cephus' status, Bloomgren was mum:
No further clarity on the Aaron Cephus suspension at this time. pic.twitter.com/cZabnD30Gd

— The Roost (@AtTheRoost) August 1, 2019
As mentioned in Episode 1 of The Roost Podcast and in our updated 2019 Rice Football Season Preview, August Pitre III was the first man up to fill the open spot on the first team. He, Austin Trammell and Brad Rozner took the majority of the reps with the starters. Behind them, Zane Knipe, Jake Bailey and Chris Boudreaux worked with the twos.
3. Plenty of experienced hands
This team is still going to be young, but there was a noticeable infusion of experienced talent that flashed on the field. Harvard transfers Tom Stewart (quarterback) and Charlie Booker (running back) and Stanford transfers Reagan Williams (fullback) and Brian Chaffin (offensive line) spent time working with the first team. So too did JUCO additions Nick Leverett (offensive line), Naeem Smith (safety) and Rozner (wide receiver).
When asked about his impressions of the first day, Chaffin was all smiles. "I thought it was a great day one," he said, "It was good to be back on the field."
Chaffin is one of two transfers who were recruited by Bloomgren at Stanford. His decision to follow his former coach to Houston and help him rebuild Rice seems to already be paying meaningful dividends. Chaffin called the opportunity "a huge honor" adding his endorsement of what the Owls are building. "I think this place is the same model as Stanford. You got great kids, hard working kids who want to do great things on the field and in the classroom. I think that model can happen here… It's the same mold. We can definitely do big things here. It's headed in the right direction."
4. Way too early starters
An official depth chart hasn't been released yet, but here's how the first team looked like on both sides of the ball today:
Offense
QB| Green
RB | Otoviano/Booker
TE | Bull
FB | Williams
WR | Trammell, Rozner, Pitre
OL | Servin, Leverett, Baker, Garcia, Osuji
Defense
DL | Orji, Garcia, My. Adams, Schuman
LB | Alldredge, Montero
CB | Ellis, Bird
Saf | Nyakwol, Calderon, Chamberlain (Viper)
All practice updates will be available for all to see during fall camp. Once the regular season starts they'll be reserved for members. Becoming a member is 100% FREE and takes 30 seconds. You can register here.

Subscribe on Patreon for exclusive Rice football recruiting updates, practice notes and more.
Recent Posts