The 2020 Rice Football recruiting class suffered a blow over the weekend, but one decommitment won't shake what the Owls are building.
In what has become a rare occurrence for the Owls under Mike Bloomgren, offensive lineman Brady Feeney decommited from the 2020 Rice Football Recruiting class over the weekend. Even with his abscence, the Owls incoming class ranks among the best of their peers. Rice has the No. 3 class in Conference USA and the No. 72 class in the nation with days remaining before fall camp begins on August 1.
Houston we don't have a problem
Feeney's departure is disappointing, but it's not a sign of any significant problem in the ranks. The Owls remain confident for a number of reasons. First, this situation hasn't proven to be an area of concern. In the past two recruiting cycles (2019 and 2020), four players have decommitted from Rice:
Feeney left the fold, committing to Indiana on Sunday
One reached a mutual understanding with the coaching staff that the Owls weren't the right fit
An east coast cornerback flipped to Vanderbilt from Rice last September. He was committed for less than a month.
One of the Owls' 2019 quarterback targets fell back into an offer during the early signing period to play for Buffalo, a local team with connections to his family
Altogether Rice brought in 40 players with their 2019 class. They have a little more than a dozen in the 2020 group, and counting. Rice doesn't have a decommitment problem — and that's a sign of a strong culture which players don't want to leave.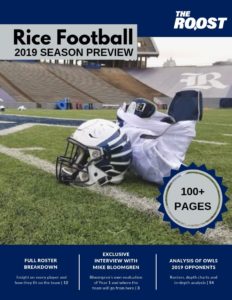 More in the pipeline
Feeney first caught the Owls' eye at a Stanford camp when coach Mike Bloomgren was working out west. He's a good player who will be missed, but he projected as a guard at the next level, a position not as important for Rice right now as an outside man.
The Owls' already have two guys in the wings ready to fill that tackle role, commits Trey Phillippi and Cole Latos. Both players are raw, ulta-athletic types with the physical frame ready for the college game. From a size and measurables perspective, they're ready to hold down a side on the Owls' offensive line.
Phillippi is a converted tight end and Latos can play both sides of the ball. They've yet to log a ton of film at the tackle spot, allowing the Owls' to get in early and bring them on board. They're raw talents with tremendous upside, fitting the position of greatest need for Rice on the offensive line.
Feeney's decommitment wasn't good news, but the future of Rice Football recruiting remains rock solid.

Subscribe on Patreon for exclusive Rice football recruiting updates, practice notes and more.
Recent Posts