Rice Football is set to begin fall camp on August 1 marking the unofficial end of the offseason. It's finally time for offseason questions to be answered.
There were plenty of question marks when Mike Bloomgren's staff took the reigns for their first fall camp last season. The staff had been through spring ball, but the weeks leading up to the regular season were supposed to be the time for the team to get answers.
Some questions were resolved rather quickly. Shawn Stankavage wasn't named the outright starter during camp, but it the staff finalized that decision soon after the season began. The running back rotation was set with Emmanuel Esukpa taking the bulk of the carries, complimented by the speed and versatility of Austin Walter. Veterans in the secondary were trusted to start the season, even though several of them would quickly be replaced.
Fast-forward one more season and Rice finds themselves in a similar situation. No quarterback has been named the starter, yet, and the running back hierarchy is still up in the air. The secondary is more defined, at least by name, but the proven production isn't there.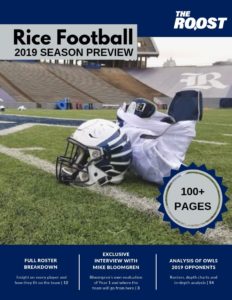 If you want a sneak peek at how those positions look entering camp, purchase our 2019 Rice Football Season Preview. 
This year Rice has the benefit of experience. With the exception of some incoming transfers, the players being evaluated to fill the open roles understand what will be asked of them, both during camp and this fall. They know the scheme and their responsibilities in it. That should, in theory, make the process of selecting starters and preparing for the season more streamlined than it was a year ago.
Rice is going to be young again in 2019, but that doesn't mean they'll be inexperienced. In time, the Owls will have their answers.
Have questions? Join the discussion on the forum.

Subscribe on Patreon for exclusive Rice football recruiting updates, practice notes and more.
Recent Posts