The 2020 Rice Football recruiting class is hanging with an SEC Power and more as they fight for linebacker Kenneth Phillips.
Kenneth Phillips made noise on the camp circuit this summer. The Owls got their foot in the door with an offer in early June, but several Power 5 teams followed soon after. There was a time when that would have been enough to push Rice football out of the minds of recruits the caliber of Phillips. Times are changing.
Phillips, who will enter his senior season at Fort Bend Bush High School this fall, is regarded as a 3-star prospect and a top-100 outside linebacker prospect in the nation. He released his Top 6 schools today which include Rice, Texas A&M, Indiana, Georgia Tech, Wake Forest and Texas Southern. It's expected Rice will get an official visit from Phillips before he makes his decision this fall.
Grateful for the opportunities God has placed in front of me and it's a BLESSING to be able to see another year of life ….
TOP 6 ❣️ pic.twitter.com/PE0v3lp1RU

— Kenneth Phillips ² (@Supreme_Trey02) June 28, 2019
Bloomgren recalls the perception Rice had upon his arrival rather sharply: "It took us a little while to be able to get in the game. We would have had trouble getting someone with a Big 12 or a Big Ten offer to come visit," he admitted. "Now we're doing that and we need to find a way to close out."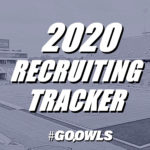 Not only is Rice getting those players to campus, but they're also winning recruiting battles. The current crop of 2020 Rice Football commits includes players who have turned down programs in the Pac-12, Big 12 and Big Ten to come play football at South Main.
Could Phillips add an exclamation point to the Owls' new-look recruiting swagger? It's certainly possible. That's a compliment in itself.

Subscribe on Patreon for exclusive Rice football recruiting updates, practice notes and more.
Recent Posts