It's the final big weekend of the summer for the 2020 Rice Football recruiting class. The Owls have more important players on campus for a Junior Day this weekend.
Rice is hosting a junior day today with about 30 kids in attendance from all positions. For many of them, it'll be their first time on campus to work out in front of the Rice staff. This will be the last camp of the summer before the recruiting dead period begins next week and no in person visits are permitted.
Current commits Brady Feeney, Braeden Nutter, Trey Phillippe and Kobe Campbell are all expected to be in attendance.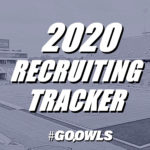 The most interesting names to note will be two of the Owls' priority targets. Linebacker Geron Hargon and wide receiver Zion Childress are both going to be on campus. If there are going to be any commitments during the weekend, those two would be the most likely to pull the trigger.
Childress has flirted with Rice for some time, developing rather strong relationships with the current members of the class and the coaches. He's close. Hargon has narrowed his decision down to two schools: Rice and UAB. He says he's at the point where he's starting to feel comfortable with his choices. He's likely to announce one way or another relatively soon.
On the quarterback front things seem to be in the "wait and see" mode. Rice has seen several guys throw this summer and is making a list of guys they'd like to keep tabs on during the fall. It's most likely they take one guy at the position in this class and they're making sure they offer the one they want for the long haul.

Subscribe on Patreon for exclusive Rice football recruiting updates, practice notes and more.
Recent Posts