Spring ball is over, but recruiting season never ends. The 2019, 2020 and 2021 Rice football recruiting class are moving quickly through the spring.
The Rice football spring game was the last big on-campus push the Owls will have for a few months. With spring workouts complete, the coaching staff will hit the road and start another run of visits before the camp circuit begins in earnest in the summer. Entering another busy recruiting season, here's where the Owls stand on several recruiting fronts.
Wrapping up 2019
Rather than reach for additional high school prospects the staff didn't love, Rice left a handful of spots in the 2019 class open following National Signing Day. One of those spots will go to Reagan Williams, a fullback transferring to Rice from Stanford.
Rice came extremely close to picking up a commitment from Texas transfer Kyle Porter, losing out to Houston at the last minute. They've made more lasting traction with a few other transfer targets, a few of which could make their decisions in the next few weeks. Ideally, Rice wants to have all of their 2019 spots full before summer practices get underway in June.
Keep an eye out for two more additions to finish off the class.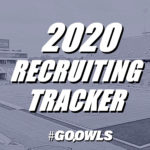 Digging deeper on 2020
After a fast start on that front. Rice has hit a few snags in early April. Wide receiver Logan Kyle opted for Vanderbilt over Rice while both offensive lineman Drake Metcalf and tight end Drake Dabney have picked up offers from Power 5 programs. Several other top targets could follow.
An offer from a Power 5 program isn't a hard stop for Rice, at least, not anymore. Current commit Braedon Nutter has a Colorado offer, but that didn't deter him from staying home. The value proposition of Rice is gaining traction. Playing D1 football and earning a nationally recognized degree has value. Rice won't win all of these battles, but don't be surprised if they start winning more of them in the near future.
Looking ahead to 2021
The first batch of offers for the 2020 class went out this February. It's probably safe to say the first 2021 offer comes out significantly quicker. Rice has been quicker on the game this year with the younger classes.
Although they haven't extended any formal offers yet, several 2021 prospects were on campus for the Owls' spring game. Several current sophomores had the chance to take in the game and meet with the staff including corner Miles Jones, wide receiver Cameron Moore and quarterback Wyatt Begeal. The impact of the Owls' new Director of Recruiting Alex Brown is being felt in a very tangible way.

Subscribe on Patreon for exclusive Rice football recruiting updates, practice notes and more.
Recent Posts