Several former Rice football stars who are currently playing at the next level. Here's where the NFL Owls will suit up in 2019.
Nine former Rice football players were on NFL rosters in 2018. Four of those players are staying put with the same team this coming season. A few others have found new teams, while several are still on the hunt. Here's where each of the Owls stands entering the 2019 season.
Active players
Calvin Anderson (Broncos) – Anderson was signed from the Jets practiced squad to the Broncos roster on Oct. 1 as first reported by The Roost.
Chris Boswell (Steelers)  – Signed through 2022 on a four-year, $16.8 million deal
Bryce Callahan (Broncos) – Formerly with the Bears, Callahan signed a three-year, $21 million deal with the Broncos this offseason. His contract runs through 2021.
Christian Covington (Cowboys) – Formerly with the Texans, Covington signed a one-year, $2.5 million deal with the Dallas Cowboys this offseason.
Emmanuel Ellerbee (Seahawks) – Signed through 2019 on a one-year, $570,000 deal
Phillip Gaines (Texans) – After being released with an injury settlement by the Browns, Gaines signed a one-year, $805K deal with the Texans.
Vance McDonald (Steelers) –  Signed through 2021 on a three-year, $19.6 million deal
Andrew Sendejo (Vikings) – Formerly with Eagles, the former Viking was claimed by Minnesota on waivers following his release from the Eagles in Week 9. He's back with the Vikings now.
Luke Willson (Seahawks) – Briefly with the Raiders, Willson signed a one-year, $805K deal with the Seahawks following Week 3 of the 2019 season.
Practice squad
Jack Fox (Lions) – Undrafted in the 2019 NFL Draft, Fox signed with the Kansas City Chiefs. He's been on and off the Chiefs' practice squad this season and had workouts elsewhere before signing with the Lions in November.
Free agents
Jordan Taylor – Formerly of the Broncos, Taylor signed a one-year deal with the Raiders before he was released during roster cutdowns at the end of the preseason.
Austin Walter Undrafted in the 2019 NFL Draft, Walter signed with the Giants' practice squad before being promoted to the active roster in Week 6. He was waived following the game.
**All contractual information sources from OverTheCap and SpotRac**
Weekly Updates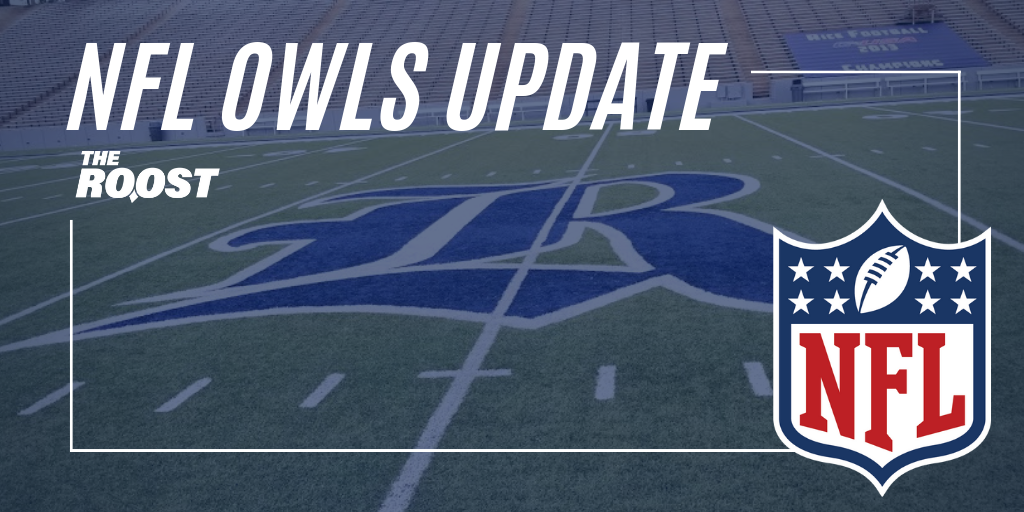 Rice Football is well represented on 2023 NFL rosters. Here's the latest from the NFL Owls in action in Week 2. There are former Rice football players scattered across the NFL. Stay tuned each week for their game results and notables from each player. Team NFL Owl(s) Week 2 Result Week 3 Denver Broncos Elijah […]

Subscribe on Patreon for exclusive Rice football recruiting updates, practice notes and more.
Recent Posts