Rice football enters the second half of the season with plenty of good and bad displayed early on. What can the Owls fix and what questions remain going forward?
It takes all three phases and four quarters to win a football game. That's something that head coach Mike Bloomgren has stressed to his team over the course of this fall. The Owls have been a mixed bag across the board thus far. What's gone right? Gone wrong? And what questions still remain after the first six games of the 2018 season?
Offense
Starting his freshman season in 2015, Austin Walter never missed a game. In three years he tallied 36 appearances, averaging 393.3 yards rushing per season. Rice has played six of their 13 games so far in 2018 and Walter has racked up 440 yards on the ground, 188 yards through the air and another 189 yards on seven kick returns. Add all those together and Walter enters Week 7 as the No. 2 player in the nation in All-Purpose yards.
Nobody, not even Walter could have realistically projected the senior's incredible start. Emmanuel Esukpa drew most of the preseason accolades. He's been great, but the importance of Walter's contribution to this offense cannot be understated.
The Bad – Offensive line play
Part of what's limited Esukpa's efficiency and forced the Owls to lean on Walter has been the inconsistent play from the offensive line. The same five guys have started every game: Uzoma Osuji at left tackle, Jacke Greene at left guard, Shea Baker at center, Joseph Dill at right guard and Sam Pierce at right tackle. For whatever reason, they haven't been able to get on the same page.
Sam Pierce said this unit needs to "get on the same page, communicate, and work within ourselves." So far that hasn't translated from practice to the games. Bloomgren's frustration has been evident, but there hasn't been any sort of wholesale personnel change. The success of this unit will largely depend on these five guys and their ability to get in sync.
Biggest question – Which offense will show up on Saturday?
Mike Bloomgren indicated the Owls struggles on Saturday weren't a result of a game plan that was any more complicated than they'd implemented so far this season. They ran the same plays and schemes they'd run earlier on in the year, but with much different results.
Rice hung around in shootouts with Houston and Hawaii, and that was without all the pieces working in concert. We still haven't seen what this unit looks like at full strength, playing as one. The question is whether or not we'll ever see it in 2018.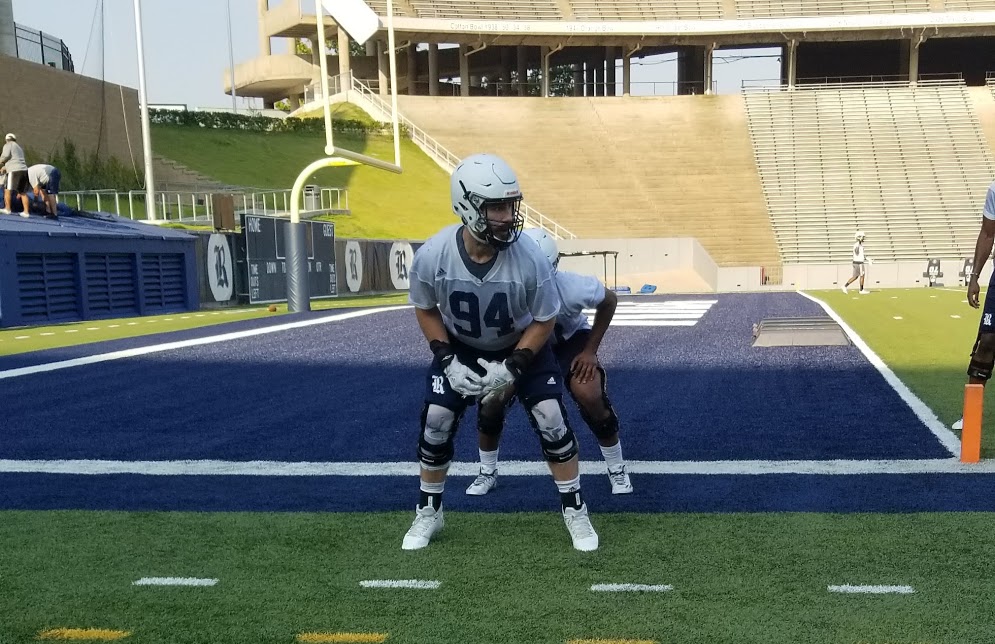 Defense
The Good – Secondary seems to be turning the corner
The stat book for the Rice secondary is one of the most bizarre juxtapositions of the good and bad that comes with in-season growth. Here are the Owls' passing yards and touchdowns allowed by game:
Prairie View: 244 yards, three touchdowns.
Houston: 320 yards, three touchdowns
Hawaii: 319 yards, four touchdowns
Southern Miss: 428 yards, four touchdowns,
Wake Forest: 243 yards, four touchdowns,
UTSA: 43 yards, zero touchdowns
One of those things is not like the others. The impressive showing against UTSA, which included season-best results in both metrics, is a clear sign that something is working for the back end of this defense.
The composition of the unit has changed. Brandon Douglas-Doctson has fought through injuries, Justin Bickham is coming off the heels of a breakout game and freshman Prudy Calderon has been inserted into the starting lineup. With no Houston or Hawaii looming, this unit stands a great chance to be closer to their UTSA showing than their regrettable road result against Southern Miss
The Bad – Pressure on the quarterback remains an issue
Entering their Week 7 game against UAB Rice has tallied eight sacks. That's the third worst total in Conference USA, particularly when you take into account the fact that the Owls have played six games so far. The majority of the conference has played five games or fewer.
The lack of a pass rush has left the secondary out to dry on multiple occasions. It's forced defensive coordinator Brian Smith to send more help than he'd like and left this unit vulnerable. The front four was thought to be one of the strengths of this team entering the season. To this point, they've only shown flashes of what they're capable of becoming.
Biggest question – When will the turnovers start?
Four Conference USA teams have registered fewer than seven takeaways in the 2018 season: Old Dominion, Charlotte, Rice and UTEP. Those four schools have a combined record of 4-18. Turnovers matter and this defense hasn't been able to generate enough takeaways so far.
That's not to say they haven't had their opportunities. They've knocked balls out and had passes deflect off waiting hands. The moments have been there. This defense has yet to seize them. UTSA's points came as a result of takeaways and ultimately were the deciding factor in the loss. The Rice defense needs to reciprocate with some of their own.
Good work so far this season by our Special Teams units! Let's keep making a positive impact on the team and the program! pic.twitter.com/y17DrjDzuC

— Pete Lembo (@Pete_Lembo) October 9, 2018
Special teams
Not enough good words can be said about Jack Fox. The good-natured former high school quarterback turned punter has been one of the most consistent members of this team. He's shown up in every game, made the routine play and made a few incredible plays of his own. Whether it's converting a fourth down on a gadget play or trapping a punt inside the 10, Fox has done it.
Without Fox, the Owls might be winless. They certainly wouldn't have found as many opportunities in their close games as they did. He was named to the Ray Guy Award watch list earlier this year and to Ray's Eight following the UTSA game. He's one of the best kickers in the nation and Rice is lucky to have him.
The Bad – Rice special teams aren't leading the nation in every statistical category
The job that Pete Lembo has done at South Main cannot be understated. He took a unit that was subpar a year ago and turned it into the national standard for excellence. Their only real detriment? Punt returns, and that's being nitpicky.
The real reason for the Owls somewhat pedestrian 5.0 yards per return is their limited sample size. They've only fielded four returnable punts this season. Austin Trammell is electric with the ball in his hands, but he's not been afforded many chances to break a long run.
Biggest question – Will the Owls run one back?
Jeremy Eddington, who took a kickoff 97-yards to the endzone against UTEP in 2012, is the last Rice football player to register a kick return touchdown. Both Walter and Trammell rank in the top 11 in the nation in yards per kickoff return. It's almost unheard of for them to be stopped short, but they haven't taken one all the way back for six, yet.
With the offense in a funk, the Owls could use points any way they can find them. A special teams score would be huge for this squad down the stretch. Given the caliber of athletes the Owls have fielding the ball it's absolutely within the realm of possibility.

Subscribe on Patreon for exclusive Rice football recruiting updates, practice notes and more.
Recent Posts