The 2021 Conference USA Football Championship race is going to be wide open again this year. Who are the best bets to take home the crown?
First, the obligatory disclaimer —  The Roost is not a gambling site and is not advocating that anyone place any bets, just providing information. With that said, the odds markets are interesting right now regarding the 2021 Conference USA football championship. We're using the latest odds from ATS.io.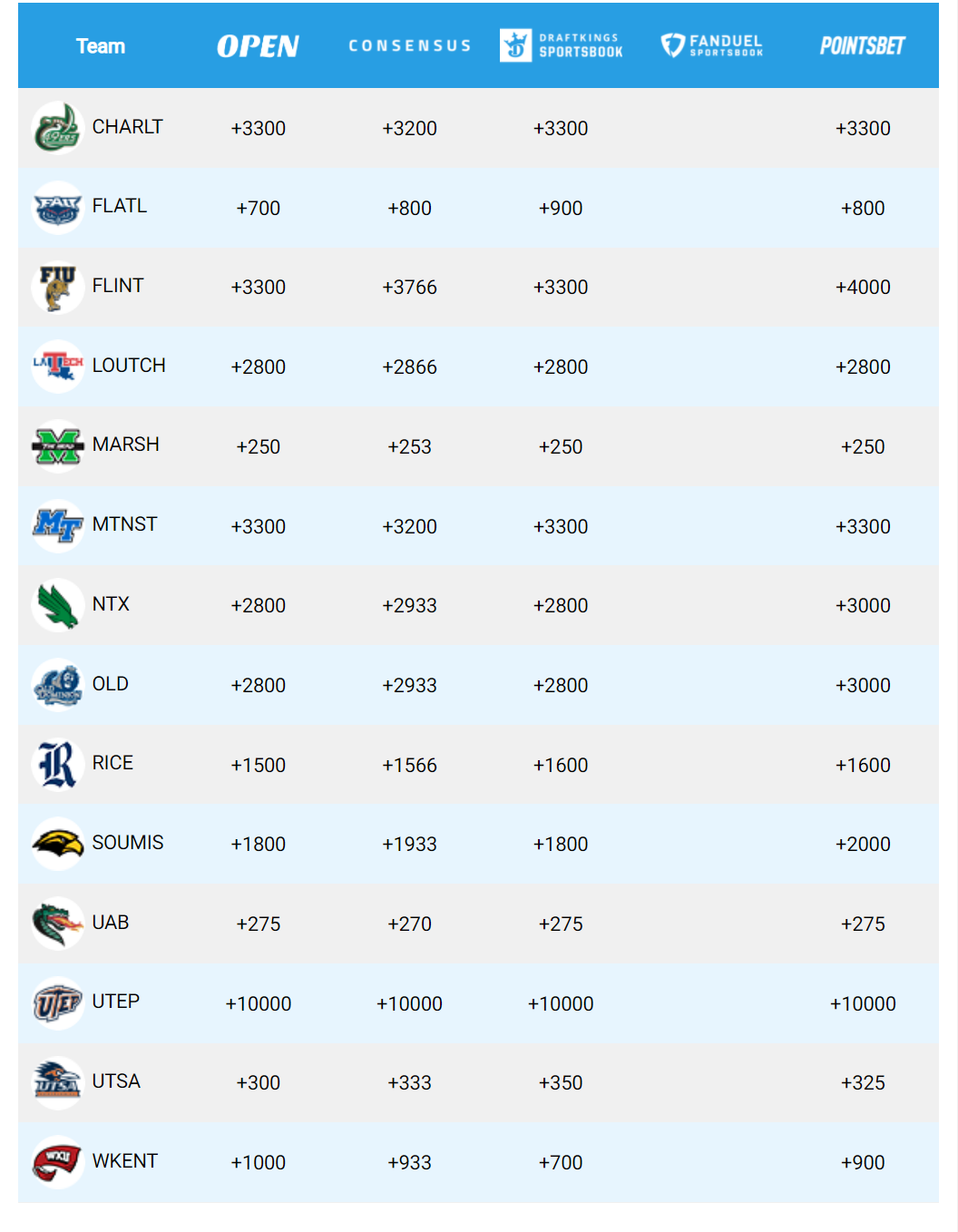 In layman's terms, +100 Odds equate to a 50 percent implied probably. When putting that into context here, Marshall's +253 odds to win Conference USA means odds markets given the Thundering Herd a 28.3 percent chance of winning the title. On the other side of the chart, UTEP is +10,000 to win the conference, essentially a 1.0 percent chance.
In practice, positive numbers indicate how much a better would win if he placed a $100 bet. Wagering a Benjamin Franklin on UTEP could pay off handsomely in 2021 was somehow the Miners' year.
Everyone else is somewhere in between and can be bucketed into a few groups.

The Favorites | Marshall (+253), UAB (+270), UTSA (+350)
UAB and UTSA finished No. 1 and No. 2 in the West last year. Marshall won the East. All three teams return deep and talented rosters, making it hard to decipher who's odds are the best. As interesting of a bet as UTSA is, the Roadrunners played eight one-score games last year and don't carry the same level of cache as the Blazers or the Thundering Herd. At +350, they're not getting a newcomer discount. UAB and Marshall are the safer picks here.
The Subtle Values | FAU (+800), WKU (+933)
The next rung of teams provides longer odds, but more value if things break the right way. Coincidentally enough, both teams have strong defenses and are looking for an answer at quarterback. WKU brings in highly touted HBU transfer Bailey Zappe. If he lives up to expectations and Marshall stumbles at all, it wouldn't take too much imagination to see the Hilltoppers in the Championship Game.
The Most Intriguing Bets | Rice (+1566), Southern Miss (+1933)
Southern Miss is breaking in a new head coach and a new quarterback, but the roster is more talented than their forgotten 2020 season might lead others to believe. That said, it's hard to not consider Rice the best value on the board. The Owls are projected to have one of the best defenses in Conference USA and add transfer quarterback Luke McCaffrey. If he can give them a jolt, the defense could carry this team all the way to the Championship Game. If you're going beyond the top three, Rice is a great value.
The Longshots | Louisiana Tech (+2866),  North Texas (+2933), Old Dominion (+2933)
These three teams have a combined three Conference USA Football Championship Game appearances in their collective histories. Mason Fine has since departed North Texas and Louisiana Tech hasn't broken through under Skip Holtz and Old Dominion is breaking in a new coach after not playing football last fall. Out of this trio, Tech's experience makes it the only reasonable long shot to take.
The No Shots | MTSU (+3200), Charlotte (+3200), FIU (+3766), UTEP (+10000)
It's rare for any team that finished below .500 the season prior to making the jump to conference champion. While that bar might be somewhat easier to reach in Conference USA than the SEC, it's still not a good bet to happen. Unless you're seeking a novelty souvenir ticket, none of these four teams has a realistic route to a championship. For many, getting back to .500 isn't even guaranteed.

Subscribe on Patreon for exclusive Rice football recruiting updates, practice notes and more.
Recent Posts