The Owls will sign their first members of the 2020 Rice Football Recruiting class this week during the Early Signing Period. Here's what to expect.
The Early Signing Period starts tomorrow, marking the first signing opportunity for the 2020 Rice Football Recruiting class. The Owls started this process months ago, with safety Plae Wyatt the first to commit in February. Since then 17 additional players have jumped on board #FlightSchool20. You can view the full commitment list with player profiles here.
In the past week, Rice has picked up three commitments from transfers. Quarterback TJ McMahon and offensive lineman Adam Sheriff have chosen the Owls from the JUCO ranks. Offensive lineman Jovaun Woolford will come to South Main as a graduate transfer from Colgate.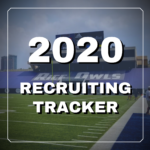 How we got here
As it currently stands, the 2020 Rice Football Recruiting class is the fifth highest-rated class in Conference USA, per 247 Sports. That's one spot shy of the Owls' No. 4 class in 2007, the highest-rated class in program history since 247 began compiling rankings in the early 2000s.
Credit is due to the entire Rice staff, who have proven themselves to be astute evaluators of talent. Every current commit is rated three-stars by 247, but nine of them were unrated players at the time of their commitments.
Rice didn't cherrypick from a list of established recruits, they found the talent themselves and let the rating services catch up. Rice football recruiting director Alex Brown, who was hired in April, has done an incredible job setting the stage and pulling the strings for what promises to be a tremendous crop of players.
What to expect this week
As of now, there aren't any players currently commitment that have indicated they won't sign this week, that includes former TCU quarterback Michael Collins, the most recent commitment prior to the Early Signing Period. Otherwise, the Owls will continue to pursue their remaining targets into the spring. The 18 already in the fold should make it official during the Early Signing Period.
Many are having signing day ceremonies at their schools. Khalan Griffin and Sean Fresch will sign at 10:30 a.m. Plae Wyatt will sign at 2:45 p.m. Others will send their letters in throughout the day. Make sure to follow us on Twitter and follow our live blog during the day for updates.
Join The Roost. React to stories and news in the forum. Stay plugged into the latest happenings in Rice Football with practice notes recruiting updates and more. We are your No. 1 source for Rice Athletics News.
Recent Posts