This week's edition of the Rice Football film room features two very different teams starting with a review of UTSA and looking ahead at Southern Miss.
Hey everybody and welcome back to the Rice Football Film Room. Today we'll be looking at a play from Rice's heartbreaking loss to UTSA, as well as one from upcoming opponent Southern Miss in their Week 5 win against UTEP.
UTSA
As Matthew noted in his breakdown of the loss, Rice has turned the ball over a stunning *nine* times in three conference games. It's not a stretch to think that if they'd maintained the low turnover rate from their brutal non-conference schedule (a mere two turnovers in four games) or even stayed close to it, they might be 2-1 or even 3-0 in C-USA play now. But the UTSA game in particular featured some backbreakers, including the play I've included here.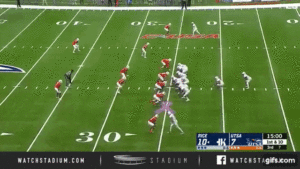 Setup
It's the first play of the third quarter. Rice is leading 10-7 and on offense at their own 25. They're in a 21-personnel I-formation look, with a TE to the right. Bradley Rozner is the wide receiver to the top of the screen. Somewhat surprisingly, UTSA is in a two-deep 4-2-5 nickel look, ceding numbers to Rice in the box. As a quick note, the FB is Brendan Suckley and I think that's Aston Walter as the RB, but I can't tell who the TE is from the clip.
The Play
Now we see what UTSA's up to—they rotate into a single-high look at the snap, with the boundary corner blitzing and Austin Trammell being picked up in man by the free safety. Both the LBs drop into shallow zones, so with six blockers up front (the TE runs a route but Suckley stays in). Rice stymies the 4 DL. Walter does a nice job cut-blocking the blitzing CB, so Green gets time to throw off this short drop.
We've talked on the pod about how Rice's offense and their use of heavy personnel allows them to get one-on-one match-ups outside and how they've been particularly effectively lately throwing jump balls to Rozner and August Pitre in the end zone out of these looks. Understanding how personnel and formations dictate what the defense gives you is a key quality for a quarterback: by processing these things pre-snap and knowing what looks you're likely to get, you can make quick decisions about what to do once the ball is snapped.
But this can also be a trap: defenses routinely show QBs one thing pre-snap and then change it up post-snap. If you've already made up your mind about where you're going pre-snap—and what's more, if the defense is guessing that's what you've decided to do and has a counter in mind—then what looks like a sound read can turn into a horrible mistake. Note that this happens to even the best of quarterbacks: Alabama's Tua Tagovailoa has thrown 70 touchdowns and only 8ight interceptions in his 22 starts for the Crimson Tide. At least half of the interceptions have come on plays like this, when savvy defensive coordinators have used Tagovailoa's aggressiveness and rapid decision-making.
That's what happens to Wiley Green here. He thinks he has Rozner in single coverage and plans to go there right from the beginning, staring down Rozner the whole way. Based on the alignment, Green probably thinks the nickel DB is going to stay closer to the box to play in run support, but instead he bails and sinks to double Rozner. Green doesn't see him, and the ball is picked and returned for a touchdown.
Even if the DB hadn't been there, it's not a great play by Green. He probably needs to get that ball out at the top of his drop, because:
1) it's a long throw, and while Rozner's break gets him space, the corner probably would have had time to close and make the play as is; and
2) by the time he makes his throw the pocket has been pushed back enough that he can't step into the throw, and so the ball is underthrown.
If he gets it out at the top of the drop and doesn't take that extra step forward, he's got more space to step into the throw and drive the ball. That would mean getting the ball out well before Rozner is out of his break, but a throw off a 5-step drop like this one is usually a timing-based throw. You've got to get the ball out when you're supposed to and trust that the receiver will be in the right spot to make the catch. I don't mean to dog Green too much here; I know that all sounds harsh, but these are mistakes Rice cannot afford to make in winnable games.
Southern Miss
The Golden Eagles are led this year by their high-flying passing offense, directed by coordinator Buster Faulkner, who came in this offseason and installed his version of the Air Raid. (Faulkner played and coached at Valdosta State under Chris Hatcher, who was an assistant at Kentucky under Air Raid architects Hal Mumme and Mike Leach). The engine of this offense is QB Jack Abraham, who's been a bit turnover-prone (8 INTs), but has also thrown for over 2200 yards and 13 TDs on a 70.5 percent completion percentage.
Their offense will primarily run out of four receiver sets, with plays designed to get those receivers in space. One of those plays, mesh, is one of the staple concepts of the Air Raid (which, in its purest forms, actually only includes four or five passing concepts). We'll take a look at a version of mesh that Southern Miss runs below.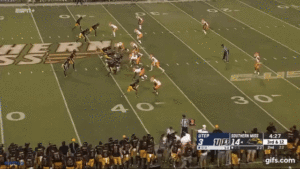 Setup
It's late in the second quarter in Southern Miss' win over UTEP. and the Gold Eagles are up 14-3, with the ball at the UTEP 38 yard line. Southern Miss in a four receiver set, with three receivers in a bunch to the left. UTEP counters with a two-high look out of dime (6 DBs) personnel, with three down linemen and two linebackers.
The Play
As I said above, Southern Miss runs "mesh", which is a core concept of the Air Raid but also shows up in playbooks across all levels of football these days. It involves a pair of shallow crossing routes from opposite ends of the field nearly meeting in the middle of the field. There are many variations, both in terms of formation and the other routes being run, but the crossers are the key. It's a great play because it can put stress on both man and zone coverages, and having versatile plays which work against different defensive looks is a core Air Raid philosophy.
The version here is pretty classic, though the bunch allows for a variation. Normally an inside receiver to the strong side runs the crosser from that side, but here's it's the outside (or No. 1) receiver, running under the No. 2 (who's on the line) and the No. 3 inside. The No. 2 runs a corner route, the No. 3 runs to the flat, and to the weak side the back leaks into the flat and the receiver runs the other crosser.
It looks like UTEP's in 2-Man coverage, with two deep safeties and everybody else playing man. The press corner is on the strongside No. 2, the boundary corner is on the weakside No. 1, and the weakside LB has the back. I can't be sure but I think the other two underneath DBs to the trips side are playing banjo coverage on the two other receivers to that side.
Basically, that means the outside DB will pick up whichever receiver (in this case, the No. 3 receiver) goes outside, and the inside DB will pick up whoever goes inside (in this case, the No. 1, who's running the crosser). Receivers often run "rubs" or "picks" (or "illegal offensive pass interference" if you're a defensive guy) on DBs out of these bunches to get free releases for the other receivers, and banjo is a common strategy for preventing that.
In this case, it seems to be the inside DB that makes the error, chasing the No. 3 receiver to the flat instead of picking up the no. 1 receiver (Jaylond Adams) running the crosser. That crosser is actually usually the fourth read in most versions of mesh (the corner, the other crosser, and the flat route to that side are the first three), but I don't think Abraham gets that far. Based on how quickly he turns his head and gets to the open man, I think he quickly sees that inside DB start to flow to the flat and knows that means that Adams will be wide open, which he is. The safety to that side does a great job slowing down and then tackling Adams to prevent a TD, but Adams still turns it into about a 15-yard gain.
So the Rice secondary, likely down top CB Andrew Bird, has its work cut out for them this week against this Southern Miss offense. They're going to have to play smart and disciplined to keep these receivers from picking up chunk after chunk against them. Let's hope the Owls are up to the challenge.

Subscribe on Patreon for exclusive Rice football recruiting updates, practice notes and more. React to this story on our forum.
Recent Posts