Dig deeper beyond the box score. Carter Spires breaks down a key defensive sequence for Rice Football in their Week 1 game against Army.
Hey y'all! For those that haven't listened to The Roost Podcast yet (and you should!), I'm Carter Spires. I'm a Rice grad (B.S. Physics, 2013, Jones) and a huge college football fan. In addition to the podcast, I'll be popping up here at The Roost to do a weekly review piece where I highlight a couple of important plays from the previous game.
My particular interest in covering football is in strategy and tactics: schemes, formations, play calls, decision-making, and the like. I want to know why a particular play turned out the way it did, in a more complete way than "X threw the ball to Y."
Sometimes those answers are simple, but sometimes they're not. So my goal in this column is to dive into a few plays a week and really try to break them down in detail, so that we can really understand what happened. A smarter football fan is a better football fan, I think, so hopefully I'll get smarter in writing these and you'll get smarter in reading them.
Sound good? Then let's get started.
First Quarter (11:43) | 3rd-and-1
This week we're looking into Rice's close, heartbreaking Week 1 loss to Army in which the Owls' defense held Army's flexbone option offense to a mere 231 yards rushing (4.1 YPC) and 14 points. Most of those yards and all of those points came on just two drives.
While the result of the game wasn't what Rice fans wanted, the stellar defensive effort (against an Army team that dropped 70 on our crosstown rival Houston Cougars their last time out) was enough to give hope that these Owls will be a lot tougher to score on than in recent years.
Let's give credit where it's due. Here's a closer look at the defensive performance, highlighted by a sequence on Army's first offensive drive, in which Rice made consecutive short-yardage stops on 3rd-and-1 and 4th-and-1 plays to force a turnover on downs.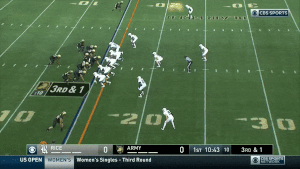 The setup
Army is lined up in their standard flexbone formation—QB under center, fullback (or B-back, in the flexbone terminology) a couple of yards deep, two slotbacks (or A-backs) lined up outside each tight end, and two wide receivers split wide. In this down and distance, Army's running a play called "zone dive"—a quick-hitting run play that's a staple of their offensive scheme.
It looks a lot like the "inside veer" option which is the first component of the "triple option" often associated with this offense. However, instead of a true option play where a defender left unblocked and then read by the QB, zone dive is a called handoff to the B-back. Zone dive is such a fast-developing play that it's almost impossible for the defense to prevent the B-back from gaining a yard or two.
Rice responds with a defensive formation called the 46 front, often called the Bear front due to its association with the dominant defense of the 1985 Chicago Bears. The Bear front involves putting five men on the line of scrimmage, with an additional linebacker just off the line to the strong side.
It was once a base defensive formation for teams like those Bears, but because of it's almost exclusively focused on stopping the run, it's rare in football these days. Still, most defensive coordinators keep the Bear front in the playbook for short-yardage situations and for use against these flexbone offenses.
Here, Rice has Viper Treshawn Chamberlain lined up off the line at OLB. DEs Anthony Ekpe (top/offense's left) and Kenneth Orji (bottom/offense's right) lined up at 7-technique DE (in the C-gap between the tackle and slotback), DTs Elijah Garcia (top) and Myles Adams (bottom) lined up at 3-tech* (outside shoulder of the guard), and NT JaVante Hubbard lined up at 0-tech (head on with the center).
The linebackers and safeties are still playing their option responsibilities to prevent Army from catching Rice off-guard, but for the linemen, their assignment is clear: defeat your block(s) and tackle the back before he can get the first down.
How it happened
At the snap, the left A-back goes in motion to show Army's triple option look. But this isn't an option play. Army QB Kelvin Hopkins opens up the right and no Rice players on that side of the line are left unblocked (the right A-back is on Orji, the tackle is climbing to the second level, and the RG is [trying] to block Myles Adams). So Hopkins isn't reading anyone, which is the hallmark of a true option play; therefore, this is a called dive play to the B-back.
To the left side of the offense, Ekpe is left unblocked. The idea here is that he won't get there in time to make the tackle until the ballcarrier is past him. The offensive tackle moves inside to cut block** Garcia, who is brought to the ground but does well to keep moving and stay involved with the play. The left guard and center combine to double-team the 264-pound Hubbard, who stands his ground against the center but (understandably) loses his balance when the 310-pound LG Jaxson Deaton plows into his side.
To the right side, the right tackle appears to quickly try to double team the 3-tech (more on him in a second) before climbing to the second level (he loses his balance and falls, but Blaze Alldredge has "scraped" outside of him by then so he likely wouldn't have made that block anyway).
The Owls' defense executes
Our key players here for Rice are Myles Adams and Kenneth Orji. On zone dive, the fullback is reading the block of the playside guard. If he drives his man outside, the back hits the A-gap between guard and center. If the guard drives his man straight back or inside, the back hits the B-gap between guard and tackle.
At the snap, Adams gets his outside shoulder into the guard's inside shoulder, clogging the A-gap. The slotback tries to block Orji and does a pretty good job pushing him back, but Orji manages to maintain inside position, squeezing the gap. So by the time the back gets the ball, there's nowhere for him to go. He takes a step, hesitates, and by then Myles Adams has fully beaten the guard's block. Adams makes first contact, stopping the back's momentum, and then a whole host of Rice defenders arrives to finish the play off for no gain. Now it's 4th and 1.
First Quarter (10:04) | 4th-and-1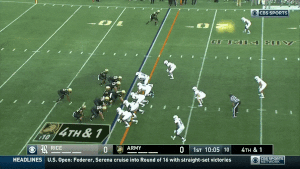 The setup
On this play, Hopkins does a reverse pivot once he has the snap, which makes the play look like it's going to be "rocket toss" to the motioning A-back. It's actually just another zone dive, this time to the left side. Nothing fancy. Again, Army is hoping that the quick-hitting action of this play will allow them to grind out a yard before Rice can manage the tackle.
Rice is lined up in the Bear front. Army blocks the same: the backside end (Orji) is unblocked. The A-back blocks the playside end (Ekpe). There's a cut block on the backside 3-tech (Adams) and a double team on the nose (Hubbard).
This time, though, it looks like the playside guard and tackle actually manage an effective double team on the playside 3-tech (Garcia). Treshawn Chamberlain is unblocked and doesn't bite on the motion by the backside A-back, but I think Army's hope was that even if he didn't he wouldn't be there in time to make the play. And he may not have been, if not for Anthony Ekpe and Myles Adams.
How it happened
Adams, who I hope this sequence has proved will be one of Rice's most disruptive linemen all season, is so quick off the snap that the backside tackle has no chance of cutting him—in fact he lands behind Adams' heels. Check this frame: Adams has already crossed the line of scrimmage by the time the handoff is made. He may have managed to make the tackle himself even if no one else had managed to beat their blocks.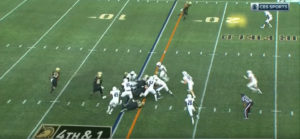 Ekpe, meanwhile, has driven through the attempted block of the slotback. Even though he's falling down as he does it, he drives to the fullback's feet and totally arrests his momentum. He can't wrap up, but his efforts slows the fullback enough. Adams and Chamberlain arrive to make the tackle, followed by another swarm of Owls (a parliament, perhaps?), and it's Rice ball.
This was a really crucial effort from Ekpe and Adams here. The playside linemen, playing 3-on-2 against Hubbard and Garcia, have cleared out enough space that any extra bit of momentum for the fullback might have allowed him to fall forward for the first down.
Well, that was a lot to say about just two plays! Hopefully it was all enlightening and that it got you excited all over again about the level of intensity this Rice defense brought in the opener. It'll be a totally different challenge this Friday against Wake Forest. I'll be back next week to run through some film from that game with y'all.
Notes
*They might be lined up in a 2-technique, head-on with the guards, but it's hard to tell based on the angle of the camera. Either is an option in the Bear front.
**A common tactic for option offenses, in which the offensive player goes low to "cut" out the legs of a defender; not to be confused with an illegal chop block, which is when a blocker goes at the legs of a defender who is already engaged with another blocker.

Subscribe on Patreon for exclusive Rice football recruiting updates, practice notes and more. React to this story on our forum.
Recent Posts