There are mere weeks left in the MLB season and several former Rice Baseball stars are helping their teams make playoff pushes down the stretch.
Chargois has bounced back and forth between effective outings and rough innings. He's made five appearances in August, throwing a scoreless inning in his second and fourth games and allowing multiple runs in the other three contests. Through the struggles, he's given up just two extra base hits this month. The Dodgers have a 19 game lead in the NL West.
In contrast to Chargois' struggles, Duffey has been rock solid. He hasn't been charged with an earned run since July 23, a stretch of nine games. During that span, he's tallied 11 strikeouts. Opposing batters are hitting a mere .130 against him.  The Twins have a two game lead in the AL Central.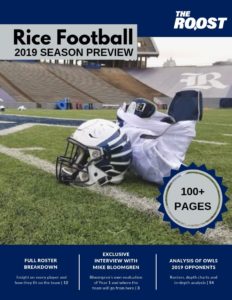 An injury kept Duplantier off the mound in Arizona through the month of July. He made his return to the show on August 15, throwing two innings in relief against the Giants. He gave up one run on two hits, walking three and striking out two. The Diamondbacks would lose the game 7-0. The Diamondbacks are four games out of the NL Wildcard.
After a brief dip in production at the beginning of August, Holt has returned to form over the past week. He's hitting .333 since August 6 with two doubles and a triple. He's also walked four times. He continues to function as Boston's swiss army knife, playing first base, second base and shortstop in his last six games. The Red Sox are 6.5 games out of the AL Wildcard.
At this point, you should probably just google Anthony Rendon and you'll find highlight, after highlight, after highlight, after… well, you get the idea.
As promised, here is a tweet about Anthony Rendon's 5th-inning HR.

He has set a new career high with 26.

(Today is August 14.)@Anthonyrendon_6 // #OnePursuit pic.twitter.com/1WkASHMB2x

— Washington Nationals (@Nationals) August 14, 2019
Rendon has scored more runs in the month of August (nine) than he's stuck out (eight). He's already surpassed his career-best in home runs and continues to make his case for a new contract. The Nationals are five games back in the NL East and have a two game lead in the NL Wildcard.

Subscribe on Patreon for exclusive Rice football recruiting updates, practice notes and more.
Recent Posts