Rice soccer's own Lianne Manaquil has been named to the 2019 MAC Hermann Trophy Watch list for the most outstanding player in women's collegiate soccer.
It's been a busy offseason for Rice Soccer. The Owls hired Brian Lee from LSU to be their new head coach. He brought assistant Travis Curson with him to South Main.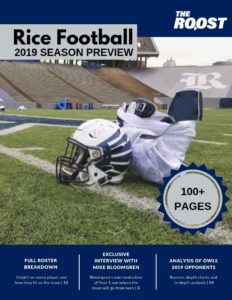 Since then, Lee has been diligently working to improve the program including the recently announced addition of Boston College transfer Mijke Roelfsema. With things already going well, Rice received further reason to be optimistic about the upcoming season on Thursday.
Senior midfielder Lianne Manaquil was among 61 players named to the watch list for the 2019 MAC Hermann Trophy, awarded annually to the most outstanding player from the men's and women's college soccer. This comes on top of Manaquil's 2018 honors which included being named the Conference USA Midfielder of the Year.
The recognition is a tremendous honor for Manaquil and a positive for Rice Soccer as a whole. Coach Lee released a statement soon afterward, overflowing with praise for Manaquil and her accomplishments:
We are excited for Lianne and she is richly deserving of this preseason recognition. She is one of the top players I have ever coached and an even better person. Lianne is one of college soccer's most dynamic playmakers, however she hasn't reached her full potential quite yet. If her individual and our team growth continues on this path, it is easy to envision she and her teammates having a memorable season this fall.
Rice Soccer returns to action on August 13 at 7:00 p.m. in an exhibition against TCU. The regular season begins on the road against Oral Roberts on August 22. The Owls host Houston in their regular season opener on August 25 at 7 p.m.

Subscribe on Patreon for exclusive Rice football recruiting updates, practice notes and more. React to this story on our forum.
Recent Posts