It's been a while since Rice Football opened the season with a road win, but that's exactly what the Owls hope to accomplish against Army on August 30, 2019.
In 2000 and 2001 Rice Football won a pair of hard-fought thrilling openers against rival Houston. The first came at Rice Stadium with the Owls prevailing in triple overtime. The next came by a touchdown on the Cougars' home turf. Since then Rice has come struggled out of the gate when they play away from home.
Rice fell to current head coach Mike Bloomgren's Stanford Cardinal at the beginning of the 2018 season. The Owls' last true road opener came against Western Kentucky in 2016. Rice lost that one 46-14. You have to go back to 1991, when Rice opened the season on the road on September 14th at Northwestern, to find the Owls most recent road opening win outside the city of Houston.
Things have been different at home. Rice has won three of their last four home openers at Rice Stadium. They've split their last two neutral site starts at NRG Stadium, where they'll play later this year against Texas.
Rice won't have the luxury of a home game to kick off 2019 when they travel to West Point to play Army. The Black Knights won the last two contests in the series with Rice football taking the four games previous to that. The Owls lead the all-time series 4-3-1.
This 2019 Army team is going to be a tough out. Check out our full deep dive on Army, including their top players to watch, a thorough depth chart breakdown and the most pressing questions about their upcoming season in our 2019 Rice Football Season Preview. We're offering the Army preview as a free sample, just click the preview button in the top right corner of the page. Like what you see? Please consider buying a copy and learning more about the Owls and their opponents this upcoming season.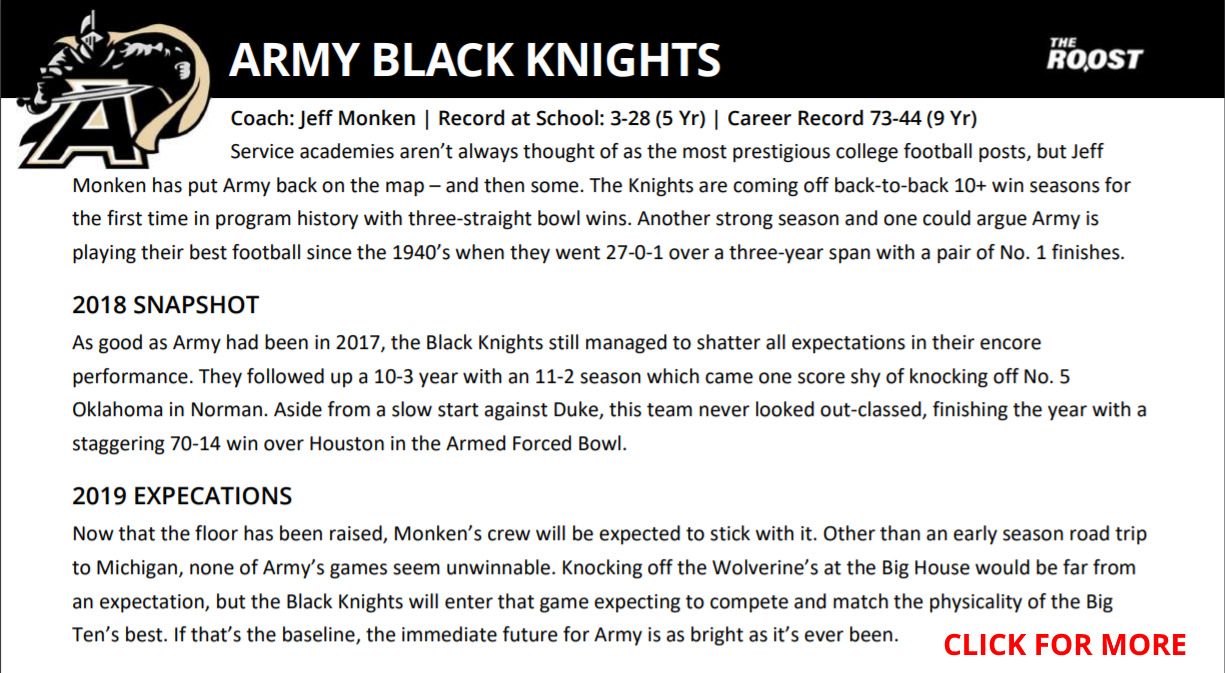 Subscribe on Patreon for exclusive Rice football recruiting updates, practice notes and more.
Recent Posts