Rice baseball had a rough start to the 2019 season, but head coach Matt Bragga is keeping the faith this team and this program can be something special.
It's been a long time since 2003 for Rice baseball. The Owls would return to Omaha three times following their first College World Series title that remarkable season, most recently in 2008. But then things started to slow down at South Main. It came time to find the next leader who would carry what had become a mainstay program in college baseball back to the promised land.
That's why Matt Bragga was hired. He was hired to bring another championship back to Houston.
And that's why the first two weeks of the 2019 season have stung so much.
"It's just not good enough. That's a good team, but we shot ourselves in the foot multiple times over the course of the weekend as we did on Tuesday and Wednesday," Bragga said following a three-game sweep at Reckling Park at the hands of UC Irvine. "We're just not a good enough baseball team right now, and that's my job as a coach to try to make us better and get as much out of these guys as we possibly can."
In many respects, his summary is spot on. This is not a good enough baseball team right now.
On the mound, Rice pitchers are falling behind into less-than-favorable counts. They're not being aggressive. At the plate the hitters are swinging at bad pitches, taking poor approaches with two strikes and failing to make adjustments at the plate over the course of a series. The defense, which has now accumulated 24 errors in eight games, needs to make more plays.
That list comes straight from the head man himself. Bragga meticulously spelled out the litany of issues following the third loss of the weekend to a UC Irvine team ranked in the Top 25 of some national polls. He summed it up with an all-encompassing decree, "we have to play better baseball."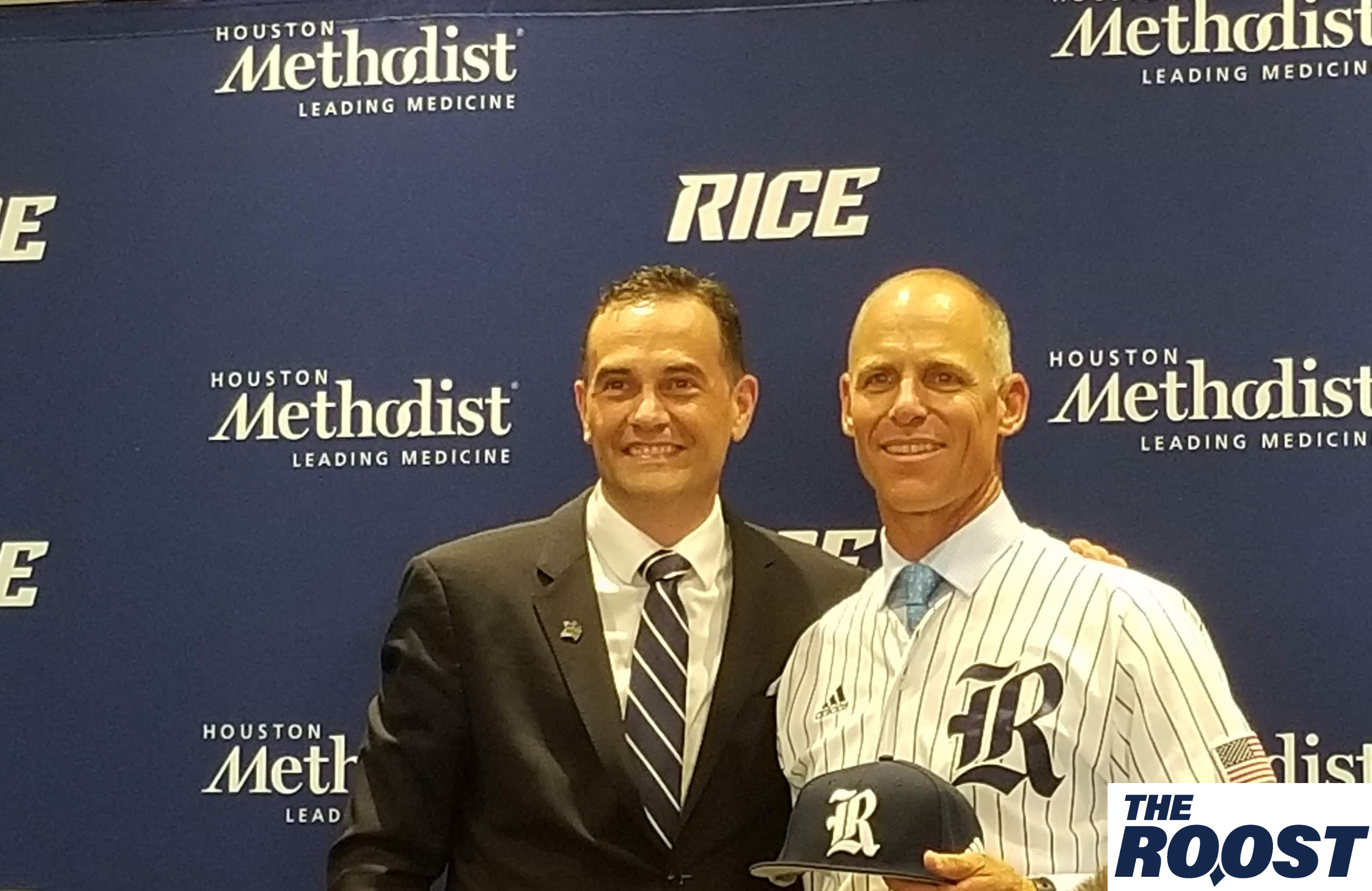 Perhaps he could take a page out of Rice football head coach Mike Bloomgren's book. Bloomgren came to South Main with a similar mandate: restore a winning tradition at Rice. What Bloomgren found out, and Bragga is currently experiencing, is the challenge of taking a program which had fallen on hard times back to relevancy is hard.
Following the football program's loss to previously winless UTEP, Bloomgren remarked, somewhat in dismay, "I never thought I would be associated with a team that has had this little success."
It's hard to determine if that was the lowest low point of a challenging season on the gridiron, but there's no denying the team Bloomgren's unit finished the year on a high note, defeating Old Dominion in emphatic fashion. The inkings of a turnaround are finally present, but it took time. There are no shortcuts.
Hard, but not impossible
Bragga calls himself a straight shooter. He didn't beat around the bush after his team fell to 2-6 on the season. "There's more of a challenge [at Rice] than I probably envisioned," he admitted. "But that's okay. That's why you coach, for challenges, and trying to overcome those challenges."
Whether Bragga underestimated the challenge or not, his task hasn't changed. His attitude remains unwavering. "I have belief in these guys," he said confidently," I think this could still be a really good team and I'm certainly not going to give up on them after eight games." With at least 48 more to play in the 2019 season, Bragga will have plenty more opportunities to make that dream become a reality. Those aspirations will continue on to 2020 and beyond, too.
I have belief in these guys. I think this could still be a really good team and I'm certainly not going to give up on them after eight games.
Matt Bragga
Baseball is hard. It's a game built on failure and rooted in daily mental battles with oneself. There's no doubt Rice baseball got punched in the mouth at the start of the 2019 season, but there's also no reason to write off a strategic investment made by both the administration and by Bragga after two rough weeks, not yet.
Hope remains
As he walked off the field toward his office in the inner workings of Reckling Park, Bragga made one barely audible comment which resonated back out toward the field to scattered players and media standing on the dugout steps. "We'll get it. I promise you, we'll get it."
Yes, it's back to the drawing board for coach Bragga and the 2019 Rice baseball team. But this coach is a long way from throwing in the towel, and that's why he's here. Bragga was hired for more than two weeks of baseball. His legacy at Rice is only just beginning. Let's allow him to play it out.

Subscribe on Patreon for exclusive Rice football recruiting updates, practice notes and more. React to this story on our forum.
Recent Posts