Rice football wraps up its 2021 season on Saturday against Louisiana Tech in a battle of 3-8 teams. Here's what Mike Bloomgren had to say about the matchup, injury updates and depth chart notes.
Head coach Mike Bloomgren and a pair of players met with the media for their customary weekly availability. They recapped the UTEP loss and looked ahead at the week ahead, discussing how important the season finale against Louisiana Tech was as the Owls honor their seniors. We touch on those items, then dig into the Rice football depth chart and what the team looks like heading into the weekend.
Subscriber content.

Please

login

to see the full post or visit our Patreon page.
The depth chart did not change week over week, but who lines up at several spots this coming Saturday is in flux. Injuries to Jake Constantine and others leave us with lots to work though in this week's updates. First, the quotes:
Press Conference Quotes
"I thought we came out fast and competed well, and overcame a lot of adversity in the first half. I thought we finished that (first) half in almost a perfect fashion, going down and scoring with a minute thirty, (UTEP) trying to get a two-minute drive going, Gabe Taylor forcing the turnover, and then two plays later, Ced Patterson finds himself in the end zone. That's a 14-point swing in the game in the last 1:TO in the second quarter is a big-time way to go into the half. That's exactly where we wanted to be, going up 21-14.

In the second half, there are a lot of things we have to fix. From finding a way to extend that lead on offense and putting more points on the board and putting the game in a different place and on defense, I don't know, aside from the Texas game, if anyone has scored on them four straight drives like that and there are some things we have to get fixed there. We're working towards that." – Mike Bloomgren on the UTEP loss
"The thing that I love about this team, is how much they care. I love how they are competing and trying to get better and I know that they will. When we play well in all three phases of the game, I believe we can beat anyone on our schedule. There's nobody in the locker room who is flippant about winning or losing in the locker room. They care a lot and they are going to try and find a way to go 1-0 this week." – Mike Bloomgren on the locker room
"I'm very comfortable. I spend a lot of time in my playbook, a lot of notes writing down, going back through them every night. Trying to know it like the back of my hand. I know when you can go out there and play fast and play confident, you're pretty much unstoppable. So I was really trying to just know the playbook like I know my own name." – Wide receiver Cedric Patterson on his comfort level in the Rice offense 
"I know when I first came here as a freshman, these seniors took me in and like welcomed me in, really helping me, helping us help lead this team. They put in the same work that we all do every day and they've been here the longest. So I definitely look up to them, definitely want to win this game for them, definitely finishing out a win for their last game is going to mean the world for all of us because we all got the same love for these guys." – Edge Joshua Pearcy on winning this game for the senior class 
Depth Chart
There are no official changes on the official Rice football depth chart heading into the Louisiana Tech game. However, there will be a few differences based largely on who is able to go on Saturday.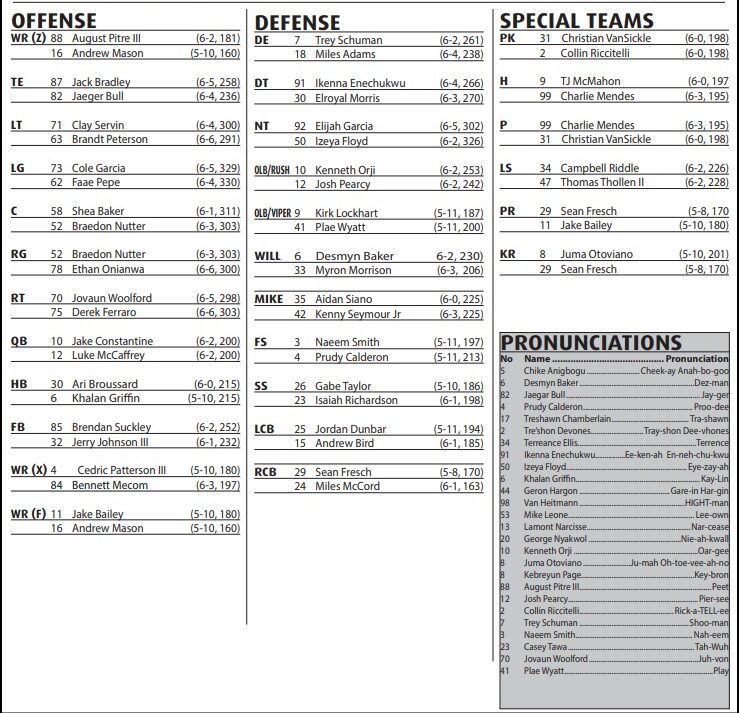 Next man up: quarterback edition?

Subscribe on Patreon for exclusive Rice football recruiting updates, practice notes and more.
Recent Posts