Rice football opens its home slate on Saturday against Houston. Here's what Mike Bloomgren had to say about it, injury updates and practice notes.
This is the first of a couple of updates coming this week as Rice football prepares to take on Houston. We'll include updates from head coach Mike Bloomgren's midweek press conference, then dig further into the details on the depth chart and what the team looks like on the field headed into the weekend.
Subscriber content.

Please login to see the full post or visit our Patreon page.
This week, there was considerable attention given to the quarterback spot. There was one notable development on that front in practice, as well as a few updates on a score of players that left the Arkansas game early. First, the quotes:
Press Conference Quotes
"I think it's it's always special. Anytime you play anybody in state, but especially in your own city. So many of our kids know guys on that team and played with them in high school or played against them in high school. I think that's really fun.

I've been so fortunate in my career, to be a part of some great rivalries, whether you talk about Florida-Florida State or Florida State-Miami, or Alabama-Auburn, or Stanford-Cal or Stanford-Oregon at that time. They're always fun.

You wish you could take the same approach and you wish you could be able to just do your routine. But there's something that happens when you go out there and you're amped up against a rival. As long as we use it for good, we'll be really happy about that. So I know there's going to be more emotions. I know there's going to be excitement that builds towards this game. And I guess quite frankly, there should be. It's a big game in the fourth largest city in America." – Mike Bloomgren on Bayou Bucket rivalry game
"Both of them took reps with the ones yesterday, both of them are all working towards it. And we're gonna see how we come out of this thing. I think both those guys have the ability to lead a college football team and we're going to keep working to see who the is the best fit and gives our team the best opportunity to go forward." – Mike Bloomgren on the QB battle
"Both teams are going through a lot of changes in the past three years. But as far as our team goes, I think we've played our brand of football all the way through since Coach Bloom got here. We've played with intellectual brutality in our minds. And I think you saw that in 2018. And you'll see a better, more refined version of that, coming in 2021.

We've got guys in better spots; we've got a more talented roster across the board. We've got coaches that have been in system longer. Coaches that are used to calling games longer. We've got coach Tui going into his second game as a Rice Owl." – Tight end Jaeger Bull on the differences in UH and Rice teams from 2018 to now
"Being a Houstonian, I really look forward to this game. It's about time we take this win and pretty much say that we own the city of Houston because we do. We haven't been able to get the win just yet, but this week we will."  – Safety George Nyakwol on the team's confidence this week
Depth Chart
The Rice football depth chart did not change from the Arkansas game. There will most certainly be changes, but no players were officially ruled out as of Tuesday.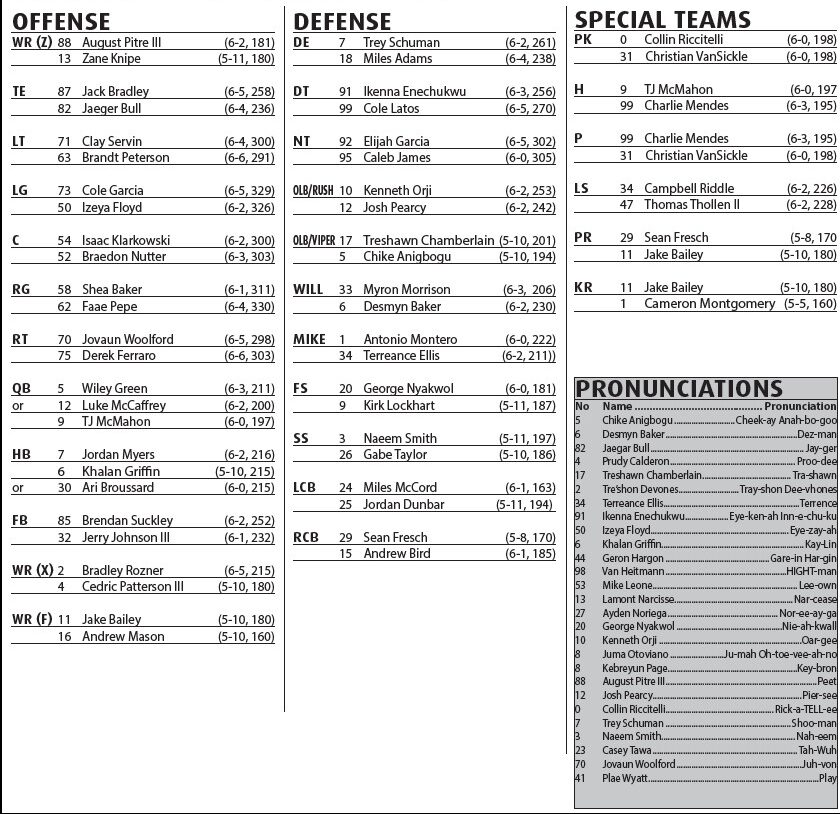 Expected Depth Chart Changes and injuries

Subscribe on Patreon for exclusive Rice football recruiting updates, practice notes and more.
Recent Posts