Rice basketball put together back-to-back strong performances this weekend, propelling the Owls to a home sweep of Southern Miss.
Losers of five straight, Rice basketball needed to get back in their groove this weekend against a Southern Miss team that has hung around the bottom of the conference standings. If the Owls didn't bounce back, they'd find themselves in the cellar with the Golden Eagles. Fortunately, that worst-case-scenario did not materialize. In fact, the Owls might have had the best possible weekend they could have asked for.
Rice controlled both games from the opening tip, starting with a runaway win on Friday afternoon. Southern Miss would take their largest lead of the game (two points) in the first three minutes, but it was all Owls from that point on. Olivari finished with 29 points and tied Max Fielder with a team-high seven boards. Freshman Mylyjael Poteat had a career-best 12 points on a career-high 17 minutes.
Saturday's win required a bit more resiliency. Rice opened up a hefty 12-1 lead to start the game as Southern Miss struggled on offense, opening 0-for-7 from the field. The Golden Eagles cut the Owls' edge to one near the end of the first half, but never took the lead.
Travis Evee finished the first half with a three, the first of a barrage of deep balls that buoyed Rice over the visitors. Rice hit five consecutive threes out of the break, staking themselves to a double-digit lead. Southern Miss would rally, but the Owls' held the line, made their free throws and secured the win.
This was the second weekend sweep for Rice in conference play. They previously took both games from UTSA on January 1 and January 2, also at home.
Player Spotlight | Cameron Sheffield
The 6-foot-6 guard from Alpharetta, Georgia was one of a large influx of new players added to the roster in the past year.  The freshmen quickly settled into his role as a key reserve off the bench, averaging 10.3 minutes per game in non-conference play.
Sheffield saw a bit more action as the season progressed. It was only recently, though, that he became a regular in the rotation. He's stepped up to fill minutes vacated by guard Chris Mullins who has been sidelined for the better part of two weeks.
He made his first start in Game 2 against UAB and has started four of the Owls' last five contests. In that time, he's tripled his playing time and scoring output while taking care of the basketball. Head coach Scott Pera was quick to point out he had zero turnovers in 54 minutes this weekend, speaking highly of the freshman guard, "that kid is going to be a really great player for us."
Sheffield had a career-high nine points on a career-high three three-pointers on Saturday.
Stat Corner | Two for three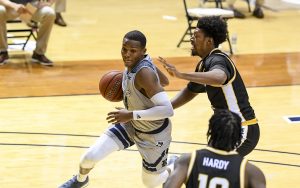 Rice basketball has an easily discernable identity. They're going to shoot threes in volume and push you up and down the court. How closely that adhere to that ideal is a strong proxy for how the results of individual games will turn out.
A quick look at the box scores bears that out, and one only needs to look at the Owls' top two shooters: Quincy Olivari and Travis Evee. Rice is 9-2 when that duo makes six or more three pointers and 3-6 when they don't. Rice is 7-1 when they combine for 15 or more three point attempts (regardless of how many they make) and 5-7 when they're held under that shot count.
It might just be that simple. If Olivari and Evee get volume, the Owls are probably going to win.
Up Next
Conference play is starting to wind down. The Owls will hit the road next weekend for what should be a tough test against Western Kentucky. The Hilltoppers have paced the East for the majority of the season. They will enter the weekend atop the East standings at 6-2 after an off weekend. Their scheduled series against Florida Atlantic was postponed.

Subscribe on Patreon for exclusive Rice football recruiting updates, practice notes and more. React to this story on our forum.
Recent Posts