The 1953 Rice Football team has been crowned the best team in program history, besting 15 contenders in our own March Madness tournament.
There have been many great Rice football teams throughout the years, but there can only be one champion. The top 16 were seeded in a head-to-head bracket. There were a few upsets — 11 Seed 1957 knocked off 6-seed 1937 and came within one vote of the Final 4. Ultimately chalk held with the four top seeds as the last four standing. And the winner is…
Champion: The 1953 Rice Football Team (57 percent of the vote)
Led by Jess Neely, the 1953 team (9-2, 5-1 SWC) went on to finish No. 6 in the nation, routing Alabama in the Cotton Bowl 28-6. Dicky Meagle set a single-season school record, averaging 7.31 yards per attempt rushing. The Owls lone losses came by a combined 11 points. Their wins were louder. Rice beat No. 15 Florida, No. 17 Baylor, Texas and TCU.
Runner Up: The 1949 Rice Football Team
Led by Jess Neely, the 1949 team (10-1, 6-0 SWC) finished its season as Cotton Bowl Champions, beating No. 19 North Carolina to cap off the first 10-win season in program history. The Owls were voted No. 5 in the nation in the AP Poll, the highest finish in program history. Notable victories included: No. 10 SMU, No. 10 Texas and No. 9 Baylor.
Third Place: The 2008 Rice Football Team (77 percent of the consolation vote)
Led by David Bailiff, the 2008 team (10-3, 7-1 C-USA) made a dramatic jump from Bailiff's first Rice team in 2007. The 2008 Owls won seven more games, finishing tied for first place in the C-USA West and beating Western Michigan in the Texas Bowl. With Chase Clement at quarterback, the duo Jarett Dillard and James Casey was arguable among the best receiving combos in the nation.
Fourth Place: The 2013 Rice Football Team
Led by David Bailiff, the 2013 team (10-4, 7-1 C-USA) won the Owls' only Conference USA Championship, defeating Marshall in the title game. Taylor McHargue and Charles Ross paced the offense while Christian Covington patrolled the defensive side of the ball.
Bracket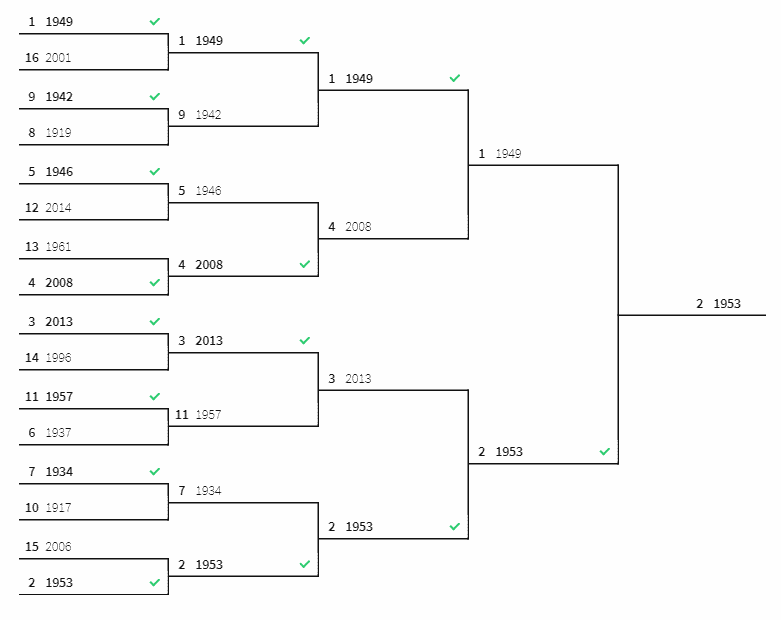 Subscribe on Patreon for exclusive Rice football recruiting updates, practice notes and more. React to this story on our forum.
Recent Posts