The 2020 Rice Football Recruiting class is finding top-flight players before major services discover them. How the Owls' are winning recruiting.
In the world of college football recruiting, stars matter. The rating assigned by 247 Sports and other ratings services are talking points for fans around the country whenever a new player commits (or thinks about committing) to their school of choice. While recruiting players with higher star ratings is generally a positive sign, Rice football has found a loophole in the process.
247 can't rate every recruit in the country. There are tens of thousands of aspiring college football recruits and only so many hours in the day. Some larger programs can throw their conference affiliation or national brand at the blue-chip players to lure them to school. Rice has found a hack of their own.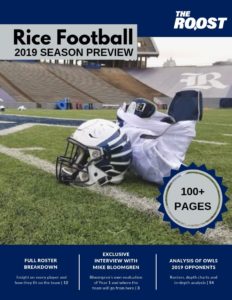 The 2020 Rice Football recruiting class features 14 commits including 11 three-star players. Of those 11, six of them were unranked at the time they chose to commit to the Owls. That means the coaching staff was able to identify premium talent before the recruiting services.
Prior to his commitment, cornerback Sean Fresch was unrated. Now he's the highest-rated recruit in the Owls' 2020 class. Cornerback Devon Gunter didn't have a star rating either. He's the fourth-highest ranked recruit in the class. Lineman Matt Latos, tight end Nate Kamper, offensive lineman Trey Phillippi and wide receiver Andrew Mason have similar stories. From zero stars to three stars, overnight.
At the end of the day, stars don't win football games, players do. But the 2020 Rice Football recruiting class is stocked with high-level talent, largely because the coaching staff is ahead of the curve. When you know the answer before the rest of the nation does, you're probably on the right track.
That's why Rice has a top-three class in Conference USA. And they're not done yet.

Subscribe on Patreon for exclusive Rice football recruiting updates, practice notes and more.
Recent Posts